—CCL GMD, Alhaji Mumini Alao, speaks on the 20 years of Complete Sports and looks into the future

The year 2015 marks the 20th anniversary of Complete Sports newspaper in existence. As the company marks this landmark, could you let us into how the Complete Sports story began?
Complete Sports is actually a result of several years of publishing other publications by Complete Communications Limited (CCL). Before Complete Sports was launched in 1995, we had Sports Souvenir which the publisher, Dr. Sunny Obazu-Ojeagbase started in 1984 after he left The Guardian as sports editor. Later, he invited Chief Segun Odegbami, and Complete Football magazine came
out in 1987. I joined CCL in 1988 to work on Complete Football.

Sometime about 1993, we brought back Sports Souvenir which had been rested earlier. Then we had Complete Football International and Complete Football Extra both of which I edited. Sports Souvenir on Saturday and Complete Football Extra on Wednesday were being sold out. So, we realized that there was an opportunity to have a daily sports publication and we decided to explore that. Already there were a few other daily sports papers in the world like Gazetta dello Sport in Italy and Marca in Spain, and a few others. Complete Sports joined them as the first sports daily in Africa. Complete Sports took its name from Complete Football Extra. We removed 'football extra' and put 'sports' because it was going to be an all-sports paper.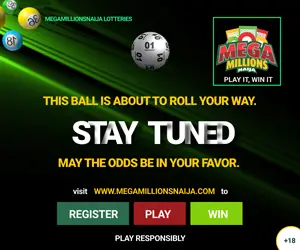 What was the initial reaction to the coming of Complete Sports daily?
It was a mixed reception. I remember Jenkins Alumona, who I usually met on the set of the television show MasterSports at the time, said to me: "Mumini, you guys are crazy. Why do you want to stop a successful weekly sports paper like Complete Football Extra to gamble on a daily? Why not run them side-by-side?" We joked about it.

Advertisers were even more skeptical. They told us: "What are you going to be writing in a daily sports paper that we can't already find in the regular newspapers?" So, advertisers did not support us initially but the readers embraced us. We finally stopped Complete Football Extra a week before Complete Sports took off on 18 December, 1995.

How smooth was the take-off?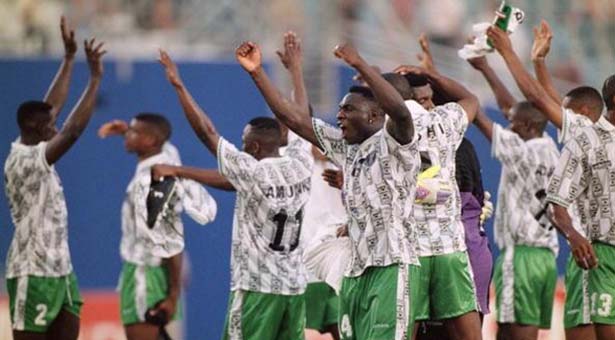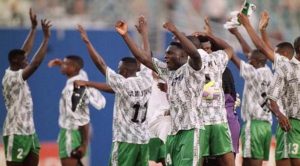 It was tough. Very, very rough. The Africa Cup of Nations in 1996 was coming up. Nigeria won the AFCON title in 1994 and were going to defend the title in 1996 in South Africa, so we calculated that Complete Sports would ride on the crest wave of the tournament in South Africa. Unfortunately the Nigerian government headed by General Sani Abacha at that time, at the last minute, withdrew the Super Eagles from defending the title, so the local Nigerian following of the tournament that we targeted to kick off Complete Sports disappeared. Usually, if you don't have a big tournament to start off a new sports publication, you could run into trouble. We actually ran into trouble.

So how did the publication survive eventually?
The early part of 1996 was very difficult and Complete Sports nearly became still-born. Fortunately, the U-23 Eagles led by Nwankwo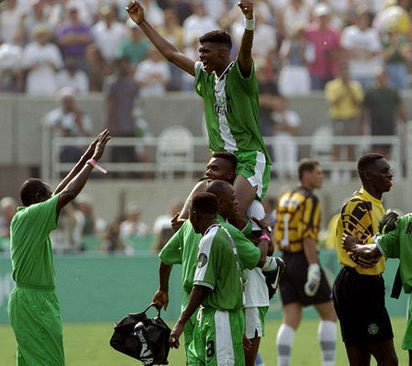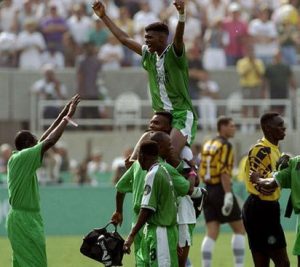 Kanu won the football tournament of the 1996 Atlanta Olympic Games in August of that year, so that gave us a breather. Thereafter we were able to find our feet. Our readership grew rapidly and the advertisers later saw the success we had achieved and decided to support us. It's the readers and the advertisers that have sustained us all these years and they are the reasons why we are celebrating our 20th anniversary today.

So would you say that the objectives of setting up Complete Sports have been achieved?
The primary responsibility of the media whether TV, radio or newspaper, is to inform, educate and entertain the audience. For as long as people live in a social environment, these needs will continue to exist and we in the media are there to meet them. So, a media adventure has no destination, it continues to evolve.

Apart from entertaining, educating and informing our readers, a key objective of Complete Sports is to contribute to the development of Nigerian sports. And over the years, some of the interventions we have made in that regard have been quite positive. We do a lot of investigative research and analysis on the basis of which we make recommendations to sports administrators, coaches and even the sportsmen and women on how to achieve great results.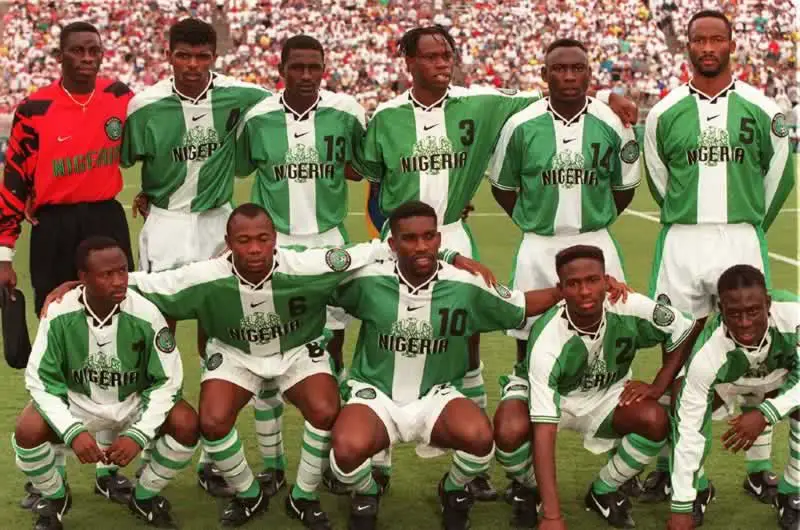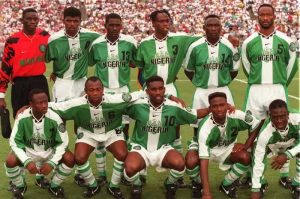 For example, on the road to Nigeria's Olympics football glory in 1996, Complete Sports played a frontal role. Zimbabwe had protested against Nigeria for allegedly using an over-aged player to qualify for the Olympics. It was Complete Sports that the Nigeria Football Association (now Nigeria Football Federation) called upon and we stepped in by providing the records that proved Zimbabwe's allegations were wrong. Coincidentally I was in the CAF (Confederation of African Football) headquarters in Cairo, Egypt when CAF overruled Zimbabwe's protest. So, I was the first journalist to break the exclusive news in Complete Sports to Nigerians back home. You could imagine, if not for the intervention of Complete Sports at the time, Nigeria might not have participated in the Olympics football event, much less win the gold medal which is probably Nigeria's greatest football achievement to date.

What are your plans for Complete Sports in the next five years?
Thanks to the internet, the media landscape has changed dramatically especially for print publications like Complete Sports. During the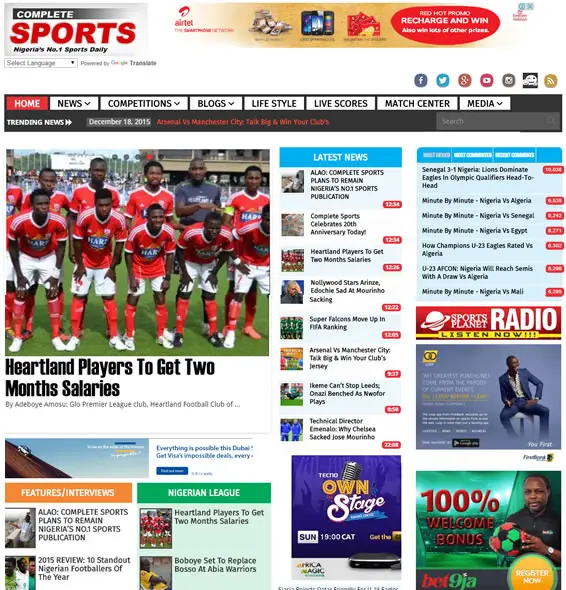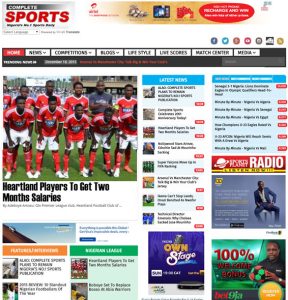 past four years, Complete Sports has moved from print only to multi-media and our plans going into the future is to continue to grow these other platforms while retaining our position as the number one print publication in sports.

Our objective is to make our website, completesportsnigeria.com, the go-to site for authentic Nigerian sports news just as we have done with the print version. In fact, we now have a completely different set of editorial and marketing staff for our print and online publications respectively.

Also, we have set up Complete Sports Studios with high definition equipment from where we produce audio-visual content. Our radio programme, Sports Planet, has been on air for more than four years and it is on five different radio stations across the country now. We also have two television programmes, Big League Soccer and Sports & Comedy, which we have produced for more than a year now.

So, to answer your question, in the next five years, we want to build these other properties to the level of national and global acceptance and patronage that Complete Sports newspaper has achieved.

Your final word?
Obviously, my final word is to thank our readers and advertisers who have supported us these past 20 years. I also want to ask for their continued support as we strive to serve them even better. Since inception, Complete Sports has always been rated as number one in the sports publications category in Nigeria. We are usually humbled each time the media research results come out and we are number one because we know it is result of our readers' loyalty to the Complete Sports brand. God bless them.

Copyright © 2021 Completesports.com All rights reserved. The information contained in Completesports.com may not be published, broadcast, rewritten, or redistributed without the prior written authority of Completesports.com.