Brazil coach, Tite, has admitted that Belgium were more clinical in the Friday's 2-1 quarter-final win over his side in Kazan.
An owngoal from Fernandinho and a sublime finish from Kevin De Bruyne sealed a berth in the semi-finals for the Red Devils while a second half goal by substitute Renato Augusto was a only a consolation for the South Americans.
Tite also admitted that Belgium goalkeeper, Thibaut Courtois, made the difference in the game with his outstanding saves.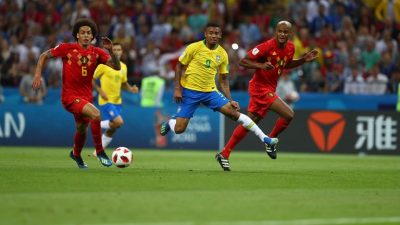 The defeat was Brazil's second loss under Tite in 25 games.
"I thought it was a great match and we had a lot of it, with plenty of possession and a lot of opportunities," Tite said in his post match conference.
"But Belgium were more effective in converting their opportunities. They have a lot of top players and finished well. [Belgium goalkeeper Thibaut] Courtois also made a real difference."
"It was a very impressive game between two teams with fantastic technical qualities. For all the pain I feel right now, if you like football, you have to watch this game. It's going to give you pleasure.
"If you're a neutral, you can sit back and say 'What a match!' Anyone who appreciates football can see that this was a beautiful game."
On his future as Brazil coach, Tite said: "I won't talk about my future right now – it's not appropriate as I'm still thinking about the match. Time will tell. After two weeks, the dust will settle and we'll have a cool head to be able to discuss it better."