SportyBet, in their usual tradition, have come up with yet another unrivalled feature – a way for you to get more value for your betting cash. Introducing the SportyBet Super Bonus, the highest bonus in Nigeria.You have a great chance to earn a bonus of up to 135% on multiple bets at SportyBet. This is applicable to all their events – sports and live betting.
How do you take advantage of the 135% SportyBet Super Bonus? Register on www.sportybet.com, and while placing bets on multiple games, select at least 4 or more games with odds from 1.2 or higher, and get your potential winnings boosted.
The bonus starts from 5% of your potential winning (for 4 games), and it increases by 5% with each event added to your SportyBet betslip, up to 135%. If you add more events to your bet slip, you'd have higher odds, and also more bonus!
For example, while betting on Premier League games for this weekend; If you decide to place your bets on 6 matches, with the matches having odds such as 2.60, 2.05, 2.11, 1.31, 2.23, 2.85 and the stake is 100, then the bonus you will get will be: 100 multiplied by your odds (2.60*2.05*2.11*1.31*2.23*2.85) multiplied by 15%. With total odds of 60.78 in this case, if you decide to stake 100, you'd get a bonus of N911.69 on your multiple bets, to make your potential win be N6.989.65. Adding more games will increase your odds and bonuses, and will make you able to have more profits on your bets.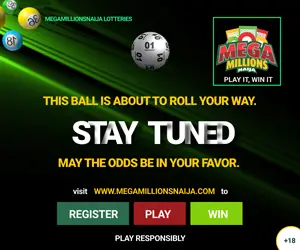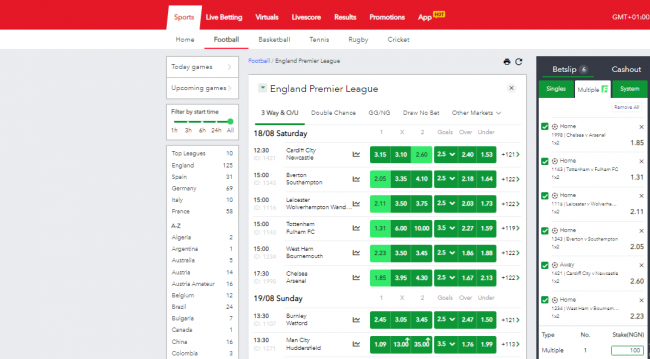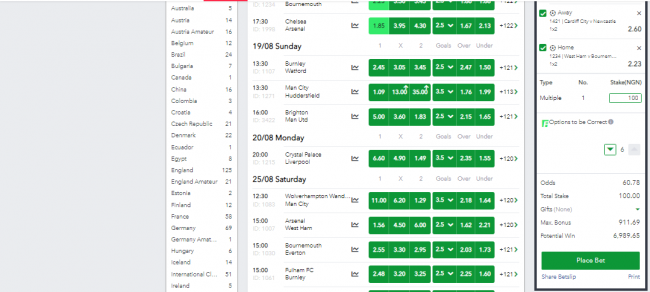 Register on www.sportybet.com today, to enjoy the SportyBet Super Bonus, and our other numerous offers.
Copyright © 2021 Completesports.com All rights reserved. The information contained in Completesports.com may not be published, broadcast, rewritten, or redistributed without the prior written authority of Completesports.com.