Philippe Coutinho opens up in his first interview after joining LaLiga giants Barcelona in a five-and-a-half-year deall for a club-record fee of €160million from Liverpool. The Brazilian star tells LaLiga organisers about everything: his favourite food, music, tattoos, role model etc…
Are you happy?
Very. It's very exciting to be able to be here.
Did you ever think that at age 25 you would be putting on the Barça shirt? Was this a good Christmas gift?
Yes, it was always a big dream of mine, ever since I was very young, because of the club's history, because of the club's greatness. It was always my dream to wear the Barça shirt and today I'm here and I'm very happy.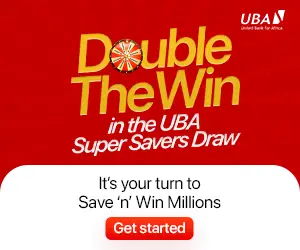 You lived in Barcelona in 2012, when you played for Espanyol.
Yes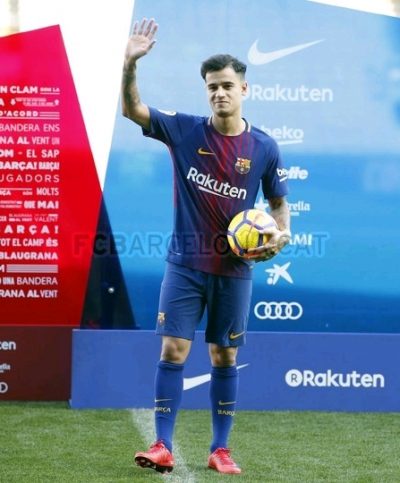 What do you like about the city?
I lived here for five or six months. The city is very nice. When I lived here, we liked the city in the way we liked Rio, which is where I am from. It is a city that we like a lot
What is Coutinho like on and off the field?
On the field, I always try to give my best on every play and with every opportunity. I try to do my best to help the team win. I try to play happy. Off the field, I am quiet. I have a daughter, I am married, and I have a quiet life.
You look relaxed, but today is your presentation. Are you anxious or calm?
I have been anxious for a few days to come to Barcelona and I am still now that I am here the presentation, making contact with the club. The day began early and I am anxious.
What do you like to do in your free time?
I like to be with my family. Laughing and smiling is very important in life. I try to be happy around the people I appreciate.
What music do you like to listen to?
I like everything. Brazilian music like pagode and samba. I like reggaetonin Spanish, too. I like lots of music.
Do you have a favorite song?
I'll tell you one line 'it is God who chooses the star that must shine.'
What do you like to eat?
I like rice and typical Brazilian beans but I like to try everything.
It appears you like tattoos. 
I have several. I started with the names of parents, I added my wife when we got married. I have a big tattoo of my daughter's picture, which represents a lot for me. I also have one that says, "Never stop dreaming." I like that one a lot.
And this one?
This one is new. It means courage. A world that I like. We always have to be brave.
Did you have a role model growing up?
My role model was always Ronaldinho. In Brazil, we have had plenty of greats: Romario, Ronaldo, and Rivaldo, players who we watched play while growing.
How do you like to dress: fashionable or simple?
I'm simple. I like to dress simple. Today I am wearing a suit to be a little more elegant.
Do you speak Spanish?
Coutinho: A little but understand everything.
And have you learned Catalan?
It is difficult but I know how to say 'Visca el Barça'
Do you like animals?
Yes, I have two dogs at home. One is from Barcelona and will be returning home now.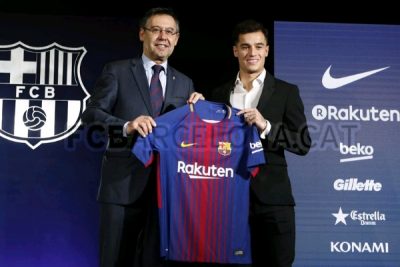 Do you like to use social media to share moments with the fans?
Yes, I like to post photos with my family, what I am doing, training, games. I like to share beautiful moments.
Do you have a favorite place?
My favorite place is on the field.
Who do you dedicate your goals to?
To my family, my wife, and my daughter who is always with me supporting me and I am also a very big believer and I always thank God
Do you have one wish?
To play for Barça and be a champion and to win titles.
Copyright © 2023 Completesports.com All rights reserved. The information contained in Completesports.com may not be published, broadcast, rewritten, or redistributed without the prior written authority of Completesports.com.