Nigeria forward Alex Iwobi attended a wild drug-fuelled house party the day before struggling in the Gunners' shock FA Cup exit, according to a report on British tabloid The Sun.
The Arsenal midfield star was videoed screaming and dancing at 2.37am on Saturday in Soho, central London, hours before featuring for the Gunners in their 4-2 FA Cup loss to Nottingham Forest at Ashton Gate.
Iwobi was filmed dancing at the wild bash where partygoers smoked cannabis and inhaled laughing gas but there was no suggestion that the Super Eagles star took drugs during the house party, according to the report.
"Maybe his partying had something to do with it. He shouldn't be up that late," The Sun quoted a source.
The report added that the neighbours complained about the noise from the rented Airbnb flat in Soho, central London, where the party continued until 3.30am.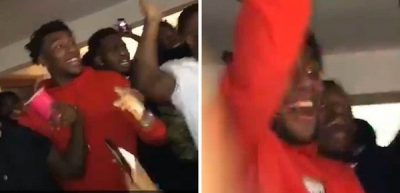 One of the neighbours said: "They were keeping everyone in the building awake. I was woken at 1am by chanting and singing and went to complain. There were laughing gas canisters all over the place and a strong smell of weed.
"They claimed they hadn't been allowed into a club and that's why they rented the flat."
A spokesman for Arsenal declined to comment.