Former Nigeria internationals Nwankwo Kanu and Osaze Odemwingie have both been included in the Premier League's top 50 greatest hat-trick scorers.
The list, which was in the form of a countdown and which ran for a week, was published by Sportsmail.
According to the list, Kanu's hat-trick in a 3-2 win for Arsenal against Chelsea at Stamford Bridge in 1999, was ranked at number two.
While Odemwingie's hat-trick heroics for West Brom who thrashed Wolverhampton Wanderers 5-1 in 2012, was at number 31.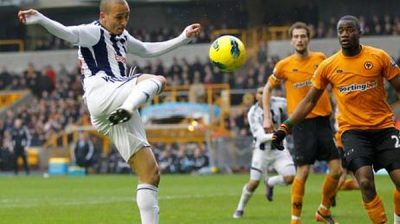 Commenting on Kanu's feat which was achieved with 15 minutes left in the game, Sportsmail wrote: "Fifteen minutes to go at Stamford Bridge and this London derby looked finished following goals either side of the break from Chelsea by Tore-Andre Flo and Dan Petrescu.
"Few could have expected what was to follow as the otherwise anonymous Nwankwo Kanu made a devastating impact on the game.
"The striker pulled a goal back with a poked finish into the corner, before equalising with a near-post finish.
"It was the winner that goes on be fondly remembered though, taking the ball past stranded Chelsea keeper Ed de Goey on the byline before lifting in a finish from an acute angle. Commentator Martin Tyler summed it all up by crying out 'Kan-u believe it?!"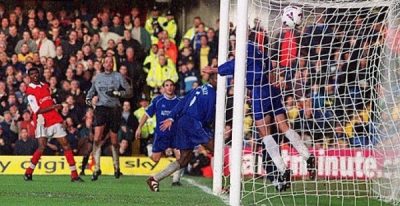 Former Manchester United and Tottenham's Dimitar Berbatov's hat-trick against Liverpool in a 3-2 win at Old Trafford in 2010 was ranked number one.
Other notable names on the list include: Alan Shearer, Dennis Bergkamp, Luis Suarez, Ole Gunnar Solskjaer, Robbie Fowler, Jurgen Klinsmann, Ian Wright and
Thierry Henry.
Also on the list are Sadio Mane, Eric Cantona, Michael Owen, Teddy Sheringham, Sergio Aguero, Cristiano Ronaldo and Harry Kane.
EPL Top 50 Greatest Hat-trick scorers:
1. Dimitar Berbatov (Man United 3-2 Liverpool) — 2010
2. Nwankwo Kanu (Chelsea 2-3 Arsenal) — 1999
3. Sadio Mane (Southampton 6-1 Aston Villa) — 2015
4. Robbie Fowler (Liverpool 3-0 Arsenal) — 1994
5. Luis Suarez (Liverpool 5-1 Norwich City) — 2013
6. Dennis Bergkamp (Leicester City 3-3 Arsenal) — 1997
7. Robin van Persie (Man United 3-0 Aston Villa) — 2013
8. Alan Shearer (Newcastle 4-3 Leicester City) — 1997
9. Matthew le Tissier (Norwich City 4-5 Southampton) — 1994
10. Fabrizio Ravanelli (Middlesbrough 3-3 Liverpool) — 1996
11. Robbie Earnshaw (Charlton 1-4 West Brom) — 2005
12. Ole Gunnar Solskjaer (Nottingham Forest 1-8 Man United) — 1999
13. Thierry Henry (Arsenal 4-2 Liverpool) — 2004
14. Wayne Rooney (Man United 8-2 Arsenal) — 2011
15. Jurgen Klinsmann (Wimbledon 2-6 Tottenham) — 1998
16. Fredi Bobic (BOLTON 4-1 Ipswich) — 2002
17. Ian Wright (Arsenal 4-1 Bolton) — 1997
18. Andy Cole (Man United 9-0 Ipswich) — 1995
19. Romelu Lukaku (West Brom 5-5 Man United) — 2013
20. Steven Naismith (Everton 3-1 Chelsea) — 2015
21. Andrei Arshavin (Liverpool 4-4 Arsenal) — 2009
22. Jimmy Floyd Hasselbaink (Chelsea 4-0 Tottenham) —2002
23. Andy Carroll (West Ham 3-3 Arsenal) — 2016
24. Michael Owen (Newcastle United 1-4 Liverpool) — 1998
25. Eric Cantona (Leeds 5-0 Tottenham Hotspur) — 1992
26. Kevin Nolan (Newcastle 5-1 Sunderland) — 2010
27. David Bentley (Blackburn 4-3 Man United) — 2006
28. Alan Shearer (Newcastle 8-0 Sheffield 
Wednesday
) —1999
29. Mark Viduka (Leeds 4-3 Liverpool) — 2000
30. Didier Drogba (Chelsea 8-0 Wigan Athletic) — 2010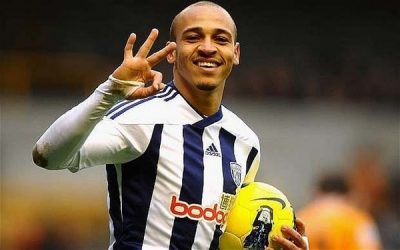 31. Peter Odemwingie (Wolves 1-5 West Brom) — 2012
32. Stan Collymore (Leicester 5-2 Sunderland) — 2000
33. Sergio Aguero (Man City 6-1 Newcastle) — 2015
34. Tony Yeboah (Wimbledon 2-4 Leeds ) — 1995
35. Steven Gerrard (Liverpool 3-0 Everton) — 2012
36. Dirk Kuyt (Liverpool 3-1 Man United) — 2011
37. Robert Pires (Arsenal 6-1 Southampton) — 2003
38. Duncan Ferguson (Everton 3-2 Bolton ) — 1997
39. Tore Andre Flo (Tottenham 1-6 Chelsea) — 1997
40. Andrei Kanchelskis (Man United 5-0 Man City) — 1994
41. Teddy Sheringham (Portsmouth 4-0 Bolton) — 2003
42. Callum Wilson (West Ham 3-4 Bournemouth) — 2015
43. Jermain Defoe (Tottenham 9-1 Wigan) — 2009
44. Clive Mendonca (Charlton Athletic 5-0 Southampton) — 1998
45. Peter Crouch (Liverpool 4-1 Arsenal) — 2007
46. Harry Kane (Leicester City 1-6 Tottenham) — 2017
47. Dion Dublin (Southampton 1-4 Aston Villa) — 1998
48. Cristiano Ronaldo (Man United 6-0 Newcastle) — 2008
49. Paul Kitson (Charlton Athletic 4-4 West Ham) — 2001
50. Kevin Lisbie (Charlton Athletic 3-2 Liverpool) — 2003