Former France international midfielder Christian Karembeu believes that African teams need to learn from past winners of the FIFA World Cup if they too want to win the much coveted trophy. The 1998 FIFA World Cup winner believes that African teams possess the talent to win the tournament but that football Federations on the continent must provide their players with the enabling environment to fulfill the continent's enormous potential.
Karembeu was in Lagos over the weekend for the FIFA Trophy world tour, and he spoke to Complete Sports radio show, Sports Planet anchorman, BATUNDE KOIKI,  in an exclusive interview graciously arranged by the BBC in their Lagos office. 
"African football federations need to give their players all the conducive conditions that can transform them into winners. All you need to do is to observe how the great European and South American teams that have won the
tournament that gave them success and copy that. This is how we were educated in Europe; to copy what successful teams
did and improve on it," Karembeu begins in the interview with Complete Sports' Sports Planet.
"Africans have won the world Cup before but they did it in the colours of France and Germany. But i hope that one day an
African team can actually win the tournament. You have good players but you need to support them and push them to be
consistent and play at the highest level throughout their career. Its not for them to have one or two good years but as
many years at the top as possible."
The Super Eagles will contend with Euro 2016 surprise packages Iceland, 1998 FIFA World Cup bronze medallists, Croatia,
and two time world champions, Argentina, in Group D of the 2018 World Cup and if they claim either of the top two spots,
will possibly face 1998 champions France in the Round of 16.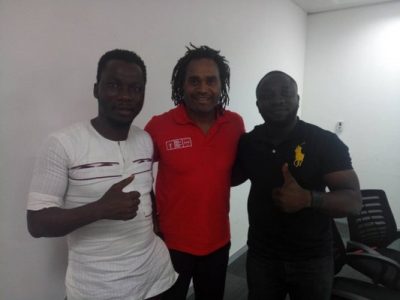 France are favourites to top an easy looking Group C which pits them against Denmark, Australia and Peru. Paul Pogba and a Joseph Yobo own goal helped France beat Nigeria 2-0 in the Recond Round at the 2014 tournament in Brazil, but Karembeu believes if both teams clash again in Russia, his homeland won't
have it so easy again.
Karembeu,  an European Championship winner with France in 2000 explains:
"France and Nigeria are two great footballing nations with great experience and so it will be a tough game. Didier Deschamps knows his team quite well, but the squad is struggling offensively at the moment. Karim Benzema is not in the team, Olivier Giroud and Alexandre Lacazette are not playing regularly, so Deschamps might be forced to play Antoinne Griezemann and another attacking midfielder upfront. But your team is good offensively and looks complete and Gernot Rohr knows the French team quite well so it will be tough for us."