France international and Juventus midfielder Blaise Matuidi believes Cristiano will come out of his initial goal drought and become a big hit for the Old Lady.
"Ronaldo has something different, we are talking about a player who has won five Ballons d'Or," Matuidi told Gazzetta dello Sport.
"We can say that he is the best in the world and we can only be happy to have him with us.
"For sure his experience is one of winning a lot, especially in the Champions League.
"It will help us in the crucial moments of the season. We will see it at work, this time on our side."
Blaise also speaks about Jive's forthcoming UEFA Champions League clash with Manchester United at the Old Trafford on October 23, and the excitment of playing against his France teamnate and Red Devils' midfielder, Paul Pogba.
"We've been joking with Paul," We've arranged to meet on the pitch in Manchester," Matuidi smiles.
"Our group is hard, not just because of Manchester United, but also Valencia.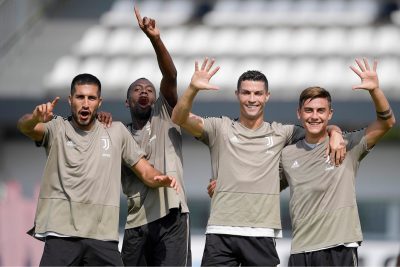 "They will be good matches though, we're prepared, we've been working hard in training to give it our all in the league and the Champions League.
"We have a very strong squad, with a lot of players who can express themselves over the season."
Copyright © 2020 Completesports.com All rights reserved. The information contained in Completesports.com may not be published, broadcast, rewritten, or redistributed without the prior written authority of Completesports.com.
How I make $10,000 monthly in Online SALES? apply the *Social Media Marketing Strategy* and watch your account balance swell. Buy eBook NOW!!!