By David Meshioye and Adeboye Amosu LIVE at the Stade de Kigali:

 
Eagles warming up at the Kigali Regional Stadium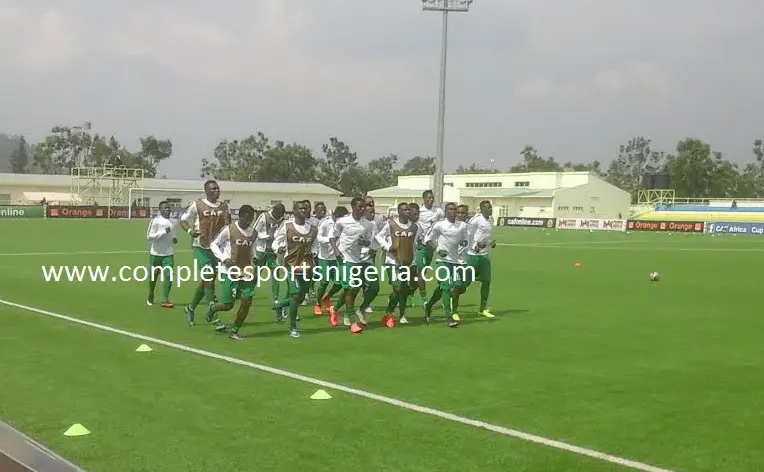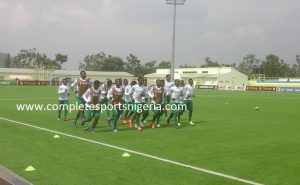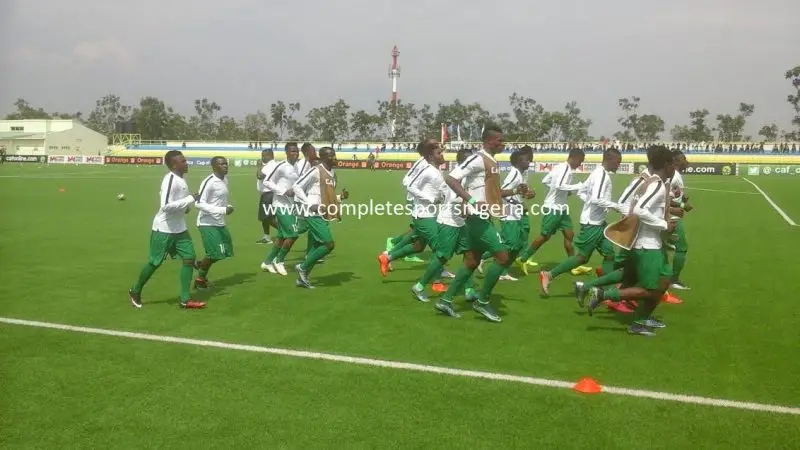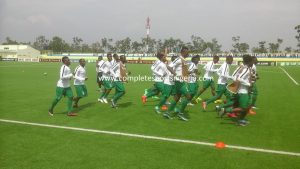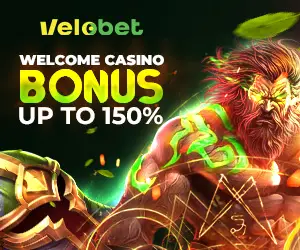 ………………………………………
Murakaza Neza (welcome)! Its Nigeria vs Tunisia or should I say Chikatara vs Achaichi! It's Group C send game here at the Kigali Regional stadium here at Nyamirambo.
Both teams have arrived and the fans are still nowhere to be seen but one thing is sure; this clash promise to be to a tough one with both teams needing a win to consolidate their chance of making progress into the quarter-finals.
It remains to be seen how Coach Sunday Oliseh live-up to his earlier promises to give millions of Nigerians back home something to cheer in this tourney.
Well, The Super eagles is loaded to the hilt with coach Sunday Oliseh ringing three changes with rave of the moment Chisom Chikatara grabbing a starting shirt ahead of Adeniji. Austin Obaroakpo return to Eagles defense after serving one match suspension . Coach Sunday Oliseh won't be needing his bite of course its afternoon as "Mosquitoe" Barthlomeuw Igbinegbu takes his place on the bench while Taraba United Usman Mohammed will be starting ahead of  him.
Here is Super Eagles line
IKECHUKWU EZENWA
MATHEW ETIM
CHIMAS AKAS
AUSTIN OBAROAKPO
STEPHEN EZE
MIDFIELDER
PAUL ONOBI
IFEANYI MATHEW
OSAS OKORO
STRIKERS
USMAN MOHAMMED
PRINCE AGGREY
CHISON CHIKATARA
Murakaza Neza once agai, stay glue mto www.completesportsnigeria.com as we give you all the intrigues, tackles and the goals in this epic encounter between Nigeria and Tunisia. We will be right back

Nigeria Fact At the Africa Nations Championship: Chisom Chikatara is the second player since the African Nations Championship started in 2009 to have scored a hat trick after Zambia's Given Singuluma netted the first hat trick of the CHAN in a 3-0 victory against host Coted'Ivoire in the very first edition in 2009.
Both teams are back in the dressing room after short warm up. They will be out in few minutes to begin todays match
The fans are seen trickling bits by bits and the sun here might just be exactly what coach sunday oliseh wished for
I will be your anchor here as we give you minutes by minutes report of this epic clash
* All eyes are on CHAN rave of the moment Chisom Chikatara!
That name send jitters down the  spines of defenders and fans alike and you can be sure that name is fast becoming a song here in Kigali C-H-I-K-A-T-A-R-A lets hope he gets his mojo right today!
yes the reserve players from both team are out now. All is set as Nigeria nd Tunisia file out from the dressing room In their ussual and unique way of adding a bit of excitement and colour to football matches, the Nigeria supporters club are not left out
Their songs and drum is keeping the atmosphere charged! What a game we have in our hands this afternoon
Its 2:52pm in Kigali as both team file out from the dressing room
The MOMENT OF TRUTH IS HERE. WHICH OF THE TWO TEAMS ARE YOU PUTTING YOUR MONEY ON TO CARRY THE DAY?
I can hear millions of fans back home putting their money on Nigeria but as for me; i 'll be sitting on the fence and hope the better side wins and Nigeria smile at the od the match.
Did i hear you say i am supporting Super Eagles? well its Nigeria anthem now
National anthem over and pre match proceedings follows now
Nigeria won the toss of coins and will be playing from your right hands side of the TV to the left
=================================================================================
Nigeria need at least a draw on Tuesday against Guinea to guarantee passage to the quarter finals.
What is your view of the Nigerian performance? Use the Leave A Reply column to respond.

Copyright © 2023 Completesports.com All rights reserved. The information contained in Completesports.com may not be published, broadcast, rewritten, or redistributed without the prior written authority of Completesports.com.