The Nigerian Boxing Board of Control (NBB of C) described Friday's WBF African Cruiserweight title bout involving Tony "Sugar" Salami and his opponent Chomunorwa "Sting" Gonorenda as dramatic one that Nigerians are proud of.
Anthony Salami knocked out Gonorenda in 6th round in one of the greatest fights of his boxing careers to leave thousands fans on their feet at Federal Palace Hotel, to shoot him to stardom.
NBB of C boss Dr.Rafiu Ladipo showered encomium on the Nigeria fighter for his courageous effort which eventually saw him clinched WBF Cruiserweight title after his loss to Gonorenda in Harare early this year.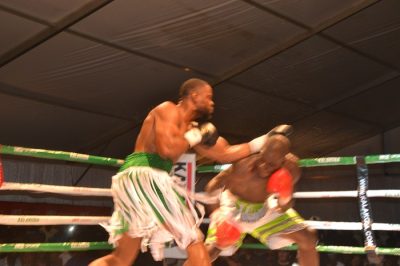 " Tony has again proved that he has what it takes to rise to the occasion when it matters most and his win over Gonorenda laid Credence to that fact. He is a great fighter and Nigeria is on the verge of raising another world champion in the coming years," he said.
He further thumps up Kwese Sports and Kalakoda Boxing Promotions for their immense support given to Nigerian boxing, stressing that both company deserve all the accolades for it role in ensuring that professional boxing is restored to it's righful place in the country.
" We must thank Kwese Sports for coming out to support sports not forgetting Kalakoda Boxing Promotions too. These bodies deserve all the support they can get from Nigerians.
"We appreciate their efforts at ensuring that boxing enjoy more followership like football and this is a sign of good things to come," he added.
Dr. Ladipo hinted that Kalakoda Promotions' laudable initiative aimes at unearthing young and talented boxers ready to turn professional, has addressed the scarcity of good professional  boxers in the country
In other bouts, Olanrewaju Durodola knocked out Maroy Sadiki in round two of 12 rounds WBF Cruiserweight World title
In the 8 rounds International Super Middleweight bout, Habib Ahmed defeated Sunday Ajunwa by TKO (round 3) while 6 rounds Featherweight bout saw Rilwan Lawal overpowered Dare Oyewol
Taiwo Olowu beat Saheed Lawal Welterweight bout
Tunde Olojede ensured Sadiq Adeleke kissed the canvass by a split decision in the Bantamweight challenge