From today football fans in Nigeria can kit out their Bitmoji in the same kit that Iheanacho, Iwobi, Moses and John Obi Mikel will wear at the World Cup.
This means fans can show their support for the Super Eagles wherever they use Bitmoj to communicate online.
And if the Super Eagles kit is not to your favourite then fans can choose the adidas or Nike kit that Messi, Ronaldo, Ozil, Kane and Neymar will wear this summer.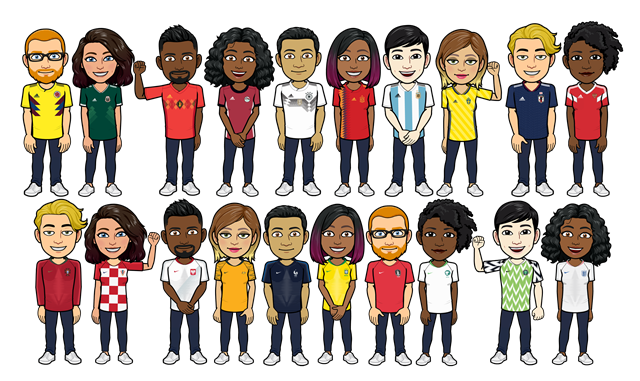 ADIDAS, NIKE AND BITMOJI GET KITTED OUT FOR THE FIFA WORLD CUP
*adidas and Nike have teamed up with Bitmoji to let football fans wear their favourite World Cup kit this summer.*
*Available today in Bitmoji , f*ans worldwide can kit out their avatar in England's official Nike kit, the powerful red adidas jersey of 2010 champions Spain, *the famous yellow Nike shirt of tournament favourites Brazil, or the iconic white adidas kit worn by holders Germany. *
*Other adidas kits available include hosts Russia, Belgium, Sweden, Argentina, Colombia, Mexico, Japan and Egypt.Other Nike kits available include France, Poland, Portugal, Croatia, Saudi Arabia, Nigeria, Australia and South Korea. Once fans have updated their Bitmoji, they will see their Bitmoji wearing their favourite kit everywhere they use Bitmoji. This includes on Snapchat in Stickers and 3D Bitmoji AR Lenses, in Google Chrome and Gmail extensions, Gboard for Android and Bitmoji keyboard for iOS.
Bitmoji can also be saved and used as an image anywhere."Football fans are passionate and creative, and with Bitmoji kits we're giving supporters a new way to show their love of the game", said Ba Blackstock, creator of Bitmoji, "Fans can choose from hundreds of cartoon images and 3D experiences to express how they are feeling about the World Cup and share this instantly with friends."Bitmoji <https://www.bitmoji.com/> was the world's most downloaded app in the iOS App Store in 2017. It is your own personal emoji, designed to make mobile communication more human and fun.
​To create or link your Bitmoji:
1. Download the Bitmoji app from the App Store or Google Play Store
2. Open the Bitmoji app and create your bitmoji
3. Open Snapchat and tap the Profile icon at the top left to go to your Profile screen
4. Tap "Add Bitmoji"
5. Snapchat should guide you through the rest!Link your bitmoji
If you already have a bitmoji and want to link it to Snapchat:
1. Tap the Profile icon at the top left to go to your Profile screen
2. Tap "Add Bitmoji"
3. Snapchat should guide you through the rest!
4. Note: in order to link Bitmoji with Snapchat, you'll need to have at least iOS 9 or Android
4.3.Edit your bitmoji To edit a Bitmoji you already have on Snapchat:
1. Tap the Profile icon at the top left to go to your Profile screen
2. Tap "Bitmoji"
3. Tap "Edit My Bitmoji" to edit its appearance, "Change My Outfit" to get new clothes, or "Change My Bitmoji Selfie" to update the way your Bitmoji looks on the Friends screen!*