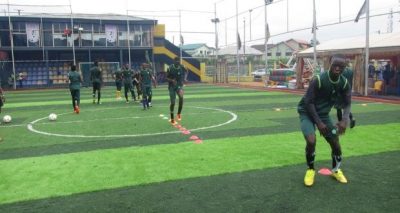 TurfSeason Training at Fun Turf Lekki
Turf Season: This Nigerian Platform is Giving Talented Grassroots Footballers a Chance
Turfseason, a Nigerian social enterprise, is floating a platform that allows talented young footballers across the country to showcase their skills and earn a career both locally and internationally.
Paschal Agonsi, the project director/founder of Turf Season, recently talked to PEP NAIJA in an exclusive interview and he revealed how this amazing project is making a difference in the lives of talented grassroots players.
He talked about the impact, prospect as well as challenges facing this highly laudable project. Without doubts, this will move you. Enjoy reading.
Tell us, what is Turfseason all about?
Turf Season is a football project giving talented grassroots youth footballers a platform to showcase their skills and attract football career opportunities both locally and internationally.
Our project involves using the power of media and technology to identify, expose and build capacity of these hidden talents whose careers die early due to lack of exposure, structure and opportunities. We started in November 2015, incorporated as a company in November 2016 and we have been growing steadily so far.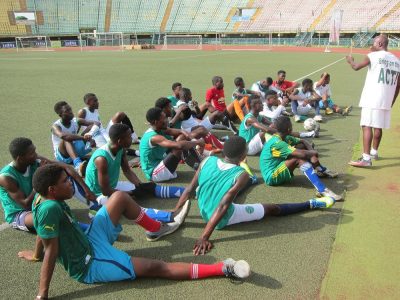 Turfseason 3-Day Camp at Teslim Balogun Stadium Lagos, April 25-27, 2017
How do you get young talented footballers enrolled?
We go to the grassroots and scout these players. Social media has been incredible for us. We were able to reach these players at a fascinating speed. A lot of young people are online these days so we use the online medium to invite them for screenings/trials. As of January 2017, we had over 1,000 registrations on our website. In february 2017, we held six camps in six states spread across the six geo-political zones; Kaduna (8), Abuja, FCT (10), Enugu (13), Rivers (15), Delta (17) and Lagos (22).
Over 250 attended these camps in total where we shortlisted 30 players to attend a 3-day Camp at Teslim Balogun Stadium (April 25-27). At the end of the screening, 15 players emerged as the best talents who later took part in a three-month development camp from September to November, 2017. The stories and events from this program were supposed to be televised as a reality series but due to lack of funding, things didn't really go as planned.
What is your ultimate goal?
Our ultimate goal is to create a platform where every talented youth player can showcase their skills and earn a career. There is no doubt that Nigeria has a huge deposit of talents in the grassroots. The fact that we have won the FIFA U17 World Cup five times at this level already over-emphasizes this. However, the career opportunities for them have been very few and as such many beautiful football careers die early.
With Turf Season, we can play a major role in ensuring that these talents achieve their fullest potential. Also, we understand that the football career is quite short, so we prepare talents for life after football by introducing them to entrepreneurship, vocational and industrial skills, which will help shape their lives after retirement.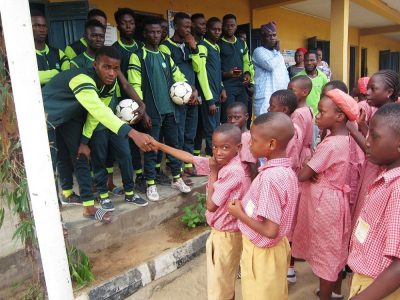 Turfseason is catching them young
What can you say is the biggest achievement of Turf season so far?
Executing a project like ours is quite a huge challenge considering the project demands, costs and peculiarities. However, we have managed to survive so far based on sheer drive and determination from a small team of three persons, all under 30.
Our biggest achievement so far has been focusing on creating value, delivering objectives, maximizing resources, forging partnerships with stakeholders and vendors, and of course, running on a deficit budget. With the traction we have gathered in just one year, it clearly shows that with the right funding, we can really do more and achieve more with our social enterprise.
How much support have you gotten so far?
To be quite honest, the project has been run mostly on personal savings and contributions of our very small team both in cash and kind. However, we are grateful to our friends who have  offered their moral and financial support to help cover costs.
During our scouting tour in February 2017, we saved huge costs in hotel accommodation and meals, as we pitched tents with friends in these states, who were more than happy to host us. We really killed a lot of birds with very few stones. We are also thankful to Fun Turf Lekki for providing their facility free of charge for our various activities throughout the year and Munin Sports (Denmark) & Futchi for donating training equipment, Tactical Pad (Brazil) for training software, and Novajii Introserve for setting up our short-code for voting. We can't forget media support from Goal.com, Pulse Nigeria, Complete Sports, TNB Digest, etc.
We certainly need more support from brands and individuals who can see sports as not just entertainment but as a development and capacity building tool. We are launching a project for indigent talents in 2018, to provide 100 grassroots players, both male and female, with facilities, equipment and resources to aid their overall development physically, economically and intellectually. We strongly believe that we can make a positive social change in our society with sports and we call on all well-meaning people to support.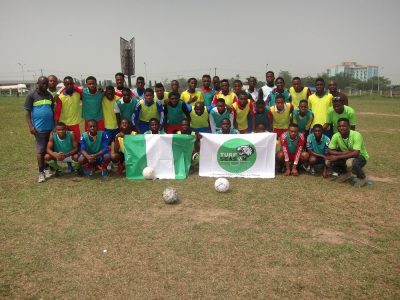 TurfSeason Camp Warri – February 17, 2017
What and what challenges have you faced/still facing?
The greatest challenge has been getting government at all levels and the private sector to buy-in and support. Despite several correspondence, it hasn't led anywhere yet. We quite understand that it has been a difficult year (2017) for most businesses but what many failed to understand is that sports marketing is a real game changer as the positive power and passion sports wields can create an enabling environment for businesses to thrive.
Getting standard facilities is still an issue. Talented players are readily available but access to these facilities demands a lot of money and takes a toll on our project costs. While this may not change anytime soon, we are looking at developing our own training facilities and hostels.
Funding is also an issue and it's quite very tasking raising funds in a tough economy like ours. However, we have plans to be completely sustainable by our third year. We've just launched our academy and we should be in full operations in at least two states by Q4 2018. We also have plans to expand into other related areas and we'll unveil them in due time.
Follow Turfseason on Facebook and Twitter