Permit me to apologise once again to all those that make this column part of their weekend diet, for not filling this space last weekend.
Let me make a confession.
For the first time in many years I have not been excited about writing anything on sports.
Whilst on my trip to the United States, I met with a legion of Nigerian ex-international athletes across the spectrum of sports, exceptional athletes in their time, intellectually empowered now with education, exposed now to the best traditions and most functional systems in sports development, and eager to render service to their country, neglected and disregarded by their country, 'wasting' away in America like beautiful flowers in the desert (that metaphor once again) with America being the beneficiary of all their invaluable resources. 

 
I can imagine what bringing all these people together, adding their offerings to those of their counterparts here in Nigeria to confront the present situation in Nigerian sports that has been invaded by 'pirates' and the birthrights of authentic sports persons taken away from them.
These invaders will not let go of their loot. In fact, they are becoming stronger, controlling everything with a firmer grip, with negative consequences on the sports themselves. The juices flowing from them are too sweet.
I have been writing consistently for almost 40 years of my life on a subject matter that encapsulates the better part of my life itself.
This effort has yielded nothing, even though the thought that some people actually take their time to read words put together by me has been humbling and fulfilling.
That is what has kept me going.
To look back through the years and realize that very little has changed to halt the downward slope of sport is to weep in silence.
I must confess that I am angry and frustrated.

 
There are experiences in sports that cannot be bought in the market place; experiences that cannot be taught within the four walls of a classroom; experiences that are the product of tears, sweat and blood on the fields and courts; experiences that should have been deployed to chart a proper course for Nigerian sports in the sea of global opportunities available to millions of our country's naturally gifted athletes presently wasting in the limbo of ignorance and disregard by government, drifting in the sea in a rudderless boat heading nowhere.
It is obvious even to the blind that, structured the way it is now, Nigerian sport is going nowhere. Sports are stuck in the mud, a blind man leading a sector with one-eyed people.
Yet, the wheels of the country continue to grind, totally oblivious of the damage being done to generations of young people whose lives could be different, who could be living in the paradise of fame, fortune, power and a good life through sports, but for the neglect the sector suffers.
The Nigerian sports environment is presently full of the carcasses of failed projects, of unfulfilled dreams, of neglected and decaying infrastructure and facilities, of officials living off the spoils of their office and being undeservedly celebrated at the expense of those that made all the sacrifices, of the athletes themselves that are living in neglect and penury and are ever unlikely to harvest the fruits of their seeds?
I am still struggling to identify an authentic Nigerian sports hero that has truly benefited from his or her sacrifices and contributions to Nigerian sports. Through the country's entire history you can count such persons on the fingers of one hand.
That's why sports remain in the parlous declining state they are in, the last and least item in the long list of the governments' priorities.
As I think about all these, I am left with a hollow feeling and a foreboding. I have given up too much of my life being honest and decent and trying to uphold the virtues and values that sport taught me. There is little to show for these, even if I have always known the price of integrity is very high.
But I remain through the purest spirit of Olympism and sport and will never give up the match or fight until the blast of the final whistle.
So, even as the sun starts to set on my generation, we shall not stop to do the little we can do even if it is to sermonize as I do through my columns every week.
That's what keeps me going. That's why I am back again this week writing.
Nigeria has not qualified for the African Cup of Nations for over two editions. That is a glaring failure even in the country's number one sport.
Nigeria was not represented at last month's under-18 IAAF world championship in Nairobi, Kenya. That is the future generation denied an opportunity.

 
This past week only one Nigerian student-athlete was at the World University Games going on in Taipei, Taiwan, after Nigeria was completely absent at the last edition held in South Korea. 

 
These are two generations denied their opportunities that are lost forever.
Such stories are all around us, sad commentaries on the state of sports in the country.
The tragedy is that there isn't even a whimper of protest anywhere and by anyone. The country's sport sector is just moving on as if nothing drastic is happening.
It is a catastrophe for heaven's sake!
Whole generations have been denied their rights and opportunities to develop and showcase their sporting skills, possibly become stars, choose an alternative career, and do something positive and beneficial with their God-given talent.

  

They are denied a shot at possible fame and fortune by a system that foists on them captains that find it impossible to navigate the ship in an unfamiliar sea.
Yet, the evidence of the power and potentials of that sector are all around us.
A young 26-year old Brazilian footballer was transferred recently for a world record-breaking 200 million pounds.
Thousands of Kenyan runners are racing in every middle and long distance event all over the world making sports (as part of a greater tourist industry) the greatest economic contributor to that country's GDP.
Jamaica may presently be the most popular and probably the only 'successful' Black nation on the planet through the activities of its sprinters. Usain Bolt may also be the most famous Black face in the world in this generation. 

 

It is not hard to quantify the added value this single human contributes to his country's economy.
At the same time, Nigeria has had some of the best natural sprinters, jumpers, wrestlers, boxers and even footballers in the world at various times in the past, and today there are only carcasses and skeletons of that rich history to show as 'progress'.
Something is definitely wrong somewhere. It is either that we, the victims of this state of affairs, are not making the right noises or that our noises are not loud enough.
Either way, something needs to be done quickly.
It all boils down to leadership, selection of the right captains to steer the ship of sports through the maze of Nigeria's numerous challenges.
This sports ship is sinking fast and requires urgent rescue.
Personally, I am seriously worried about the wasting energy in Nigerian youths and what would happen if it is misdirected away from sports to other areas. It is a time bomb that must be diffused!

Fastest Paying Betting Site in Nigeria
: Grab your 140% First Time Deposit Bonus Now —
www.Sportybet.Com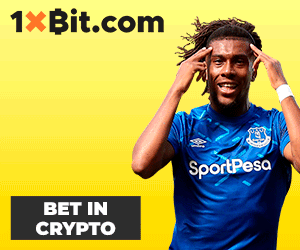 Copyright © 2021 Completesports.com All rights reserved. The information contained in Completesports.com may not be published, broadcast, rewritten, or redistributed without the prior written authority of Completesports.com.