By Kayode Ogundare:
Dominic Oruma, the younger brother of troubled ex-Super Eagles midfielder Wilson Oruma who's reported to be suffering from depression arising from a business deal gone awry, has come out to clear the air on his brother's illness as well as to warn the public about the activities of some people who may claim to be raising funds for his treatment.
He was a guest on a Lagos Television sports programme anchored by Godwin Enakhena on Monday. Read excerpts……
ENAKHENA: Dominic, good morning and welcome. There are conflicting reports but we want you to clear the air. Oruma has health challenges or is that a figment of people's imagination?
DOMINIC ORUMA: Yeah, Wilson has health challenges but he's definitely not mad. Not by any stretch of the word. If you speak with him, even with all the pictures out there in the media, you'll be surprised at how lucid he is. He's just depressed, a form of psychosis. When things go wrong, a lot of things can happen. But you can still have a conversation with him about the past and the present and he will recall everything perfectly. We never knew things could get to this level. We quite appreciate the prayers of Nigerians since the story broke and we, as a family, are doing everything possible to get Wilson back on his feet.
Talking about pictures, how recent will you say the pictures we are seeing in the media are?
Those pictures will be not too far back, probably November or December. Like two months ago at the most. So it's a fairly recent picture.
The story was everywhere that Wilson was neglected by his family. How true is that?
That's interesting. Well, the family will never neglect him because he's the breadwinner of the family, he's our star and whatever he's going through all of us in the family are with him. Even before this story broke in the media, we already had plans to take him for treatment. We just wanted him to spend Christmas with the kids before we commenced the process for his treatment. I went to his house, at the request of my older brother, and discussed with him about everything. Wilson was always his own man and, as his younger brother, there was little I could do to change his mind when he refused to cut his hair, for example. When I reported back to the family that he's refusing to cut his hair and the other things I noticed, we realized he was relapsing and decided to swing into action. Like I said before, we already had a plan in place and we were just waiting for the festive period to be over. Then when the pictures and reports surfaced in the media, we had to just go ahead with the plans and I can tell you that he's in hospital recovering nicely now and everything will be alright in a matter of time. He's doing good now, I can report.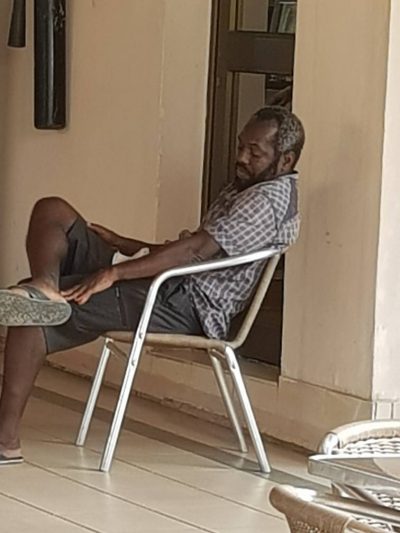 What kind of support have you gotten from the Nigerian Football Federation?
Well, when the reports surfaced in the media, the NFF President Mr Amaju Pinick contacted the family and spoke with my elder brother. Pinick was in London and our eldest brother is also in London so they met up and discussed about it. Wilson was already in the hospital by then so when Amaju called, he spoke with myself, my older brother here and Wilson himself. He's been helpful, just like the generality of Nigerians who've stood by us since this whole incident began.
There are allegations that you, Dominic Oruma, are one of Wilson's siblings taking advantage of his situation to squander his wealth. What's the truth in that allegation?
(Laughs) He's my older brother but I'm not the closest to him. Whenever he's in Nigeria, I come around and we do stuff together. Like I said, he's his own man and though the family has his interest at heart, we don't think for him. He does his own thing. I have also heard those stories that I'm taking advantage of him but those who know, especially within the family, are aware that there's nothing of such. Whatever I'm doing today, he gave me support but neither me nor the extended family squandered his money.
Some friends of Wilson are soliciting money on Social Media, asking people to donate money to some accounts ostensibly for his treatment. Is the family aware of this?
I want to categorically say we are not aware of any such fundraising and it does not have our blessings or approval. I want to thank Nigerians who have been supporting Wilson with their prayers but the family has not asked anybody to collect funds on behalf of our brother. The family has asked me to use this opportunity to inform the general public to beware of such people. There's a particular friend of Wilson's, an ex-footballer himself, who I've been informed has opened several Facebook accounts soliciting for funds. That, in itself, is fraud. Wilson will not welcome such and the family is not in any way or form asking people to contribute money for his treatment. We categorically distance ourselves from such activities by any individuals or groups.
Have you tried reaching out to this friend of his on this issue?
Well, I guess my brothers would have reached out to him. My elder brother told me yesterday that he's asked my twin brother to reach out to him as a matter of urgency to stop whatever he's doing and anything that has to do with funds should be put aside for now.
When did Wilson quit football?
Officially, Wilson stopped playing football in 2010 and he was quite comfortable.
Tell us exactly how did Wilson get into the situation he's found himself now?
Well, I guess bad advice from people surrounding him. He doesn't have too many friends but prefers to do his own thing and is extremely generous to people. But when you have friends like the one I mentioned earlier around you who are there for what they can get out of you, this is what you get. So, like I said, it was basically bad advice.
Will you say Wilson's case wouldn't have gotten to this stage if he got help in time?
Honestly, no. When it happened, the family was always there for him. I'm the contact man in Lagos and anytime something came up and I was made aware of it, we always did our best to sort it out.
The story is out there that he was swindled for as much as N1.2billion and a pastor was even mentioned. That's a lot of money, isn't it?
Yes, you're right, it's lot of money. We also heard about the pastor angle but Wilson himself never told us. Like I said, he's a man of few words. He doesn't talk much. The family is pre-occupied with getting him back on his feet and with the prayers of everybody he will be back very soon. He's not mad and I can reliably inform you that he's already recovering.
You also played football at international level, didn't you?
Yes, I did. I captained the U-17 team that won the UEFA Meridien Cup for Nigeria in 1997 under coach Fanny Amun. I also played for the Flying Eagles when Nigeria hosted the World Youth Championship in 1999. After that I felt I was done with football and went back to school.
Thank you for coming this morning, Dominic. Your final words to Nigerians?
Thank you and thank you to Nigerians for their support. Let me once again say on behalf of the family that we are not seeking for any financial support for Wilson and so they should ignore any such request from anybody. Nigerians have shown concern and it would not be good when you think you're contributing money for Wilson's treatment and some people are putting it in their own pockets. We as a family have not asked anybody to solicit for money and these are selfish minds trying to make quick money for themselves. The NFF is the body saddled with football matters in this country and when they are ready to do anything for Wilson, they will sit down with the family to discuss. Thank you very much.