By James Agberebi: Friesland Campina Wamco makers of Peak Milk, in partnership with the Nigerian Ministry of Sports, unveiled a new National Stadium Power gym on Friday.
The unveiling ceremony took place inside the National Stadium, Lagos.
Present at the ceremony were Nigeria Honourable Minister for Youth and Sports Barrister Solomon Dalung, Managing Director, FCW, Ben Langat, Marketing Manager, FCW, Maureen Ifada, and Director, Corporate Affairs, FCW, Ore Famurewa.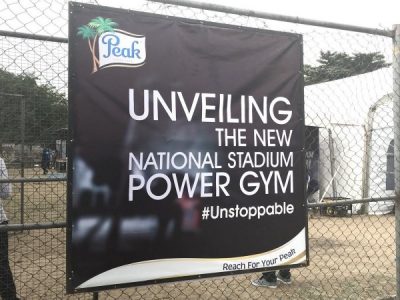 Also present at the event was Head Coach, Nigerian Para-Powerlifting team, Are Feyisetan, and some powerlifters.
Part of what was unveiled were new sets of new weightlifting benches, new weights, ceiling fans, refurbished floors, lockers, bathrooms and toilets and also walk ways.
In his remarks, MD, FCW, Langat said:
"I warmly welcome you to this occasion. First and foremost, my sincere appreciation goes to the Minister for his approval for this partnership between the Peak brand and the Nigerian Paralympic team.
"As you know, we have continued to nourish Nigerians to reach their peak through the provision of quality nutrition for over 60 years.
"Peak support of the Paralympians is our way of inspiring greatness among Nigerians. We have used their stories to reach out to millions of Nigerians to encourage them to explore their potentials regardless of whatever limitations they may face.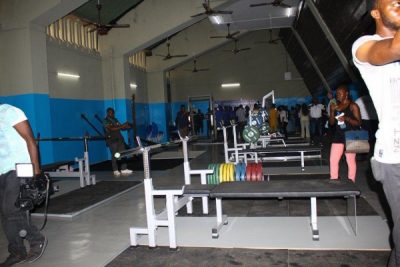 "Theirs is a very inspiring story, they face limitations, there are so many people who don't have the limitations that they have, but they still struggle to reach their peak."
Langat added:"We have been involved with the Paralympians in three forms, first the provision of nutritional support, the campaign tagged "The Unstoppable" and the total upgrade of the gym and provision of world class training equipment which we will be all proud of.
"The story of the Paralympians is that of triumph, courage and that if you dream it, you can achieve it. Also that with determination, we can always reach for our peak."
Speaking at the event, Dalung said:
"Today (Friday) is a historic day. And it is a day of joy for every right thinking Nigerian. We are not here to only unveil, but to celebrate and share in the experiences of our country men who despite what we perceive as limitations, have decided to place the map of this country globally.
"We are here to also celebrate the partnership which is sincerely committed to try to change and reconfigure the fortune of Nigeria sport.
"I cannot thank enough the management of Friesland Capico Wamco Nigeria for this partnership. When we were approached by them that they want to give their own modest contribution to improve the facilities of our Para sport in Nigeria, we did not hesitate to consider the partnership as a positive venture. So we gave our approval.
"What we are witnessing here today, is a demonstration of part of what I sincerely believe in as the best way for Nigerian sport."
And according to the Head Coach of the Paralympians, Feyisetan:"I just want to say thank you because Peak has done a lot in our lives. Since I stopped training and became a coach, the equipment I used during my time was what was still being used over the years. But today we have new sets of equipment. So we want to say thank you to Peak for what have done.
"What Peak has done is that they've reached out to people who are always being neglect. But we thank Peak for remembering us."