By Kayode Ogundare:
How Will The Super Eagles Stop Modric, Croatia's Captain Fantastic?
Luca Modrić is widely regarded as one of the best midfielders in the world. Stats and pundits all confirm that. When he plays well, his team also plays very well.
Since making his national team debut in 2006 against Argentina, Modric has since participated in every major tournament that Croatia have qualified for, including the 2006 and the 2014 FIFA World Cup.
He scored his first international goal in a friendly match against Italy and at the 2008 Euros, he was elected to the Team of the Tournament, becoming only the second Croatian to ever achieve this honor.
In 2015, he became the first Croatian player ever to be included in the FIFA World XI, in which he was included once again in 2016 and 2017, as well in the UEFA Team of the Year in 2016.
He has been named the Croatian Footballer of the Year six times, tied with Davor Šuker for most wins of all-time.
BEST POSITION: Modrić plays mainly as a central midfielder but can also play as an attacking midfielder or as a defensive midfielder, usually deployed as a deep-lying play-maker.
STRENGTHS: Quick with or without the ball, able to change the course of the game with a deft pass or long-range effort. Modrić is as a quick and creative playmaker, with great vision, who is able to change the course of the game with a deft pass, or with a solo, long-range effort.
He is able to play with both feet and combines this with his swift, offensive positioning off the ball. He is noted for his ability to pass the ball accurately across long or short distances, even with the outside of his boot, as well as his ball control, first touch, positional play.
Modric's ability in possession and his importance to the team's attack is obvious, but the amount of ground he covers from a defensive standpoint is also critical to the team's ability to dominate opponents and, even when they face counter-attacks with frequency, still end up winning comfortably.
WEAKNESSES: Slight of stature he can struggle to shine against the more physical teams.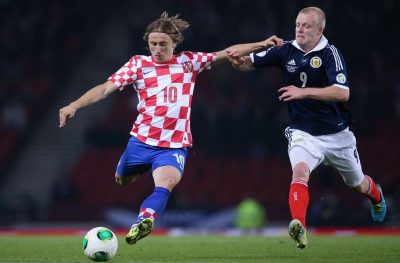 STYLE: Skilful, creative, classy, a play-maker with immense vision. Modric takes possession from the back four or the deepest midfielder, can carry the ball across the ground or play quick passes, and is skillful enough to be comfortable beating defenders one-on-one. He is the chief instigator of attacks, dictator of tempo and possesses the odd long-range missile in his boots, too, especially from the right channel.
NATIONAL TEAM STATS: Modric has 103 caps, fifth on the all-time appearance list, since his debut for Croatia in 2006, and has also scored 12 goals for the national team.
TESTIMONIALS:
"Not only is Modric a very hard worker, he has a good brain and he provides some calmness and composure to the midfield. His passing is neat and his contribution outstanding. He not only wins the ball, he passes well. He is very influential in the team. He does not just work hard, he makes the other people play well around him." – UEFA Technical Team
"Modrić is a player who makes others better, they all benefit from him being in the team. He's not selfish, he's playing for the team … he's a complete player; good in defence, good in offence—it looks like he was born with the ball at his feet." – Slaven Bilić, former Croatia national team coach.
At club level, in a typical 4-3-3 formation under Zidane, Modric isn't just a central midfielder—he's the central player more often than not. With Croatia, he plays as part of a double pivot in a 4-2-3-1 most frequently, rotating in when to surge forward or hold position in the middle.
QUESTION: In Gernot Rorh's shoes, which Super Eagles player would you detail to keep an eye on the little big man from Croatia?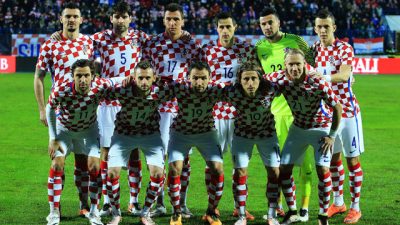 DO YOU KNOW:
-Since winning their first game in their debut at France 1998, a 3-1 win against Jamaica, Croatia have lost all three opening games in their last three World Cup appearances at Germany Korea/Japan 2002, Germany 2006 and Brazil 2014.
-Cameroon is the only African country Croatia have ever faced at the FIFA World Cup (Brazil 2014), which the Croatians won 4-0.
-Croatia legend Davor Šuker was the highest goal scorer at the France 1998 World Cup with six goals.
-The modern Croatian team was formed in 1990, shortly before Croatia's independence from Yugoslavia.
-Since making their debut at France 1998, the only time Croatia did not qualify for the World Cup was South Africa 2010.