By Johnny Edward: Tributes have continued to pour in from across the world for former Nigeria coach and captain Stephen Keshi on his posthumous 56th birthday on Tuesday, Completesportsnigeria.com (CSN) reports.
Keshi died in 2016 after an illness.
The late Keshi's impact on Nigerian football was recounted by his former teammate Mutiu Adepoju and some Super Eagles players who made their debuts under his reign.
They all took to their social media handles to celebrate their late coach on his post-humous 56th birthday.
Adepoju, who is a member of the Technical Committiee of the Nigerian Football Federation, wrote on Twitter: "It hurts me to think that you are no longer with us, skippo.
"Although I cannot help but smile with tears in my eyes thinking of how we have cherished each and every moments of our lives together while you are still alive. we miss you Keshi, best birthday in heaven."
The NFF, Keshi's last employers before his untimely death, also praised the former Anderlecth defender.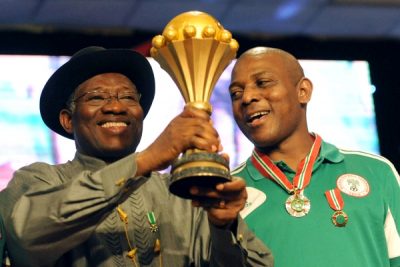 "We can never forget all you did for Nigerian football, we miss you Stephen Okechukwu Keshi 'Big Boss," a tweet from the official NFF handle reads.
Kasimpasa defender, Kenneth Omeruo, who was handed his senior debut by the late Keshi in 2012, took to his Instagram page to celebrate Keshi.
"Happy birthday to you boss. Saying I miss you is an understatement. I miss taking advices from you but I remeber every word you have ever told me. Keep resting in peace," Omeruo, who was in the Super Eagles squad Keshi coached to the Africa Cup of Nations title in 2013, wrote.
Goodfrey Oboabona, who was also in the 2013 AFCON squad, wrote on Instagram: "HBD to you big boss a leader and a true legend…..May you soul continue to rest in perfect peace."
Juwon Oshaniwa, another member of that successful squad, also wrote on Instagram: "HBD the big boss true legend..may ur soul continue to rest in peace."
Keshi alongside Egypt's Mahmoud El-Gohary are the only two men to have won the Africa Cup of Nations as both a player and a coach.
Keshi was also the first African coach to qualify two African nations (Nigeria and Togo) for the World Cup.