While Nigeria may not have made it to the Round of 16, a new sticker app called Fontmoji on the iOS App Store lets you support the Super Eagles with a font created for Nigeria fans. With Fontmoji, Nigeria fans can write messages in a font inspired by the popular Nigeria World Cup jerseys. You can show support for the Nigeria team by creating and sharing custom stickers like 'Good effort!' or 'World Cup 2022'.
FANS CREATE FONTMOJIS SUPPORT THE SUPER EAGLES
After typing out your Nigeria fontmoji you can share your unique sticker in instant messaging apps or on social networks like Twitter and Facebook.
Other fonts inspired by World Cup teams are available including Argentina, Mexico, France, Spain, Portugal, Brazil, England, and Germany.


To create and share your Fontmoji:
Download the Fontmoji app from the App Store
Open the Fontmoji app and create your fontmoji
Share your fontmoji by selecting your social platform of choice
Nigeria's World Cup jersey has been a massive success getting praise on social media and headlines in the likes of GQ. Bitmoji's own World Cup jerseys have been a success by letting you avatars dress in the jersey.
Fontmoji aims to go a step further by allowing users to share messages in your own words. With new developments in the World Cup every day, being able to send custom stickers is a great way to follow the games. On Fontmoji, football fans can celebrate new goals scored, saves made, and give shout-outs to their favorite players.
One thing I'm sure all Nigeria fans would want to share: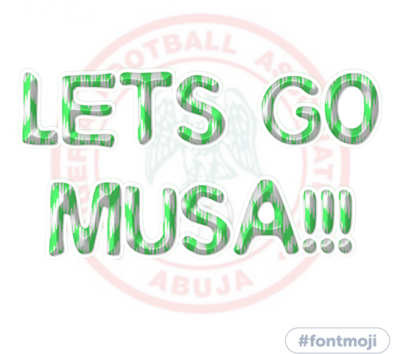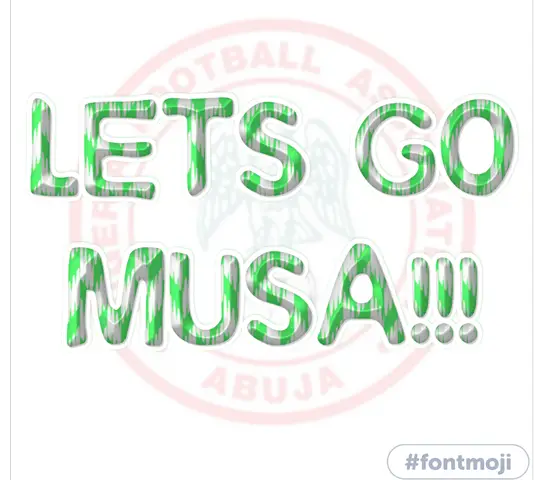 11 BUSINESS NUGGETS FROM SUPER EAGLES BRONZE MEDAL TRIUMPH. The content of this ebook will propel you above your competition. DOWNLOAD NOW!!!