By James Agberebi: Super Eagles' 2018 FIFA World Cup Group D opponents s Iceland and Croatia have been handed difficult draws ahead of the first UEFA Nations League.
The draw of the UEFA Nations League was held in Lausanne, Switzerland on Wednesday.
The UEFA Nations League is a new international tournament.
In a bid to improve the quality of international football and reduce the number of meaningless friendlies, UEFA has been planning the competition since 2011.
Uefa's 55 teams will be split into four Leagues (A-D) based on their Uefa ranking, with four groups in each League.
Some of the groups will have three or four teams.
The four group winners of the top-ranked League A qualify for the Uefa Nations League finals in June 2019.
For the remaining sides there is promotion and relegation to play for, and a potential back-door route to EURO 2020.
Iceland are in League A, Group 2, and will face Switzerland and Belgium.
While Croatia, also in League A, are in Group 4 with England and Spain.
In other League A pairings, Netherlands, France and Germany are in Group 1 and League A, Group 3 has Portugal, Poland and Italy.
The first tournament is due to commence in September 2018, after the 2018 FIFA World Cup.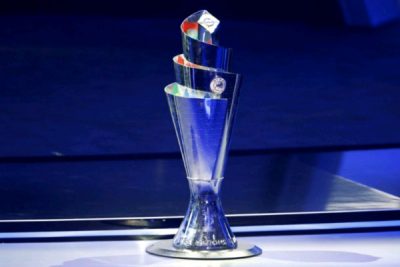 UEFA Nations League draw:
League A:
(Group 1)
Netherlands
France
Germany
(Group 2)
Iceland
Switzerland
Belgium
(Group 3)
Poland
Italy
Portugal
(Group 4)
Croatia
England
Spain
League B:
(Group 1)
Czech Republic
Ukraine
Slovakia
(Group 2)
Turkey
Sweden
Russia
(Group 3)
Northern Ireland
Bosnia-Herzegovina
Austria
(Group 4)
Denmark
Republic of Ireland
Wales
League C:
(Group 1)
Scotland
Albania
Israel
(Group 2)
Hungary
Greece
Finland
Estonia
(Group 3)
Slovenia
Norway
Bulgaria
Cyprus
(Group 4)
Romania
Serbia
Montenegro
Lithuania
League D:
(Group 1)
Andorra
Kazakhstan
Latvia
Georgia
(Group 2)
San Marino
Moldova
Luxembourg
Belarus
(Group 3)
Kosovo
Malta
Faroe Islands
Azerbaijan
(Group 4)
Gibraltar
Liechtenstein
Armenia
Macedonia