Uruguay head coach, Oscar Tabarez, says it's  sad to see his side exit the 2018 FIFA World Cup in Russia after their 2-0 loss to France in the quarter-finals at the Nizhny Novgorod Stadium on Friday.
The South Americans who were without their talisman, Edison Cavani, who missed the game due to a calf injury conceded in 41st and 61st minutes with Rapheal Varane and Antoine Griezmann getting the goals for Les Bleus.
"We are sad, we feel it, but we have to move on. Many countries in the football elite left this tournament much earlier than we did. Let's not be too dramatic, this is our reality," the veteran tactician told reporters after the game.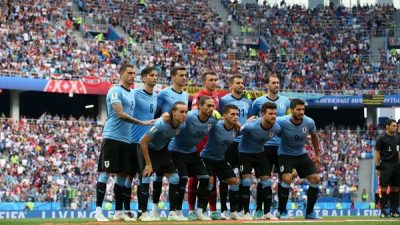 "Our dream comes to an end but the fact that the World Cup is over doesn't mean that we can't do well in the Copa America. We have new dreams which we will try to make come true.
"The boys gave everything but France controlled the match very well. They played better than we did, I admit that.
"We made a huge physical effort in the first 20 minutes but we were not able to exploit the problems that France had. Then they scored and that's a detail which has a huge impact on a quarter-final. We spoke about it during the break, we couldn't solve it."