The Golden Warriors won Game 4 of the NBA Finals 108-85 in the eraly hours of Saturday to beat the Cleveland Cavaliers as they clinched their third NBA Championship in four years.
This was Warriors' third title in four seasons and their second straight championship.
It was yet another NBA Finals defeat for LeBron James, with his Finals record now 3-6 (three wins and six defeats).
This was King James' eighth consecutive trip to the Finals.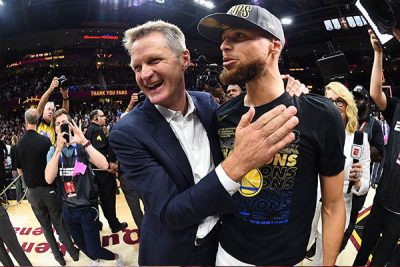 Taking a 3-0 lead into Game 4 and eyeing a sweep, Stephen Curry led the way in the game as the Warriors dominated the first quarter. Curry scored 12 points as Golden State led the game 34-25 at the end of the first quarter.
The second quarter was more balanced as the teams both scored 27 points apiece, with the Cavs pushing back, but the Dubs ended the half up 61-52.
James went into the break with 15 points to lead the Cavaliers in scoring. However, it was Curry who remained red-hot with 20 points, ending the game with 37 points, six rebounds, four assists, three steals and three blocks.
Finals Most Valuable Player Kevin Durant posted a triple double with 20 points, 10 assists and 12 rebounds.
James led the Cavs in scoring with 23 points, seven rebounds and eight assists on what was a quiet night for the superstar.
This was the first NBA Finals sweep since 2007 when the San Antonio Spurs cleaned up the Cavaliers as LeBron James made his first Finals appearance.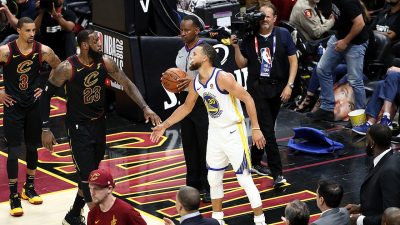 Copyright © 2020 Completesports.com All rights reserved. The information contained in Completesports.com may not be published, broadcast, rewritten, or redistributed without the prior written authority of Completesports.com.
How I make $10,000 monthly in Online SALES? apply the *Social Media Marketing Strategy* and watch your account balance swell. Buy eBook NOW!!!