Complete Sports; Nigeria's most widely visited sports website has partnered Emirates to bring it's loyal fans the #EmiratesFootballChallenge. Emirates the world's largest airline is giving a special chance for Nigerian football fans to win branded football club jerseys.
Emirates has been a sponsor to the some prominent football clubs, including Real Madrid, AC Milan and S.L Benfica, and will like to challenge the Complete Sport's readers/followers on their knowledge of football and Emirates.
Related: Emirates Football Challenge!! (Day 1)
Emirates has donated branded jerseys of Real Madrid, AC Milan and S.L Benfica, one of each, to winners of the competition. We will be selecting one winner who has successfully answered all the four questions of each day.
Our Winner for yesterday's challenge is Ayomide Okanlawon from Ibadan, who got the answer correctly on Twitter (See Image)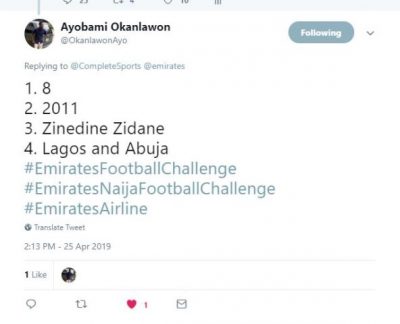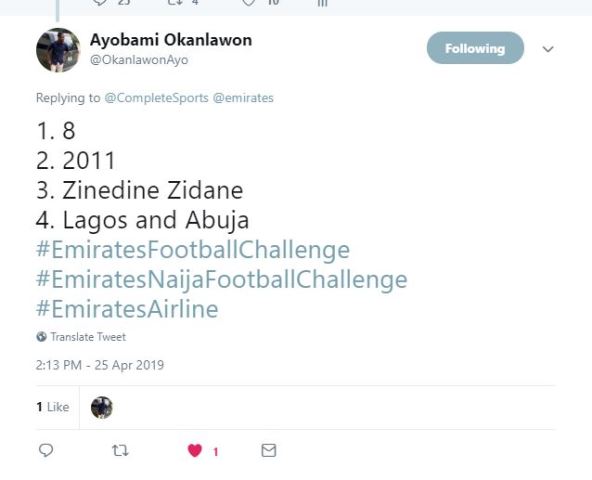 It's not too late to try for Day 2. You still stand a chance: Take Quiz Here
*Terms and Conditions:* Staff and family members of Emirates Airline, Complete Sports Newspaper, and JSP Communications are NOT allowed to participate in this competition
#EmiratesFootballChallenge #EmiratesNaijaFootballChallenge #EmiratesAirline @emiratesairline @emirates
11 BUSINESS NUGGETS FROM SUPER EAGLES BRONZE MEDAL TRIUMPH. The content of this ebook will propel you above your competition. DOWNLOAD NOW!!!