Last Monday night was another memorable day in the annals of Nigerian football.
11 of the 22 players that represented Nigeria and became the first Nigerian national team to qualify and play at the World Cup finals, were re-assembled and celebrated again as national heroes at an event organized by the Nigeria Football Federation to honour them.
The players had put up stunning performances in 1994 that left the world salivating for more of their kind of unbridled and unadulterated African version of attacking football down the flanks with a deadly centre-forward to finish up the moves. Match after match, the team put up champagne performances.
At the point during the celebrations the players were invited to the stage to be decorated. Sunday Oliseh rightly observed that there wasn't going to be special tributes for each member, separately.
He took the microphone from the Master of Ceremony and gave his colleagues befitting acknowledgments. Oliseh was being humble by saying very little about himself.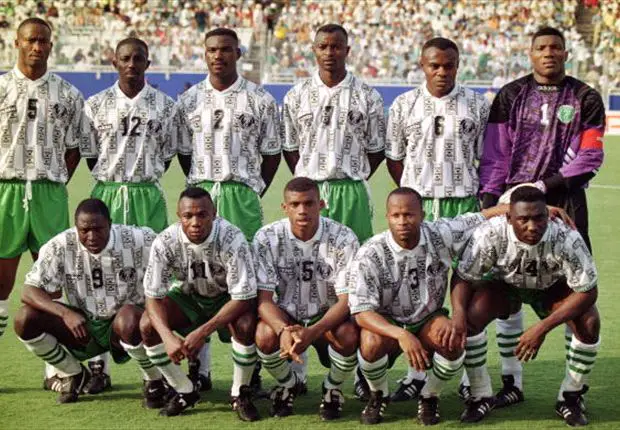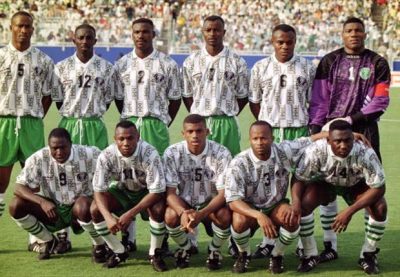 As we left the venue of the event, Bitrus Bewarang was by my side deep in thought, a pall over his face. Something was obviously disturbing him.
It is not too many Nigerians that would recall the name Bitrus Bewarang. He did not reign much as a national player even though he was with the squad in 1977 when he was invited to the national team from Standard FC of Jos.
His greater fame was as a very distinguished coach for one of the great teams of the mid to late 1980s in Nigeria – JIB Rocks FC of Jos. Following recommendations by Onochie Anibeze, a close to Clemens Westerhof, Bewarang was hired to assist him in 1992.
Also Read: Oliseh: Iwobi, Good Defence Key To Eagles' Success At AFCON 2019
Westerhof loved the facts that Bitrus trained as a coach in Germany and was reputed to be a complete gentleman and a knowledgeable coach.
The other coach Westerhof invited to work with him was Christian Chukwu, former Captain of the Green Eagles. His past football leadership quickly got him the job. He also wanted someone that could relate well with the mainly Igbo players.
So, when Nigeria qualified for and went to the World Cup in 1994, Bitrus and Christian were firmly embedded in the squad.
I had to ask him what the matter was with him when everyone else was filled with laughing and celebrating faces. 'What is wrong Bitrus?', I asked.
In a quiet undertone, with his voice hardly heard above the silence, Bitrus answered me: 'They have done it again? They have forgotten about us. Nobody remembers to acknowledge anyone of us, we the coaches. If the NFF omitted to recognize us, should Oliseh and Eguavoen who both spoke, not have acknowledged all that they did?'
He was right.
He continued: 'It is Sunday Oliseh that even reminded everyone of Clemens Westerhof. It is very good that Sunday did that, but he should also have told them what we also did for them every step of the way till the end'.
I understood. I could feel his pain.
I remembered vividly what roles he, in particular, played.
I remember because, I was an integral part of that 1994 team. I was the Team Manager (a position and title that have been removed from the national team since after me) from 1993 to 1995.
Those were the most glorious years of football of that era. I was quietly and effectively in charge of the welfare of the players and the technical crew of the Super Eagles. Not many people remember that too.
In those two years, I was not in any body's face. I do not blame anyone for not remembering my role in the team. I was doing my job without attempting to have to compete for popularity with the superstar players in the public space. It was their turn to bask in the sun.
What I did for the players, for which they will owe me for life, was document and keep film footages, documentaries, interviews and general shots of the players at various locations during the entire period of the World Cup.
I was with the team. I was part of them, every inch and every minute of the way, from Tunisia '94 to USA '94. I was usually first at their training grounds and last to leave. I was first on their bus rides to venues and the last to disembark. I was first at meals and last to finish. Everywhere that I went I carried with me a video camera recording every breath.
Many of those pictures are still in my archives to date. They are historical evidences of some of the greatest football players in Nigeria's history.
Dodo Mayana, Peter Rufai, cool, calm and collected always..until he met Roberto Baggio.
Also Read: Odemwingie Regrets Not Being Part Of Super Eagles 2013 AFCON Winning Squad
Ben Iroha, efficiently playing the flank ten years ahead of some of the best players of that same style in today's modern football.
Uche Okechukwu, the meanest, toughest, coolest and, probably, the best libero in the world at that time.
Sunday Oliseh – undoubtedly one of the best passers of the ball, long and short, in the world at the time.
Jay Jay Okocha – young prodigious football artist and master dribbler.
Finidi George – probably the best crosser of the ball from the right flank in the World Cup.
Rashid `Yekini – lanky, fearless, peerless and a deadly striker of the ball with both feet and his head.
There were the other great players too – Dan the BullAmokachi, Thompson Oliha, Chidi Nwanu, Emmanuel Amunike, Augustine Eguaveon, Uche Okafor, and so on.
That was a genuine assembly of football geniuses.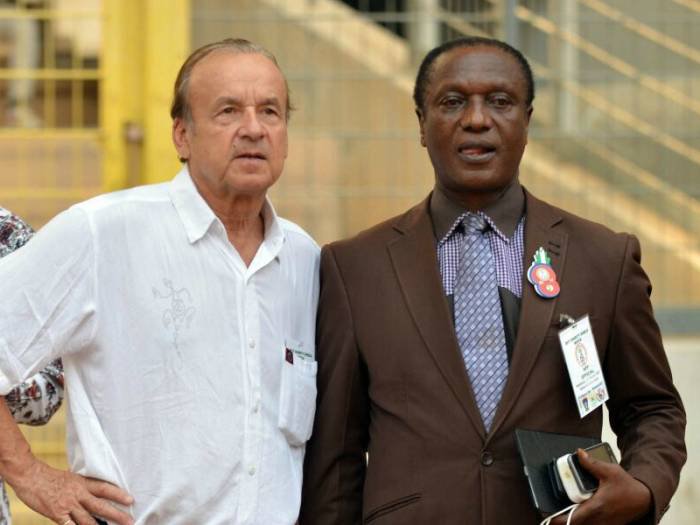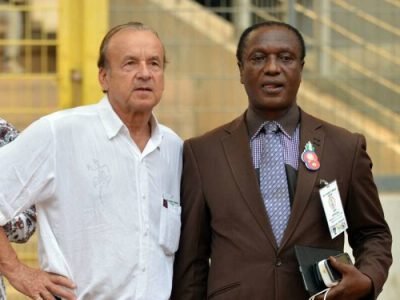 Bitrus Bewarang was in this galaxy of Stars. With Westerhof, a White man in charge, how would anyone have remembered this quiet, unassuming, gentle, Black assistant coach, who said little, did a great deal, and never rocked the boat to draw any attention?
So, I completely empathise with Bitrus Bewarang.
I can testify, however, that after we arrived America for the first match in Boston, it was agreed that instead of having all the coaches, plus Bonfrere Jo, attend Nigerian matches and overpopulate the Nigerian bench, it would be a better and more productive idea to have them both spy for Westerhof.
Clemens then drew up a travel roster for two of the three coaches – Bitrus Bewarang and Jo Bonfrere – to go to watch other matches involving the other teams in Nigeria's group, and to come back with detailed reports on the team's pattern, style of play, strengths and weaknesses, dangerous players, and so on.
I recall that after the first round of matches, Clemens who was my very good friend, called me aside and told me how impressed he was with the quality of reports submitted by Bitrus Bewarang on the teams whose matches he went to cover. Clemens told me of his new respect for Bewarang.
Bitrus, of course, is a complete gentleman, never raising his voice beyond a whisper. Hardly ever getting angry and showing it. He is a 'background man', a perfect assistant, a team player, and a dependable helper.
Before he joined the national team Bitrus had been coach of JIB Rocks FC of Jos and later Plateau United FC under the chairmanship of late member of the NFA board, Chief Layi Olagbemiro. Onochie Anibeze of Vanguard that recommended Bitrus for engagement by Westerhof in the national team during its most glorious years in the late 1980s.
He was a certificated coach with a license from West Germany.
Since joining the Nigeria Football Association as one of the national coaches, he had remained in the system, as steady as a rock.
When we met in Brazil for the World Cup in 2014, he had risen to become the Technical Director in charge of all the national coaches, a position he secured after several interviews and examinations where he excelled.
So, Bitrus has never been recognised or publicly acknowledged for his little or large contributions to the making of the Super Eagles.
I understood Bitrus's pain after the awards.
His name should have been mentioned at least. That, he deserved.
This is my own small way of appreciating him on behalf of all Nigerians, for the role he played in the making of history 25 years ago at USA '94.
Bitrus Bewarang, I hail you o!
Copyright © 2023 Completesports.com All rights reserved. The information contained in Completesports.com may not be published, broadcast, rewritten, or redistributed without the prior written authority of Completesports.com.