Arsenal dropped two points on Sunday, after a 2-2 draw at home to Crystal Palace. The Gunners were cruising to end the match with all the points up for grabs after goals from Sokratis and David Luiz put them on course for a vital victory against Roy Hodgson's side.
A penalty from Luka Milivojevic reduced the deficit before halftime then a cross from James McArthur saw Jordan Ayew head in the equalizer.
However, the main flashpoint from the game came when Xhaka was substituted on 61st minute, replaced by Bukayo Saka to a chorus of cheers from the home supporters which sparked an angry reaction from the Swiss international who cupped his ear sarcastically and muttered 'Fu** off' several times before taking his shirt off and walked down the tunnel.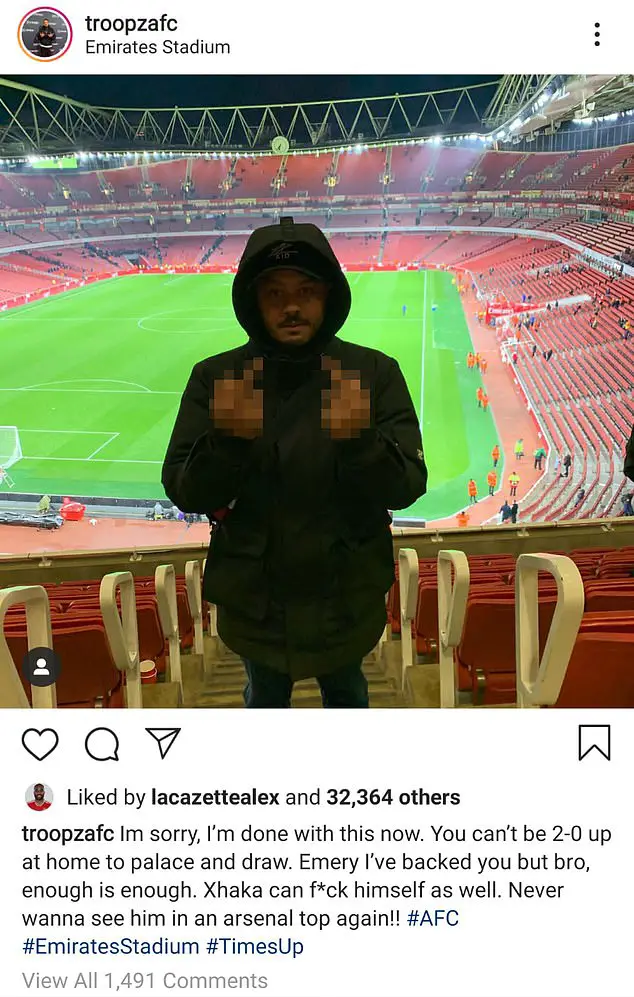 Unai Emery refused to defend Xhaka's actions after the game, insisting that the he had acted wrongly.
"He was wrong. We need to stay calm, speak to him internally about that.
"We are working with the club and the players to play under pressure.
"We are here because we have supporters. We work for them and need to have respect for them when they are applauding us and criticising us."
Manager, Emery has come under critisism recently with fans calling for his dismissal and the draw against Crystal Palace further heaped pressure upon him.
Related: Xhaka Defends Gunners Form
After the match against Crystal Palace, a fan took to Instagram with the caption: 'Im sorry, I'm done with this now. You can't be 2-0 up at home to palace and draw. Emery, I've backed you but bro, enough is enough. Xhaka can f*** himself as well. Never wanna see him in an arsenal top again!!'
Arsenal star, Alexandre Lacazette raised eyebrows that all might not be well in the Gunners' dressing room when he the post by 'liking' it.
11 BUSINESS NUGGETS FROM SUPER EAGLES BRONZE MEDAL TRIUMPH. The content of this ebook will propel you above your competition. DOWNLOAD NOW!!!