Zlatan Ibrahimovic has hinted he fancies returning to the English Premier League and rejoining Manchester United United if Ole Gunnar Solskjaer wants him in his squad.
The LA Galaxy forward is in buoyant mood after scoring six in three games for the MLS side. He feels he has an unfinished business in the EPL where he scored an impressive 29 goals in 53 games for United from 2016 to 2018.
The former Sweden captain suffered a knee ligament injury setback at Galaxy, but recovered recently and hit a resurgent form.
Ibrahimovic, a self acclaimed 'Lion', has won 31 trophies in a very successful career so far that cut across some of the world big clubs, including Ajax, Juventus, inter Milan, AC Milan, Barcelona, PSG and Manchester United.
"The lion still roars, yes, he said. "I could still play easily in the Premier League," the 37 year old said.
"If United need me, l'm here. But right now Galaxy have me and that's what I'm concentrating on.
"I did my job in Europe. I enjoyed it. I have 33 trophies that I brought with me and hopefully I can win something here and then we will
see where I finish."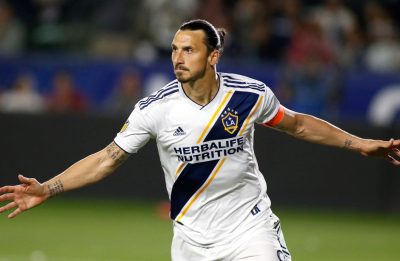 "I keep an eye on how United are doing," lbrahimovic added.
"I look out for them. I saw the last game against Crystal Palace and if they had scored their penalty it would have beena different
game."
Ibrahimovic spares thoughts for his former Manchester United teammate Wayne Rooney who has has agreed a deal to leave DC United in January and join English Championship side Derby County as player/assistant.
Also Read – Everton Coach, Silva: Iwobi Will Show His Quality With More Games
"No I'm not surprised that [Rooney] he's going back [to England]," he stated.
"He came, he tried, and he did his best. He's shown patience but that patience has finished.
"Wazza [Rooney] said something about all the travelling and he's right, it's not easy.
"He's going back as a player-manager. He's looking for something else. Me, I focus on
just one thing and for the moment I'm a player."
Copyright © 2020 Completesports.com All rights reserved. The information contained in Completesports.com may not be published, broadcast, rewritten, or redistributed without the prior written authority of Completesports.com.