South American football ruling body, CONMEBOL has suspended Argentina captain Lionel Messi from international football for three months and also fined him $50,000 for his comments linking the body to corruption during the 2019 Copa America in Brazil.
The Argentina captain accused the organisation of corruption after he was sent off along with Chile's Gary Medal in their bronze medal match at the Corinthians Arena, Sao Paulo, on July 6. Argentina won the match 2-1, but Messi refused to appear at the podium with his teammates during medal presentation and allegedly told reporters later that he didn't "want to be part of this corruption. This lack of respect towards the whole Copa."
The suspension begins from today, August 3, and will last for 90 days, in which Messi will only miss three games for the Albiceleste; three friendlies against Chile, Mexico and Germany.
Therefore, Messi will be able to feature in the first qualifying matches for the 2022 World Cup in Qatar, except for the opening game as he will have to serve the one-match ban he picked up for the red card against Chile.
Below is the full statement signed by the vice president of the CONMEBOL Disciplinary Committee Amarilis Belisario.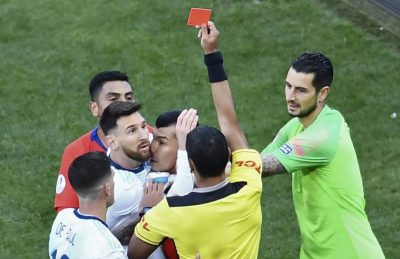 Player: Lionel Andrés Messi
Member Association: Argentine Football Association
Competition: CONMEBOL Copa América Brasil 2019
Match: Argentina vs Chile
Date: July 6, 2019
Stadium: Arena Corinthians, São Paulo, Brazil
Referee: Mario Diaz De Vivar (Paraguay)
Violation: Articles 7.1 and 7.2 subsections b), c), d) and f) of the CONMEBOL Disciplinary Regulations
1. SUSPEND the Player, LIONEL ANDRES MESSI for 3 (three) months from the day following the notification [date] of this decision. Consequently, the player is suspended from playing official and friendly matches with his National Team in that period of time.
2. IMPOSE on the Player, LIONEL ANDRÉS MESSl, a fine of USD 50,000 (FIFTY THOUSAND US DOLLARS), pursuant to Article 12.6 of the Disciplinary Regulation of the CONMEBOL. The amount of this fine will be automatically deducted from the amount to be received for his Association for participation and / or awards.
3. Notify the Player, LIONEL ANDRÉS MESSI
4. Against this decision, it is possible to appeal to the CONMEBOL Appeals Chamber, within the period of seven consecutive days, from the next day to the notification on the basis of the decision in accordance with Art. 63.3 of the CONMEBOL Disciplinary Regulation. The appeal must comply with the formalities required in articles 59 and in conformity with the Disciplinary Regulation of the CONMEBOL in accordance with Art. 63.5 of the CONMEBOL Disciplinary Regulation, the USD appeal fee. 3,000 (US THREE THOUSAND DOLLARS) must be paid by Bank transfer"
Copyright © 2020 Completesports.com All rights reserved. The information contained in Completesports.com may not be published, broadcast, rewritten, or redistributed without the prior written authority of Completesports.com.