In the bustling metropolis of Lagos, where the fast-paced lifestyle often takes centre stage, the significance of fitness and a healthy lifestyle is more pronounced than ever. Against this backdrop, Onome Obruthe, a prominent fitness expert and the Coordinator of the 'I'm Alive and Thankful' fitness club, envisions a healthier, more active Lagos, cum Nigeria.
In this interview with Completesports.com's NNAMDI EZEKUTE, Obruthe shares his insights on the upcoming Complete Sports Celebrity Workout, the challenges of staying fit in a cosmopolitan metropolis like Lagos, and the transformative power of exercise.
Obruthe emphasizes the importance of exercise not only for celebrities but for everyone, highlighting its role in maintaining a healthy lifestyle. His passion for fitness is infectious, evident in his efforts to mobilize friends and community members to Register Now for the Complete Sports Celebrity Workout.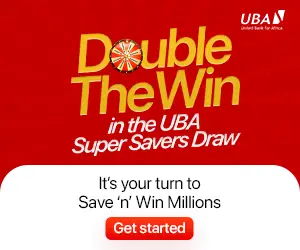 Also Read: Introducing The Complete Sports Celebrity Workout 2.0: Join Us For A Day Of Fitness And Fun!
As fitness enthusiasts eagerly anticipate the event on Saturday, September 30 2023, Onome Obruthe urges all to be part of this transformative fitness experience, where health, wellness, and community spirit converge.
As a fitness expert,  in what ways do you envision the Complete Sports Celebrity Workout contributing to the fitness community and sports enthusiasts, especially in a busy city like Lagos, and what are your expectations for the event on September 30, 2023, at Ikoyi Recreational Park?
Obruthe: Fitness is my new lifestyle.
I prefer to exercise and live a healthy lifestyle than for me to constantly go to the hospital.
Lagos is a very busy city that has its residents constantly going up and about with barely time to rest and enjoy the dividends of hard work done.
This Complete Sports Celebrity Workout should be one that would give Lagosians a new way to handle what they eat and how they can remain fit and healthy.
I expect the organisers to do things that would address that.
 What have you identified as the challenges that people in cosmopolitan cities like Lagos face as regards engaging in fitness activities,  and how could they be addressed?

Everybody is trying to make ends meet and make a living from the various businesses, and it's like that – the city provides as the commercial capital of Nigeria. Therefore, individuals must as a matter of urgency create time for rest and exercise.
Like they say,  'If you do not rest the body, the body will break down and force you to rest it.'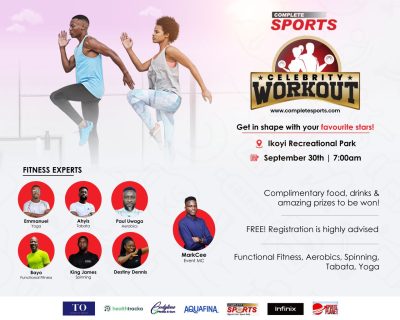 How important are fitness activities to both celebrities and everyone else?
Fitness and exercise enable every individual to have a healthy lifestyle.
You cannot be fit and do constant exercise and end up treating sickness. It is a very rare occurrence.
Fitness and exercise are the two main spices that drive sickness away.
You seem quite enthusiastic about the upcoming Complete Sports Celebrity Workout. Could you share some insights into other deliberate efforts you've in encouraging your friends to register and attend this year's event?

I also run a healthy lifestyle group called 'I'm Alive and Thankful'.
Two years ago, I weighed 110kg and my BP was always 186/120. Now, I weigh 86 and my BP is 130/128 over 90/95.
Exercise and intermittent fasting have made this possible for me and my over 1,000 friends in our community who are involved in our weekly exercise sessions.
That passion is why I am personally excited about this event
You're the President of the I'M ALIVE AND THANKFUL fitness club. Tell us what it's all about.

I'm the Cordinator. We do not have such huge positions as President, and others.
It all started during lockdown when we decided as friends to run 4 kilometres daily in under 30 minutes.
Initially, it was difficult but after three months, we became very used to it and today we do 7/10 kilometres to ensure we are all fit.
We share our daily stats and ensure we encourage each other.
We have done five mini-marathons as of December last year: in Lagos, Asaba, and Benin City.
How do you rate the Nigerians' compliance with fitness activities?
Fitness activities in Nigeria have improved significantly
You see individuals on various roads walking, jogging or running.
Also Read: INTERVIEW: Why I Built Ikoyi Recreational Park  –Ikoyi/Obalende LCDA Chairman, Fuad Atanda Lawal
We see various fitness clubs and now more gyms everywhere with members actively involved. It has evolved considerably.
Your final word to both fitness and non-fitness enthusiasts as we count to the September 30 Complete Sports Celebrity Workout?
This event is one everyone should try and participate in. Come and meet with those who have made it a lifestyle and reap its benefits.
I get weekly updates from our I'm Alive and Thankful members all over the world; Dundee, Belgrade,
America, The UK, Canada, and others.
We have evolved greatly by sharing our stats on various platforms which has in turn encouraged others.
I would suggest that complete sports makes this a more interesting event by getting fitness experts especially those that are not known stars, but influence a lot of people to exercise –
People like grandmothers that come for baby seater duties for their children and it's like. Encourage a robust program that can be done weekly or monthly to encourage her readers and fans to be steadfast or devote a column in Complete Sports magazine weekly to fitness and exercise programs.
Thank you for generously sharing your valuable expertise in the field of Fitness.

Thanks for finding me worthy to be part of this great event. See you all at the venue
Copyright © 2023 Completesports.com All rights reserved. The information contained in Completesports.com may not be published, broadcast, rewritten, or redistributed without the prior written authority of Completesports.com.