Super Eagles and Trabzonspor midfielder, Ogenyi Onazi, is a music freak who expertly plays different musical instruments as pastime. He also has a track record of philanthropic activities. He tells Complete Sports' trio of TUNDE KOIKI, JOHNNY EDWARD and SULAIMAN ALAO in this elaborate exclusive interview how music, the joy of giving to the needy and his marriage have been acting in tandem to keep his footballing career going. He also speaks about his recent injury-induced setback and plan to come back stronger for Nigeria and Trabzonspor. Excerpts…
Also Read: Echiejile: Nigerians Should Keep Fit, Complete Sports Spot On With Celebrity Workout
COMPLETE SPORTS: 2018 started on a bright note for you and you made the team of First  Half of the season in Turke, scoring three goals in about 15 games for Trabzonspor. Unfortunately, you copped this injury that has set you back. How well are you recuperating?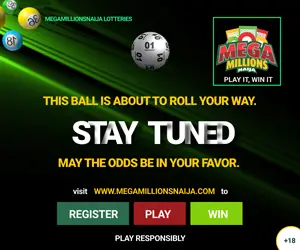 OGENYI ONAZI: In all situations, I always give thanks to God because He is the most important in my life – one who has made me what I am today. Every progress I have made in the Turkish league is all about hard work and dedication. This is one of the best seasons for me and I'm grateful to be picked as one of the league's best XI for the first round.
But unfortunately, I got injured. I accept injuries as part of football and sometimes it's inevitable but it is sad that it will take me out of the pitch for a while. But then, it is okay as I'm recovering very fast and I believe by the special grace of God, things are going to be fine.
Do you remember the game and the specific moment you snapped your achilles tendon?
Onazi: I think it was in the game we played away against Seychelles. I was actually having two issues by the time we were playing that game. I had a problem with my achilles tendon because the pitch was very hot. It also affected Henry Onyekuru as he had big blisters on his legs while I had mine at the back of my achilles. The boot was too hot and it burnt in my Achilles exactly where I am injured now and I started to feel serious pains.
I also had a muscle tear and the doctors were aware of it, but because of the love and passion I have for my country, I told them not to worry, that I would play even with the pains – that was during the African Nations Cup qualifiers after the World Cup.
After the game, the thigh muscle injury got more serious than the achilles. When I got back to my club, I told the doctors I'm having pains in my thigh but that it's not a problem for me not to play in the weekend but they said they had to check. It was discovered that I had a muscle tear. So, I didn't train but I was receiving treatment till when we had the game and I managed to play.
All this time, the pain from the achilles was coming gradually till the game we played in Uyo against Libya. By this time, the pain had aggravated and I couldn't bear it. So, I told the coach that I can't use it to play and that I need to rest it. Also, I had an important game at my club for us to be in a good position. The coach said okay, so I didn't play but went back to my club where I was being treated.
I couldn't go for a check-up immediately because of the medications I was using, and that was how I managed it to get to this point. The check-up was actually booked, to be done after the last game I played but by then, the tendon was tired and had gotten hundred per cent ruptured.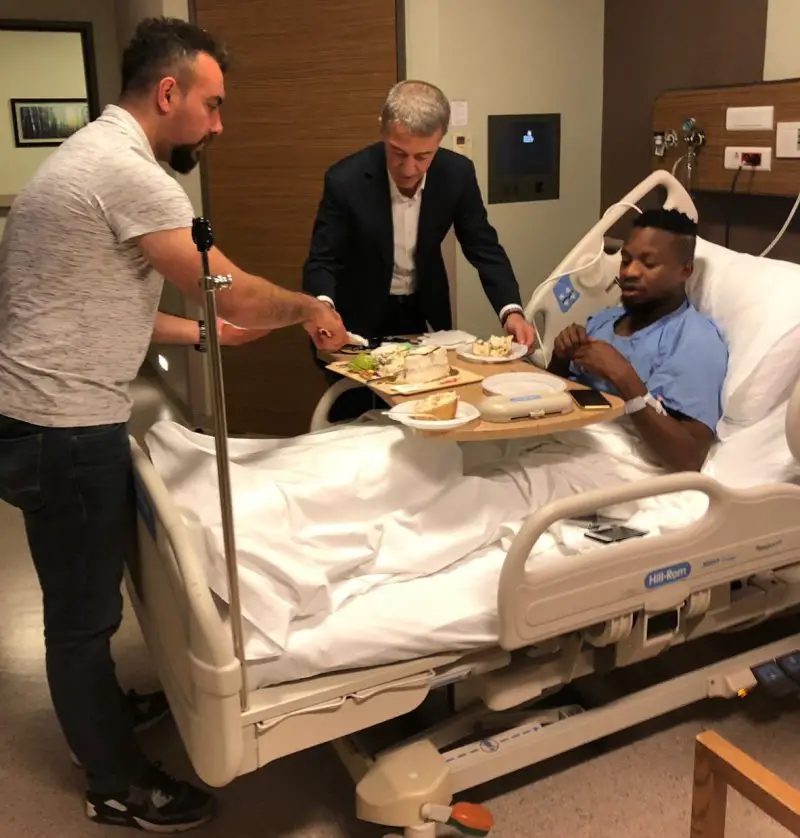 The social media was awash with the president of Trabzonspor visiting Onazi and also celebrating your birthday with you. How will you describe the support you've gotten from the club ever since?
I got lots of support not only from the president, the fans were also really sad about the situation and some of them, numbering about 40, travelled from different parts of the country just to come and see me at Istanbul. But because I was in a private hospital, most of them were not allowed to come into my room and had to stay in the lobby and I really appreciated them.
Trabzon is very big and a lot of other fans were sending flowers even till now. The president was really like a father not to only me but to everyone, and I can discuss freely with him.
When I was flown to Istanbul, he was there with me before I was taken into the theatre for the surgery and was also there when I got out. He took his meals with me and we even ate Nigerian jollof rice together (laughs). His presence was really encouraging and he assured me that everything was being taken care of – that I had nothing to worry about which gave me the confidence that everything was going to be fine. He came again on my birthday and was with me for about three days despite his busy schedule which I consider an honour and I really appreciated it.
Also Read: INTERVIEW – Odey: My Super Eagles Time Will Come, Serious Work Continues
Onazi, what kind of support have you gotten so far from the Nigeria Football Federation since you copped this injury?
Hmmm… It's not a very good time for me to talk about it, but I got support from them. It's okay.
2018 is gone and you'll be hoping 2019 will be much better. What time frame are you looking at for you to return to action?
Well, I cannot say right now. They have an estimated time for me to return. But for me, I believe I have a very fast recovery rate and I know I'm going to be back very soon, but I don't want to put a date because it all depends on God and how I get to recover. I will be travelling back to Turkey to commence my rehabilitation.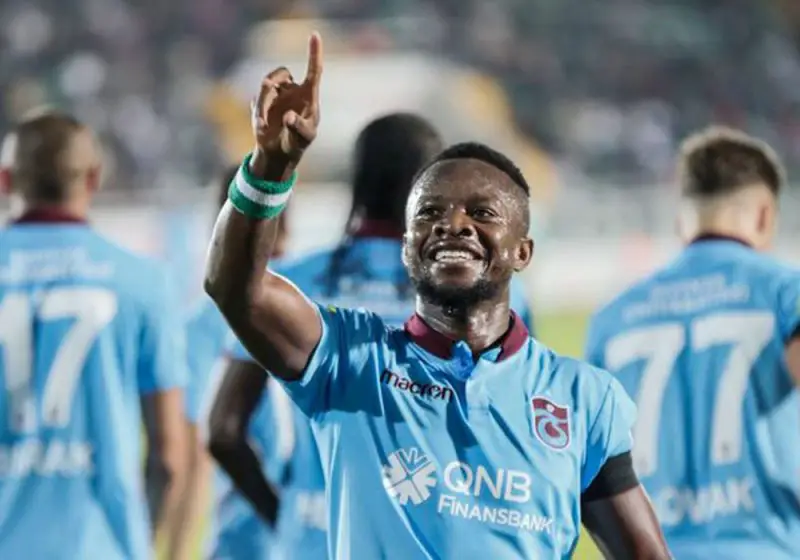 There is so much talk in the media that this ruptured achilles might most likely keep Onazi out of Nigeria's campaign at the 2019 Africa Cup of Nations slated for Egypt and that must be really heartbreaking news for you considering the fact that this will be Nigeria's first AFCON appearance since 2013?
Of course, I don't want to share that belief. I'm the one who is injured and I know the time it's going to take me to come back. There is no impossibility with God and I know before then, I would have played a couple of games for my club before we go for the AFCON in Egypt.
Nigeria won the AFCON in 2013 and missed two editions after that. Now we are back, and considering the calibre of players we have in our ranks now and their steady progression, is there cause to worry going to AFCON 2019?
For me, I think it's too early to speak about how our performance will be at the AFCON. Of course, we all know that at this point in time, Nigeria is blessed with lots of talents. We have the young, the experienced, the fast – we have all the right mix and it's just for us to learn from our mistakes at the World Cup and try to put them right. I have won the AFCON before and I know what it takes, so it's just for us to put our house in order and be focused to do what we have to do when we get there.
What is your impression of CAF decision to expand the AFCON from 16 countries to 24 ? Do you think it's a good idea?
Well, I believe CAF have their reasons for the expansion and I don't have any say in that as a player. But I think is for the benefit of other African countries. For us as players, we'll go there and do our best and may the best side win.
Towards the end of last year, you donated the sum of one million Naira to Lobi Stars who are already representing Nigeria in the CAF Champions League. What do you think of their chances both in the Continent and in the new domestic league season?
Onazi: My gesture was to support Lobi Stars m morally and otherwise. I don't get to watch Nigerian league because we don't have the platform to do so when we are away at our clubs. But I was opportuned to watch their last game against Mamelodi Sundowns of South Africa, and I was very impressed with them. I saw them play good football and if they keep it up and correct some little lapses, I believe they have the quality to go all the way to the final of that competition.
Your history of giving to the needy is well documented. What inspires Ogenyi Onazi to give?
I would say I have always been like that from childhood. I'm not trying to show off because I don't even have much as I'm not amongst the richest or highest paid players. But I believe it's good to give even from the little you have.
For me, giving started naturally before I even got to learn more about it in the church – that giving is like sowing seeds which can only yield good dividends. I remember back in Jos, I did share the little money I got from playing music with my Mum, brothers and those around me.
The CAF Awards was held recently with the same finalists in 2017 – Mohamed Salah, Pierre Aubameyang and Sadio Mane again emerged the top three in 2018. There was no Nigerian in the top three. Salah emerged as the African Footballer of the Year for the second time running. Don't we have players on the international scene who can get to that level?
Of course, it's something very sad to talk about because it also affects me as well. It's a challenge for us as Nigerian players, that we really need to put more effort to be amongst the best. It hurts me a lot to see that no Nigerian player was named in Africa's best XI even though I believe Wilfred Ndidi should have been in that list. But I think things are going to get better because we Nigerians players won't sit back and fold our hands. We are going to push harder.
Trabzonspor is currently in the title race in Turkey. Do you think you can go all the way to win the title ahead of traditional powerhouse teams like Besiktas and Galatasaray?
We had the determination from the start of the season with my coach telling the players that we must make a difference this season. I've been in the league, many things have happened and this time around things have to change because you can't be in this league and not make a difference. And that was why I have worked hard and I have been consistent from the start of the season to this point.
At Trabzonspor, we had less number of players and some are injured. Some had some problems with the management, but the rest of the players are determined to make an impact. We've had a lot of chances to even go top of the league but we threw away some key points when we drew and lost some matches which set us back. Nevertheless, we are still second on the league table and it is not impossible to still go ahead and win the league. For now, we will continue to push against Istanbul Baseksehir who are currently the league leaders.
Do Onazi have any intention of moving back to the Serie A?
I don't see that coming soon because if I had to go back to the Italian Serie A, there are lots of things to consider. Even if I have some offers, I have to consider my family and other factors as well.
How has marriage shaped you as a husband, father and player?
Of course, you know when you are single, there are lots of things you do without even thinking. You don't ask for the consent of anybody and stuffs like that. But at this point when you're married, you have a wife, a companion and somebody you have to share things with and who can tell you, 'hey why don't do it this way, it's better doing it this way' . So it means there are lots of things you can't just do anyhow, anymore. Now as a family man, you don't go out too often and have to plan how you spend your time. For me, this is another important part of my life which has really given me a kind of calmness to plan my life, making me know what I need to do and what I don't need to do.
Talk about music now. What instruments do you play?
I started with the drums, then I got on to bass guitar, after which I started playing the lead guitar too as well and finally into the keyboard which is where I stopped because I don't have time to really rehearse and play with my friends. I only get to do that now when I come to Nigeria, so it's difficult. But still, I don't intend to leave music anytime soon.
How will you describe the difference between living in Italy and playing football and living in Turkey and playing football ?
Well, the different is not much. Then in Italy, I gas little time to play music with my friends, because you can find Nigerians in Rome which is a big city and you can call somebody to come around to play with. But now in Turkey, it's very difficult. I'm not even staying in Istanbul. I'm staying in Trabzon and anyone you want to call will say it's too far. So it's very difficult and that's why I've not played music since I got to Turkey.
There was this documented story about you having lunch in a restaurant in Rome and there was a woman who had her handbag snatched and you ran after the fellow, knocked him down and retrieve the stolen bag. It was an extraordinary story. Can you recount exactly what really happened?
It actually happened when I was having lunch with my elder brother in a restaurant in Rome which was filled with tourists and I saw one guy acting suspiciously. So I told my brother that the guy must be up to something because he was actually looking at me and my brother and looking around. I realized we were the only young people in the restaurant as the others were more elderly people around 40 to 45 years of age. So I told my brother to go and lock my car first because I don't know if I was the target or someone else.
I got even more suspicious because of the umbrella the guy was holding. Though it was a very hot afternoon, but the area we all were in was well covered. Some people were sitting behind my table and the guy came towards them passing right behind me and using the umbrella as a shield to block my view, took the bag and walked very fast across the road. I realized he had taken something because he kept looking back as he was going but the people he stole from were quite drunk and was not aware of what had happened.
So I told my brother to run and go through the other road and kind of lay an ambush for him while I followed him. The streets in Rome are very long and you must cover about 300 meters before you can turn to another street. The guy was not alone and had about three other people but because they saw we were serious about the issue, they acted as if they were not involved.
So as I was following him and before I could get into the streets to clearly see him, he had thrown the bag under a car and started to run without it and I had to chase him. By the time he made the turn to another street, my brother who was hiding beside a car stretched out his leg and tripped him. He fell down and I came and held him but he shouting that he had not taken anything but I insisted he had to go back with us to the restaurant. A lady who apparently was one of the gang members then came and was shouting as if he was her husband saying 'leave him, he has not taken anything', but I said no chance.
By this time, we had created a big scene with several people starring to see what will happen. So I took him through the same route he had ran and I was searching all around until I saw the bag under the car. So I asked him to pick it up himself so as not to implicate me, and then I took him back to the place he took it from.
The owner of the bag, a woman, still did not know what was happening until he saw her bag and her eyes seemed to clear because she started to shout, 'this is my bag'. So the bag was handed over to her and I asked her to check her money. She counted it and said it was complete – and it was quite a lot of money – and she was saying, 'Oh, thank you, thank you.' I said it's okay.
Then people started to beat the guy as they were passing, so I told the owners of the restaurant that I wanted to leave and that they should call the Police and hand the guy over to them because I don't want to be involved officially. So I left, but somehow, some people had already made some videos and that's how it got to the media.
Interesting! Were you not afraid that he might be armed?
Well, we had seen things like this while growing up in Jos, so it was not something to be scared about. If he was armed, he can't take the gun. And even if he took the gun out, definitely he was not smarter than me.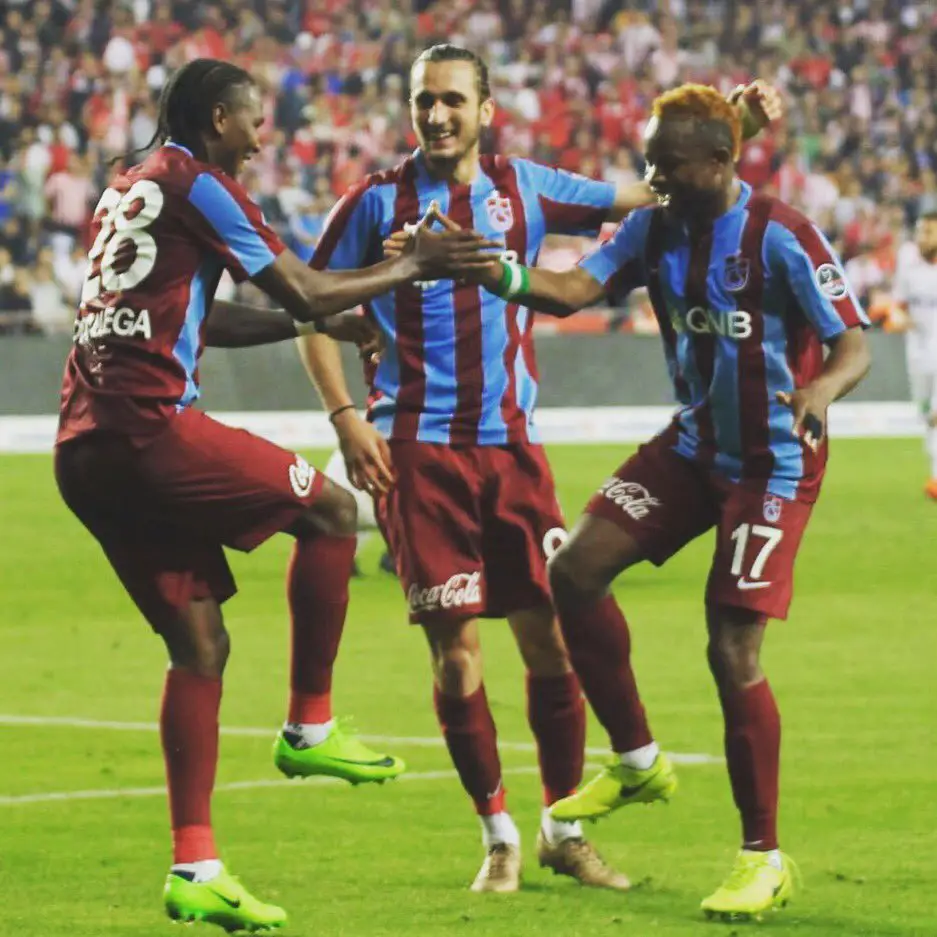 You play football with lots of passion and you're the only player who has always featured for Nigeria for about six years in a row until the World Cup. What really motivates Onazi when he steps out on the pitch?
I have a lot of motivation when I get on the pitch especially with the situation in Nigeria. You know you must work hard to survive and knowing that if you don't give your very best, others will simply take your place. My second motivation is my family because I want to make them proud. Third, I have a passion for football itself and because it's the only job I have, I have to do it really well. I love playing football and if I have to come to the world a second time, I would still love to be a footballer.
How do Onazi find time to relax? Do you travel or you go on holidays?
Unfortunately, I hate travelling and it's definitely not my way of relaxing. I love to relax by playing music in the church. I also relax by being with my friends, around people who make me happy and we can all shared laughter.
I also love playing TV games and table tennis if I can find someone who is at the same level as me. If you're too good for me I will stop playing with you because you'll only be dealing with me (laughs). In fact, I have someone who always come and play with me and I always beat him. That person is Funnybone (laughter as Funnybone comes in). I have beaten him several times, but he still keeps coming (Laughs). I need stronger hands (more laughter).
At this point in your career, what does the future holds for you?
My main target now is to first get back on my feet. To start walking, running, kicking the ball and make sure I'm okay. Second is to get back to fitness. The third is to help my team to win the league title, and fourth is to make sure that I'm fit enough to play for my country at the Nations Cup and which may be my last one. After achieving all these, then I can start thinking about the future.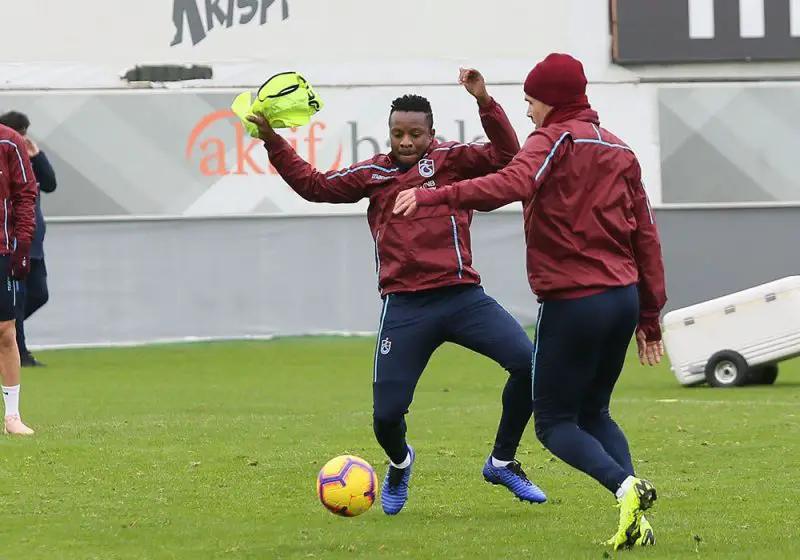 And what are your biggest ambitions?
I have lots of ambitions. I want to win the Champions League if it's possible. I want to win the league title with my club and I also want to be an African Footballer of the Year even if for once. Those are my best three ambitions.
What are your final words for the fans of Ogenyi Onazi all across Nigeria?
Onazi: My fans are really amazing and I want to thank them all and also you press people for always supporting us as players, our clubs and Nigerian football as well. Without your support, we can't be where we are today. On our part, we will do everything possible to put smiles on your faces and I pray God to bless and grant everyone their heart desires.
Copyright © 2021 Completesports.com All rights reserved. The information contained in Completesports.com may not be published, broadcast, rewritten, or redistributed without the prior written authority of Completesports.com.