We have got you covered when it comes to making a sports bet in the sunshine state. While the folks down in Tallahassee try to figure out just what the Sports Betting legal landscape will look like, we have a great list of places where you can get a bet down today. The market for sports betting in Florida is estimated at over $10 billion. That's a lot of folks sitting on the sidelines waiting for a chance to spice up their Sunday NFL viewing or cooking hotdogs in the parking lot at Ben Hill Griffin Stadium wanting to bet the Gators and the over. But not to worry. We have put together what we believe are the best betting sites and online sportsbooks Florida has to offer. Here's our top ten list.
1. Bovada – Top betting site for Florida Sports Bettors.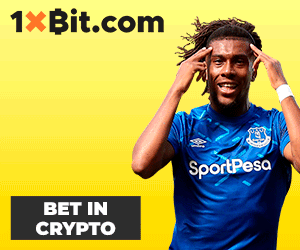 2. BetOnline – Big Bonus and Sign Up offers
3. MyBookie – Top of the line Mobile Betting and interface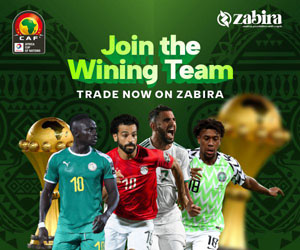 4. Intertops – Big Game Selection including Florida College Parlays
5. Sportsbetting.ag – Lots of tournament offers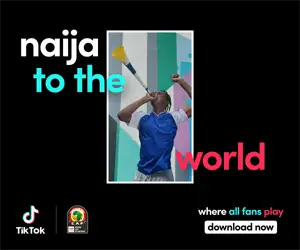 6. BETUS – Our top choice for Florida Crypto Players
7. Xbet – Fastest payouts
8. Busr.ag – This is your spot for Horse Racing
9. Gtbets.ag – Dolphins and Gators Football Top Pick
10. Cloudbet – Best for Online Privacy.
 Related: Best Online Casinos With Sportsbooks
The best betting sites and online sportsbooks in Florida
Bovada– Top Betting Site for Florida Sports Bettor

    Long Reputation of Safety and Integrity
    Great Bonuses and Bitcoin only bonuses
    Huge Game selection
    24 Hour Customer Support
Cons- Slow updating Lines on Football and NBA
Relaunched back in 2011, Bovada is just a new incarnation of the old Bodog site that dates back to the '90s. Through all those years and a lot of ups and downs, they've always paid on time and what was owed. They offer an excellent sign-up bonus. If you deposit $500 into the sportsbook, you get a $250 bonus.
But the best sign-up offer is reserved for those who choose Bitcoin. Deposit $1000 in bitcoin, and you will get a $750 match. They have over 250 sporting events you can bet on, not counting horse racing. If you have any questions, the help desk is there to walk you through it, 24 hours a day, seven days a week.
2. BetOnline– Big Bonus and Sign-up offers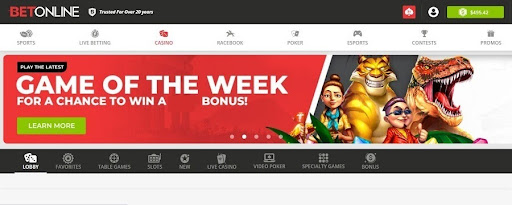 50% Sportsbook Bonus up to $1000 deposit
    48 Hour payouts
    20 years in business
    Dime Line on the Marlins
Cons- No PayPal
One of the other OG's of the betting world, BetOnline, has provided Florida Sports Bettors a place to play since 2001. They are quick to pay, boasting of the fastest payouts in the industry. They have a sign-up bonus and a reload deposit bonus, which is the highest we've seen for a credit card or bank deposit.
BetOnline's other claim to fame is getting more credit cards accepted than any other casino. This may be why they don't have as many e-wallet deposit methods as other sites. We also liked their 100% deposit bonus for Bitcoin. They've got dime lines on all MLB games, so it's the place to bet if you're a Marlins or Rays fan.
3. MyBookie-Top of the Line Mobile Betting and Interface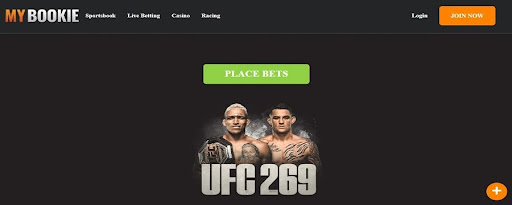 Slick look and feel.
    Good Sign-up and redeposit Bonuses
    Live Sports Betting
Con- No dedicated App. Few e-wallet options
MyBookie has a brand new UI and mobile site that looks gorgeous. We found the layout to be intuitive as well. Everything was exactly where it should be. There are many options, including tons of specialty and exotic parlays, guaranteed to turn the head of even the most jaded sports bettor. We found the MyBookie money lines good, though maybe not as tight as Bovada's money lines. The Sign-up bonus is $500 on a $1000 deposit, which is excellent.
We experienced quick payout times, often in less than 24 hours when using bitcoin. They offer a good selection of live game bets but no live streaming yet. This would make for a  better experience since many international sports offerings aren't easily viewed in Florida yet.
4. Intertops– Big Game Selection Including Florida parlays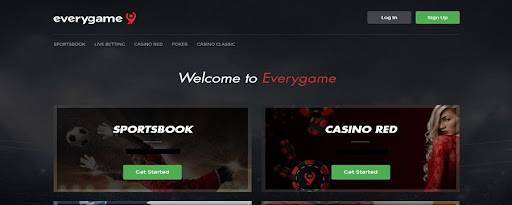 25 years in the Sports Betting Business
    Lots of Ongoing Free Bets
    Lots of Deposit Options
Cons-No esports
Intertops has been around a really, really long time. Like before, a lot of sports bettors were even born, long. But in all that time, they have paid winners, kept up excellent customer service, and earned a reputation as a safe, reliable sportsbook. There is certainly something to be said for safety over splash and glitz, And that's the thing, their deposit bonus is topped at $200,
The interface is reasonable. They have many games and live bets but no live stream. They offer low roller players a lot of ongoing bets, including up to 4 free $100 NFL bets per season, but they have a lot of conditions. They lack some of the hook and soft tap that many of the other sites sell so hard. But if you're looking for a solid book with a quarter-century track record of being there for their players, this is the place to be.
5. Sportsbetting.ag – Lots of Tourney offers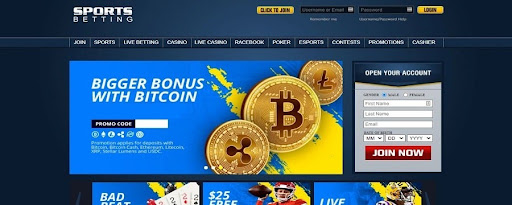 Ethereum and Litecoin, as well as bitcoin
    Great Sign-up Bonus
    Massive amount of Sports Covered
Cons – Fees on many withdrawal Methods
100% bonus on up to $1000 deposit is one of the very best we've seen. Florida and Florida State bettors are going to be wowed by their vast number of teasers, pleasers, parlays, and specialty teasers.Sportsbetting.ag offered just a huge selection of games to bet, as well as lots of props and live bets. They also have ongoing tournaments to test your skills.
The Panther fans will appreciate the 50% reduced fees on NHL games. You can buy points, which isn't always a feature you can find online. Sign-up from the US was quick and easy, and while we didn't need them, we reached out to customer service just to chat. They were fast and responsive and even a bit funny.
We appreciated the use of Ethereum and Litecoin, and Bitcoin. Customer service said they would be adding other coins shortly. While we use mostly Crypto for our betting, we couldn't help but notice a lot of fees for different types of withdrawals, and steep ones at that. That being said, all crypto withdrawals are still free.
6. BETUS– Top Choice for Florida Crypto Users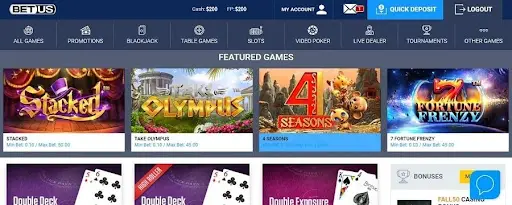 Biggest bonuses out there
    Tons of Parlays and Futures
    Best Crypto Offers
Cons- Restrictive Terms on Bonuses
They have put together a very professional-looking interface, and everything is well laid out. Like many others, they lack a dedicated app, but their mobile site is fresh and easy on the eyes. BetUs has many customer support options, and the ones we spoke with were friendly and knowledgeable.
Deposit options were average until you got to Crypto. Here they excel, with Bitcoin, Bitcoin cash Ethereum, Litecoin, and several others. You'll definitely want to go this route, not only for the 200% bonus up to $2500 but because the credit card withdrawal can take 1 to 2 weeks. Ouch.
You read that right, 200% bonus up to $2500 with Crypto and 125% bonus up to $2500 on regular deposits. BUT, they have a 15x playthrough before withdrawal, which is more than double what most other sportsbooks require. They have a ton of parlay and future bets to look over. However, they are aimed squarely at the North American market, with mostly Football, Baseball, and Basketball.
7. XBet-Fastest Payouts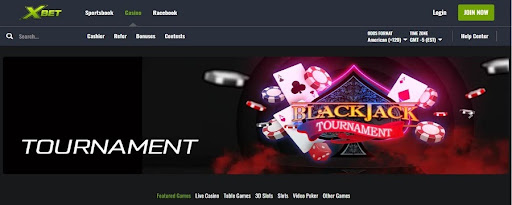 Solid Customer Support
    Good Sign Up Bonus
    Cool Slots
Cons-Limited Deposit methods
XBet has an easy-to-use layout as well, with all the sports on the left and the live bets up in the corner. There are live bets but no live streams, which is always disappointing.  Bonuses are 100% of $300 currently. We have seen them higher at XBet in the past. Orlando has been working hard to make itself a leader in the e-sports community. If you find yourself there and want to make a bet, XBet is definitely the place to do it. They have a vast selection of e-sports and other exotic bets.
Customer Service was excellent, but no e-wallets and limited credit card and wire offers were a sticking point. It's probably best to use Crypto here. Our take is that XBet does everything right, but they don't have anything that makes them stand out. Average bonuses, average money lines, but we did enjoy the racebook. It pays a 7% rebate daily on volume, which we've never seen before. And the 3Dslots in the casino were really cool.
8. Busr.Ag– The Spot For Horse Racing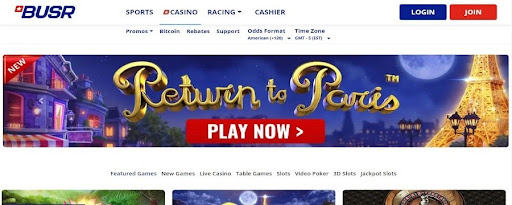 Best for Horse Racing
    Good Bonuses and Rebates
    The casino has Lots of Video Poker
Cons-High wagering requirements on bonus
Non-parimutuel racing from 300+ racetracks from around the world is what sets BUSR apart from the competition. Formally known as BetUSRacing, Busr underwent a rebranding to bring more attention to their sportsbook and casino. And yes, the live dealer games are friendly, and they offer over 200 Betsofts slot titles. And yes, the sportsbook has a lot of games with decent odds, and the crypto bonus of 100 % up to a $1000 deposit is above average.
But this site is about racing with the sportsbook and casino feeling kind of bolted on. One other thing that stood out was the fees for a credit card or wire withdrawal. Some were more than $30. These are some of the highest we've seen. We get the push for Crypto, but until we have more gamblers comfortable with it, perhaps we shouldn't penalize those still using old-fashioned withdrawal options.
9. Gtbets.ag Dolphins and Gators Football Top Pick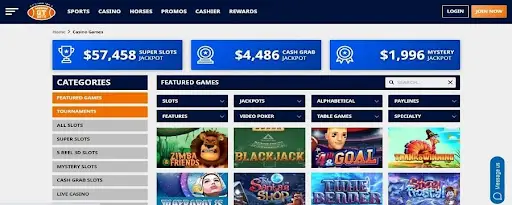 Lots of Football Bets
Slick User Interface
Cons-Fees even for Crypto withdrawal
Gtbets has ALOT of Football bets. Teasers, Parlays, Futures, Money Line bets, just to name a few.  They have a well-thought-out and easy-to-use interface, and honestly, even their mobile interface will put a smile on your face. The casino offers a 10% rebate on weekly losses, which is excellent. They have a 100% deposit for up to $500 with a 10x playthrough. Their refer a friend is the best that we've seen at $400 a friend. There's a lot to like. So why are they number 9 on our list? They charge up to a 5% fee on your second bitcoin withdrawal in a week. Now I know what you're going to say. Just plan ahead and take only one withdrawal a week. But seriously, 5% fee for bitcoin. I don't know. It just seems wrong. GTbet is a great place to play if you can plan around that.
10. Cloudbet -Best for online privacy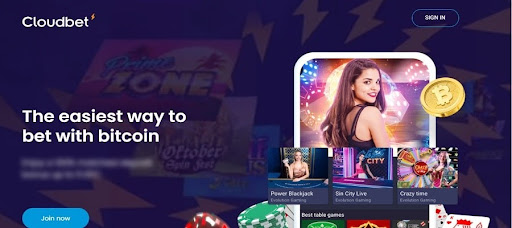 Bitcoin only Casino
    High Limits on Games
Cons- Must use a VPN from the USA
Cloudbet is a great casino and sportsbook in almost every way. Great layout, good game selection, the casino has lots of games you don't see everywhere. They have unusually high max bets, and unlike some other sportsbooks, they didn't attempt to lower those limits once we got a bit ahead. The fact that they have Bitcoin-only deposits/withdrawals is actually ok. It means customer service isn't always busy trying to figure out why somebody's credit card declined or why a wire transfer went missing and can concentrate on answering your questions.
We found LiveChat to be extremely friendly and helpful. They are licensed in both Curacao and Montenegro. Their sportsbook is aimed more squarely at the international market, though, of course, there's still plenty of American Football, Baseball, and Basketball.
The thing is, they just aren't that crazy about American players. In fact, you will need a VPN to open an account since they don't admit American Players. On the bright side, the use of Bitcoin and a VPN means you will have a very private experience when wagering at Cloudbet.
What we look for in a Casino/Sportsbook
A good site starts with an easy and intuitive interface. You should know where to go to find the bet and sports or even table games that you want. Everything should be there without feeling cluttered. You shouldn't have to go down through 4 menus to find something.
We like an excellent sign-up bonus as well as ongoing bonuses because every dollar counts, and it's hard enough to pick winners. Bonuses even out the playing field. In that same vein, fees for withdrawals or deposits or pretty much anything sucks. There is nothing worse than hitting a losing streak and then feeling nickel and dimed to death.
We like Crypto. It's easy to use and mostly hassle-free. Sites that take Crypto, especially those that take a lot of different kinds of Crypto, give us options. If Bitcoin is in the middle of a 20% correction, but Litecoin is holding up, we know which coin we will be depositing with.
Something is always going to go wrong, or you need a question answered at 2:00 am. That's why we constantly check on customer service. If you can't get hold of a live customer service rep when you need one, you're going to have doubts about how seriously these people take your business.
Then we get down to game selection. If everything else checks out, you want to find a casino/sportsbook that offers you that ping pong match you have a lock on. Or that kid you met in Gainesville is playing in a League of Legends match-up, and you want to put $20 on him. Or maybe you have a favorite slot you like to play when you are waiting for the game to start. It's essential that you have options and can bet what YOU want, not just what they want you to bet.
The Legality of Florida Betting Sites and Online Sportsbooks
The Seminoles launched an online sportsbook app for about 3 weeks in November of 2021, before the courts struck it down. Judge Friedrich found that the Seminoles and Florida had run afoul of the Indian Regulatory Gaming Act. The State's claim was that all mobile bets made throughout Florida would be construed as being made on Indian land if the servers taking those bets were on Indian land. This was not upheld by either the Federal Court or the Appeals Court.
This leaves the Indian tribes with all land-based casino gambling in Florida and a handful of privately owned card rooms for poker and raked games dotted across the State. There is also parimutuel betting at horse tracks and Jai Alai clubs. The last of the dog tracks that once were found across Florida were shut down in 2020.
It is still possible that the Seminoles will launch in-person sports betting at its Hard Rock Casino branded properties across South Florida. Still, as of late 2021, that has not happened.
Legal Betting in Florida with Offshore Sportsbooks
Now we will have to wait for the Federal courts and possibly even the voters of Florida to sort out this mess. But in the meantime, it is perfectly legal for Florida residents to bet with licensed sportsbooks in legal jurisdictions. All the casinos on our list fit that bill and will be happy to set you up with an account. You can even play slots or bet on table games without worrying about running afoul of the law, though it's always best to do your own research. Florida currently only has a handful of tribal casinos sprinkled throughout the southern part of the State, so an online casino may be your best option.
Getting Started
Have your information like identification, address, any deposit method you will be using, whether crypto or credit cards or whatever and the email you will be using. (I keep a separate email just for all my casino accounts so I don't miss any bonus offers) Fill out the registration forms, check your email, and make your deposit. You'll be ready to start betting as soon as your funds arrive.
Banking
Each site will have different banking deposit and withdrawal methods. As well as various fees, terms and conditions, and timelines. In 2021, the best approach is setting up an account with a crypto exchange if you haven't already.
It's a bit of an extra step, but we promise it will save you time, money, and aggravation before you are done. Crypto deposits with casinos are quicker, with fewer identification requirements and no fees. And crypto withdrawals are much smoother, mostly fee-free, and require much less paperwork on your end.
Bonuses
All of the casinos listed above have good sign-up, redeposit, and refer-a-friend bonuses. Some have loss rebates, especially for Race Bets. But again, everyone will have varying terms and conditions and different structures.
It is essential that you understand how each casino rewards various sign-ups and redeposits. It's free money, but it's a lot of work. For instance, some may require you only play 5x your original deposit before you can withdraw your bonus. Others may require 15x. It will be up to you to make sure you have met each individual casino's rules for these bonus offers.
Conclusion
While Florida figures out whether online Sports Betting is legal or not, you still have options to get your bets down on the Gators or the Dolphins or even play some slots. We outlined some of the best betting sites and online sportsbooks that Florida has to offer. Bovada is our top pick for a reason. Give them a try. Take them up on that $750 Crypto Sign up bonus. But all the sites on our list are worth taking a look at, and we wish you the best of luck wherever you decide to play.