In 2018, Anambra State government moved all the affairs and concerns of sports away from its Ministry of Youth and Sports into a new creation, the Anambra State Sports Development Commission. With that creation, came a lot of changes, expectations and challenges.
The creation of the Commission gave birth to the appointment of a chairman to oversee it's operations and champion the realization of it's major mandate which is an all-round development of sports in the State, including human and infrastructural development.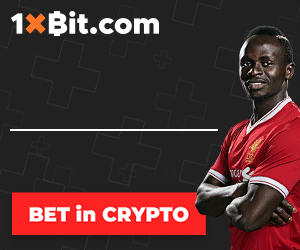 In this exclusive interview with Completesports.com, the pioneer Chairman of the Commission, Chief Tony Oli, took us through the long journey from it's foundation to where it is now.
Interview by CHIGOZIE CHUKWULETA, in Awka.
Excerpts….
Completesports.com: Thank you for the opportunity to talk with you, to get the Anambra State Sports enthusiasts and all sports followers informed about the happenings in the sports sector in the State…
As the pioneer Chairman of the Commission, could you please recap the terms of reference guiding the job of your commission.
Chief Oli: The Anambra State Sports Commission came into being by the law passed by the State's House of Assembly in September, 2018 and was accepted by the governor on 4th October same year. So technically, in a couple of months, the commission will be four years.
Key in the terms of reference is the development of Sports. Harnessing young talents and creating the enabling environment and opportunities to enable them excel. Attracting sponsorship, bringing in partners that would enhance the development. So our own is to ensure that we develop sports by human capital development. Develop sports by developing infrastructure like the stadium, playing centers and engaging them in various competitions.
So far we have been able to do that. It is not 100%, but we have taken it off from the drawing board. We are already implementing.
So what have been your achievements so far?
I don't like dwelling on that. I leave people to judge. In terms of achievements, the Commission was created without anything on ground. When we took off, the only thing inherited was staff from ministry of youth and we started culturing them to thinking of sports.
Also Read – 2022 WAFCON: Falcons Coach Waldrum Invites 32 Players For Two-Week Camp In Morocco
After due appraisal, we set out to create various competitions that will enable us harness talents such that when we go for competition of any of the national events, we will be able to compete very well. We started with the most popular one which is football. We created, at various levels, football competitions.
We created the Academicals for primary schools and secondary schools. We created competition for all the higher institutions in the State, we created the Traders Cup, we created the Community Shield for all the communities in the state. We did all these to enable us touch every area of human in Anambra State such that sports development will cut across.
We also developed a sort of leisure sports we called Walk For Life. We were doing it once in a month. We also created other competitions for sports like Volleyball, Basketball.
To tell you the impact of of these, from 2018 that we started, Anambra State went back into major competitions. The State turned the table around and started winning medals. We have won over 120 medals at various levels. At Abuja we broke a record of almost 20 years of medal drought in Anambra State.
For over 20 years, the State never won any gold medal, but we won five gold medals. The next Sports Festival was Edo, we went there, we won six gold medals, broke national records. Our own son Chinecherem is right now in America on scholarship. He is the current javelin champion in Nigeria. We have also the little Stephanie who went to Edo to collect more than four medals in gymnastics. Ten years old girl.
We have also made a lot of impact at the youth level and that has reflected in our performances at age bracket competitions with our athletes being selected for scholarships and invited to academies. I think in terms of achievement, we have lifted sports in Anambra State and we've rewritten the Anambra State's name in the map of Nigeria in terms of sports.
What have been the challenges?
I don't look at issues of challenges because there is nothing you are doing in this world that you don't have obstacles. The first thing everyone will shout is resources, but this resources are never enough. Whatever that is difficult must have a way to solve it. If l have a competition to attend, l call my team for preparation. If we are to camp for ten days and approval can only cover for five days, it is already an impediment.
If you stand there and start complaining, you can't go anywhere. All you need to do is say guys can we adjust ourselves to five days training and still go for the best. Sometimes, under such circumstance you go there and achieve the best result.
Are you saying that the creation of the Anambra Stae Sports Development Commission gave birth to sports revolution in the State?
Sure. The man that thought about it had looked at the problem of Sports in the State being a governor for four years before the creation. Sports Development Commission is like using task force approach in solving a challenge.
Are you also saying that Anambra State can now boast of Athletes' bank where at short notice, you get athletes for competitions?
Yes, to that extent, it depends on the game. In short, we've created a system whereby within one week we can raise a team of any event. Think of cricket, if you call us for a cricket championship in the South East or anywhere in Nigeria, within one week we raise our team. Same goes for volleyball, basketball, football and others like that, because we have them training at various locations around the State.
Also Read: Super Eagles New Coach Peseiro Gets One-Year Short-Term Contract With Performance-Related Clauses
There is something about regular and intensive training. Because they are training regularly, you can always call them up and in one week, give them intensive training. If you go to Ekwueme Square you will see our athletes for karate, judo, Taekwondo, etc, training.
How would you appraise the performances of the past and current Anambra State governments in the provision of sports infrastructure that are truly accessible to not only persons in the cities, but also to sports talents in the hinterlands?
Well, development of infrastructure is a continuous thing. Each one comes pick the one that he can do and move on. The immediate past administration thought it wise that we need a stadium, at least where we can play football and do athletics. These are the key things. With a pitch that is standard and can host any football tournament and a track that can host any athletics championship, you are given the two most important areas in sports development. Every other thing can be added. It might not be here, it might be in another place.
We have handball, volleyball and basketball courts at Ekwueme Square. If you go to Onitsha, you still see some. There are some schools also in the State where you get into you still have some of these facilities. The immediate past government has done it's bit by setting up the road map towards sports infrastructural development.
The current government has it at it's manifesto to also searchlight on Sports. It just started. We also believe that in the years to come, a lot of additional infrastructure will be added to what we have.
You have so far supervised the building of the Awka City Stadium. Tell us the key facts about the project, it's scope and it's current stage.
Well, thank God I was here from the beginning. I saw it all. In terms of scope, what is remaining here is just the floodlights. The pitch is ready.
Rangers have adopted here as home ground for now. Two NLO teams, Aspire FC and Udala FC play here. Anambra Independent Football League that play every Friday – about five matches, play here.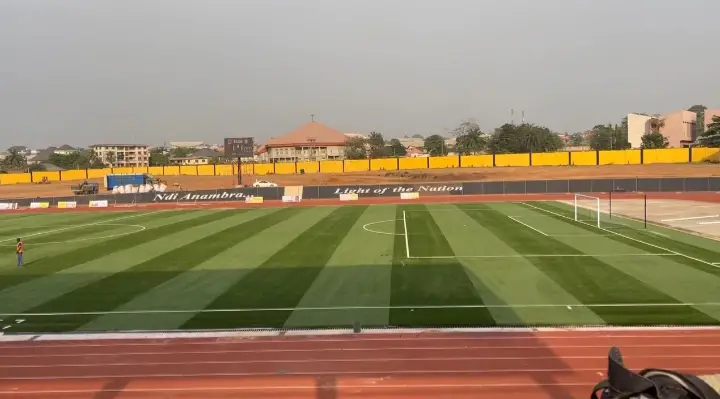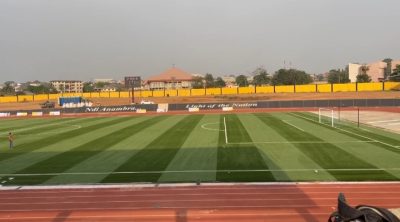 We have recorded close to one hundred matches in this pitch within four months. We have also tested the track and the track is ready. Very soon, Athletics Federation of Nigeria (AFN) is planning to come and have one of their Classics here. Once the floodlights are mounted, it will mark the end of what was agreed. The rest will be maintenance.
With all the achievements chronicled, Anambra State seems not willing to own a football team despite promises made by the immediate past governor. Any plans?
This issue of football team has been a recurring decimal. I have always said it, for you to have a club, the State will be ready to put the money down. For a start, you need a minimum of thirty players, ( monthly salary, allowances, bonuses etc) fifteen management team, ( medical, technical, logistics, etc). You now look at kitting them. You go into their game proper ( home and away). You need two thirty seater buses, Hilux or another utility vehicle and other things.
What I am saying is that, yes, it is good to have a football club, but the government should now be ready to provide, say every month, 20 million naira minimum. If you are a government that will expect something to come in, where will you recoop this money from? Rangers have been coming here to play, the place is open. At the end of the month, they pay salaries. No gate takings, no franchise, no TV Rights, because the system here is not same with what you have abroad.
Having a club is good, but the stakeholders need to sit over it. If you doubt, ask private club owners. In Europe, it is pure business. But here, it is considered as a social responsibility of government.
Many believe that Anambra State government has shied away from investing in a truly standard stadium that can host international matches and other events such as Akwa Ibom (Nest of Champions), Sam Ogbemudia Stadium, Benin, Teslim Balogun, Mobola Johnson Stadium in Lagos etc. What is your take on this?
Let me correct one thing. The construction of this particular arena started immediately after the Police Games. We had to go from one place to the other looking for space for police to do their Games – Rojeny for Athletics, Otuocha for football, Ekwueme Square for other events. The drive the need to do basic things, like l told the governor to put up the tracks and the field.
If we want to go into the construction of a Wembley kind of stadium, we may not come out of it soon. We throw in this money at a big project like Wembley, Anfield, Old Trafford, these are investments that they recoop the money because the system there has a way of bringing back the money. They play their football matches, they have their TV Rights, people pay gate fees. People value the thing, It is pure business. But here, these things are still considered social responsibility of government. Nobody is looking at the business angle.
Therefore it will not be ideal to go and start constructing a big edifice to attract ohhh, waoooo. No, l am not a party to that. I ask, apart from the last match played in Abuja, when last have you seen up to 20,000 capacity in a football match in Nigeria? So what we need are standard pitch and tracks. Since we've been having events here, the sitting capacity has been serving. If FIFA should come here to inspect for a football match, the first thing is to go into the pitch and confirm that the pitch is standard. The second one is to go to the dressing rooms to confirm the they are standard. Again they look at the security of the arena. We secured the pitch to make sure no spectator have access to the pitch.
What we need now is the construction of the second pavilion and once that is done you will see that there is no type of match that cannot be hosted here. What is lacking here is sitting capacity for larger event which definitely is going to happen by the grace of God. The Bayern Munich guys that came confirmed that the pitch is of world standard. That it is exactly what they have in Germany. So what else?
What other plans do the Commission have for an all-round robust sports development in Anambra State?
Ours is to see that more of this type of sporting facilities are created round the State. We have plans for Ekwulobia. There is Ekwulobia Township Stadium, it is already designed and approved. It is a question of funds released and work will start.
In Otuocha, designed and approved, funds to be released. We also have a land in Ogidi. A lot of encouragement is going on there, but it already in our budget. Once government is ready, we push, so that in the three Senatorial Zones, we will have good play grounds if l call it that – pitches and tracks of standard. So that matches can be played at Otuocha, Ekwulobia, Ogidi while this one [in Awka] becomes the central place. These are the things we are planning.
What are you doing about the encroachment at the Awka City Stadium by land grabbers as there are structures already springing up here and there?
No, don't bother yourself about that. We will deal with them. They are wasting their time. You can't come into government property and do what you like. When the government is ready, they take you out, simple.
You can't fight government. They have been told, warned. The Physical Planning Department is already in the know. If you look at it, you see where the fence is. Initially, when they were doing all that, they never knew this structure will soon be here.
The Tracks of Awka City Stadium look hungry for action. When are activities likely to grace them?
[Smiles]… In this month of May. Concentration had been on the pitch. Towards the end of this month, we are already planning secondary schools athletic championshipS (U-13, U-15 and U-17). We want to build it up as part of Children's Day activities.
Also Read: Sports Minister Insists Future is Bright for Nigerian Athletics
So hopefully, on 24th, 25th, 26th here will be very busy. The Athletics Federation of Nigeria (AFN) is also considering coming here to do one of their Classics. So we are also hopeful that if we tidy up everything very well by 26th or thereabouts, they should also be here. Soas soon as that happens, we would have opened up to the nation, Because the moment they come here and it gives them what they want, you see they would want to come back. Just like Rangers, who played once and couldn't go back again.
What do you consider as the benefits of hosting the FC Bayern Youth Cup Nigeria 2022?
First of all, it opened our eyes . The major benefit is the confirmation that the facility we have is of world class. They came here and they were at home. While the construction was going on, nobody knew what we are going to expect as we've not had it before. No one could say expertly that the pitch is a great job or not. But this guy's came – one of them a legend of 1990 World cup currently working with Bayern, the other one a coach. So they know when they see the right thing and they confirmed it.
Number two, it has also told the world, that Anambra has that facility. People were calling to confirm it is actually Anambra. Number three, our youth which is the most important one were exposed. Some of them were selected and nobody knows who will be the next international star. The benefits are enormous. We look forward to a repeat of that competition.
There were pockets of ponds after rain at the newly constructed Awka City Atadium, especially near the tracks. Why did that occur? what is the plan for proper maintainance of the new facility?
That water is close to the water channel. And here is like a home to me. Anytime it rains l come around. If you look at it, it is just to the water channel, it doesn't get into the tracks. If you look at the edge of the tracks, you see holes. At the middle of the set back, is like a dome. It was not constructed to be flat. It was meant in a way that when it rains the water flows into the holes. What happened there l believe is a little correction that they needed to make to allow the remnant of water flow in. Actually, after the rain it is the remnant that settles there. So once it is adjusted, it will enter the water channel. But if you look at, it has no way of moving into the tracks.
What is the major plan for maintenance?  That has been the bane of most facilities in Nigeria.
[Deep breath]… It is a key issue. That's why you see that the contractor has not totally left the site. Ordinarily, he has finished his work. He finished his work at the tail end of last administration. And it will not be too appropriate to sign another contract of maintenance with him. So the governor thought it wise that even though he announced it that there would be a contract, he felt that the new administration coming in should consider it. Because I am still available, that discussion will come up at some point to say how we maintain this facility. So that if it is the contractor that will continue to maintain it, there will be a proper discussion. Because the beauty of this thing is in the maintainance. This pitch is not natural grass, it requires continuous maintenance. That's the only way to have it at it's peak. If you leave it to be played on without maintenance over a period of time, it's gone, people will now complain.
What is your opinion about Nigeria not going to the World Cup, and what should be expected from the new coach?
All this boils down to management. If you are sincere and put the country first, these things will solve themselves. You can go and bring the best coach in the world, if he does not have a free hand to manage the system, he fails. Some people even said that it is good that they failed so that we can go back to the drawing board. How many times are we going to go to the drawing board? Let them start afresh, start on time, prepare, give the coach a free hand. Let him come with his program, give him the resources right on time, let him do his selection without interference. Bring in discipline, let nobody feel he is indispensable. Remember the time of Westerhorf and look at the progress we made that time.
How prepared is Anambra State for the next Sports Festival coming up in Asaba, Delta State?
Well, that's November. November is still distance away, but not too long. Our preparation is a continuous process as our athletes are on regular training. So for Asaba, l just hope the competition will be well organized beyond what happened in Edo, so that people can. go there to compete very well. For us we are doing our preparations, the individual levels, event levels. At the right time, we will call for camp and start the intensive training – maybe somewhere around September or October. At every Sports Festival, we plan to improve on what we did in the previous one. We improved on Abuja, we want to improve on Edo. That's always our mandate.
What is your plan to stop the poaching of your athletes or do you have what it takes to actually keep these players?
After the Abuja Festival, I discovered that many athletes we competed against were from Anambra State and when you asked they said the State has nothing and even when they sacrifice, no appreciation. So when we came back, l proposed a reward system to the governor which he bought into. We proposed an incentive package which include that their camping allowance was enhanced. We bought them good kits, provide competition allowance. All these are paid as at when due. We pay camping allowance before they travel, we pay competition allowance before they leave competition venue. Then when they come back, we now get back to the governor to tell him 'your people are back'.
For all the times they went for competition, we have been hosting them. So that has made a lot of them to start coming back. Our basketball, volleyball, handball teams, about 80% of them were playing for other states but now they are all back playing for Anambra State. Same with other areas. So far, as long as we maintain the welfare package that we have instituted, l think we will not be losing our athletes to other States, instead they will be coming back.
Copyright © 2021 Completesports.com All rights reserved. The information contained in Completesports.com may not be published, broadcast, rewritten, or redistributed without the prior written authority of Completesports.com.