Some track and field athletes are great, others are even exceptional but there are some athletes that have been absolutely untouchable.
Since the inception of track and field, various athletes have asserted their dominance for years and years. But which athletes are truly the most dominant?
The 10 most dominant track and field athletes of all time are analysed here.
Also Read: Nwakaeme Out For Three Weeks With Groin Injury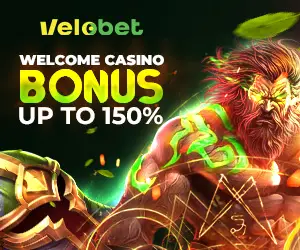 For this list,three separate criteria are combined to determine the most dominant athletes in history.
First is counting the total of World Championships and Olympic medals earned. Second is total of new World Records set by a particular athlete and third is calculating the total number of consecutive competitions won…
1 – Paavo Nurmi, Men's 800m to Marathon
The most dominant athlete of all time is Paavo Nurmi. Aside from setting a ridiculous 22 world records ranging from 1500m all the way to Marathon, Nurmi till this day remains the only person to ever remain undefeated in the 10,000m throughout his entire running career. 'The Flying Fin' as many people called him, was absolutely unchallenged for almost two decades.
Over the course of his career, Nurmi never lost a 10,000m race but also never lost a single cross country race. At his peak, Nurmi won 121 straight races ranging from the 800m upwards. After the 1928 Olympics, Nurmi stated: "I'm beginning to get old. I've raced for 15 years and have had enough." However, the following year, his old age did not seem to be catching up with him at all.
In fact, he would go on to break even more world records in the 15k, 10-mile run and the one-hour run that would last a total of 17 years. Although he officially set 22 world records, multiple international federations estimate his real world record count to be 58. This record count is more than double of that of Ethiopian legend Haile Gebrselassie.
2 – Edwin Moses, Men's 400m Hurdles
Very few athletes have held any winning streak as long as Edwin Moses. Between 1977 and 1987, Moses won 122 consecutive races. For exactly 9 years, 9 months and 9 days, Moses went undefeated over all 400 meters hurdles races.
During this time, Moses also went on to break his own world record on four separate occasions with his best time standing at 47.02 seconds.
And while his total Olympics and World Championships medals are not as plentiful as others on this list, the genuine level of dominance displayed by Moses is unrivaled in any event in track & field.
Also Read: Sadiq: Man United Interest Is Big Compliment To Me
It is also worth mentioning that Moses did miss out on the 1980 Olympics because of the boycott. And given that he did manage to break the world record that year, many speculate that he would have likely gone on to win the Olympics that year.
This winning streak of 122 races, makes Moses the proud owner of the longest winning streak in track & field history, almost doubling the second place streak of 65 set by Carl Lewis in the long jump.

3 – Carl Lewis, Men's 100m, 200m and Long Jump
Considered as the World Athlete of the century by the IAAF (now World Athletics), Carl Lewis is unquestionably one of the most decorated and talented athletes to ever walk the earth. From 1979 to 1996, Lewis won 18 World Championships and Olympic gold medals.
He is also one of only three athletes in Olympics history to ever succssfully defend their Olympic title in four consecutive editions.
For over 10 years, Lewis went completely undefeated in the Long Jump,only to be finally defeated by Mike Powell who broke the world record at the 1991 World Championships.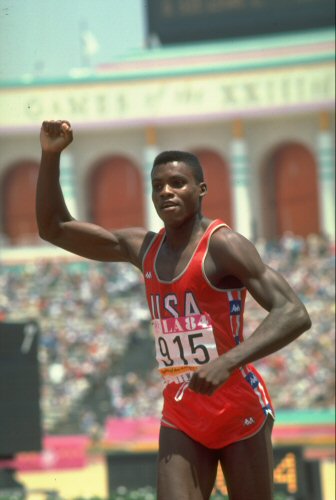 This winning streak lasted a full 65 meets before Lewis lost any long jump competition.
And as regards to world records, Lewis did manage to break multiple world records in multiple events. However, many of these records were initially overshadowed by various athletes who were caught using performance enhancing drugs against Lewis.
Indeed, as the official record book indicates, Lewis is not only one of the most dominant athletes of all time, but he is certainly one of the most dominant athletes in history.
4 – Sergey Bubka, Men's Pole Vault
The level of success achieved by Sergey Bubka is what many considered to be completely unparalled. Over the course of his career, Bubka broke the world record in the pole vault 35 times.
Additionally, Bubka managed to win a total of 11 World Championships and Olympic medals. He is the first athlete to ever clear six meters.
Bubka completely re-wrote the record books.Since his very first world record,Bubka only lost his own world record on one occasion. On August 31, 1984,Thierry Vigneron of France managed to eclipse Bubka's world record marks with a vault of 5.91 meters.
However, just minutes later, Bubka vaulted 5.94 meters, breaking Vigneron's 5.91m world record that only stood for approximately three minutes. This display of dominance only further advance his book of supremacy in pole vault.

5 – Usain Bolt, Men's 100m and 200m
The debate on the greatest men's sprinter of all time is easy. It's Usain Bolt, period! With a total of 19 World Championships and Olympic gold medals, Bolt stands far above your average successful sprinter. It's difficult to fully encapsulate the true dominance of this Jamaican superstar, but to put it simply, he is a 9-time World
Record holder.
Bolt is the only athlete to ever win three consecutive 100m and 200m titles at the Olympic Games and he is also the most successful athlete to ever compete at the World Championships with a total medal count of 14. Anyone that ever saw Usain Bolt knows that not only did he go on to win these Championships races, but he won by staggering margins.

6 – Haile Gebrselassie, Men's 5,000m and 10,000m
In the debate of the greatest distance runner of all time, Gebrselassie simply has to be in this conversation. If breaking 61 Ethiopian national records wasn't enough, Gebrselassie also went on to break 27 World Records.
From 1993 till 2000, Gebrselassie was almost unbeatable over the 10,000m. But while he was certainly a talent over the
10,000m distance, his versatility on the track was completely revolutionary.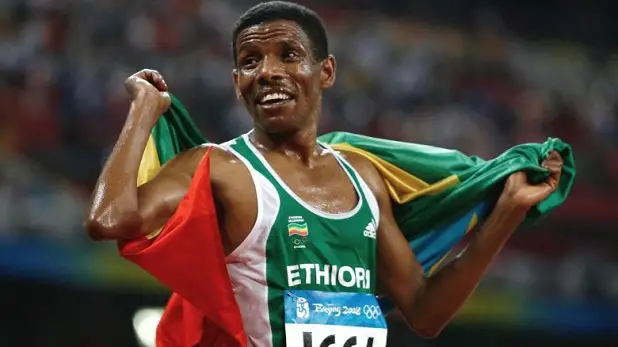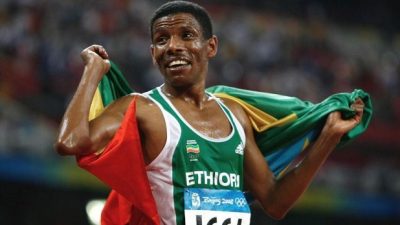 Over the course of his career, Gebrselassie broke world records in distances ranging from the 2,000m all the way to the marathon. Additionally in the year 1999 and 2000, Gebrselassie went undefeated in all of his races, which included distances ranging from the 1500m up to the 10,000m.
Gebrselassie won a total of nine World Championships and Olympic medals.
7 – Michael Johnson, Men's 200m and 400m
Aside from his huge international fame, Michael Johnson is regarded as one of the best sprinters in history. During his career, Johnson managed to win 12 World Championships and Olympic medals,all of which were golds.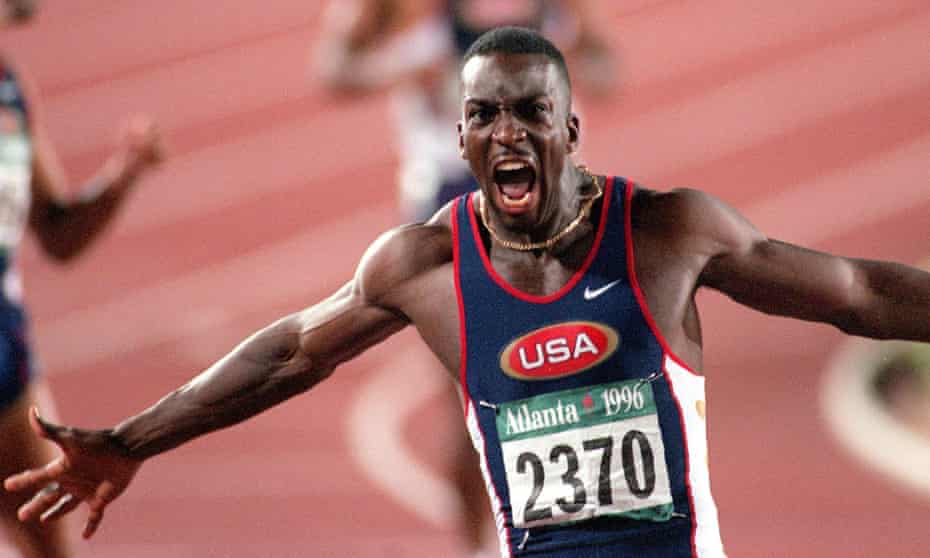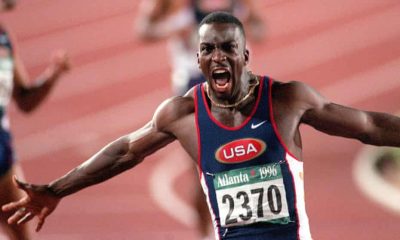 He is also the only male athlete in history to successfully win both the 200m and the 400m at the same Olympics – a feat which he famously accomplished in 1996.
Johnson is also the only male athlete to ever succsfully defend his Olympics 400m title. Not only was Johnson a dominant force among the biggest track & field stages, but he also managed to break nine World Records over the course of his career. From the year 1992 up till 2000, Johnson succesfully ran under 44 seconds for the 400m each year.
8 – Jackie Joyner-Kersee, Women's Heptathlon and Long Jump
Since 1988, Joyner-Kersee has been the unwavering world record holder for the women's heptathlon. With above a 200 point gap over her closest competitor and by holding all of the top six greatest performances in history, she would ever be remembered for her dominance.
Additionally, Joyner-Kersee had a winning streak that lasted over 10 years and she also has 10 World Championships and Olympic medals ranging from 1987 to 1996. She also has two of the top three greatest long jumps ever recorded.

9 – Javier Sotomayor, Men's High Jump
As far as High Jumpers go, Sotomayor remains the standard by which all high jumpers are measured. From 1988 till 2000,
Sotomayor was the world's premier high-jumper. Over the course of his career, he went on to win seven World Championships and Olympic gold medals and also broke the World Record on three separate occasions.
Till this day, Sotomayor's World Record of 2.45m still stands. He also remains the only athlete to ever jump over eight feet.
Also Read: Onazi Out For 2-3 Weeks With Muscle Injury
It is important to note that since Sotomayor hails from Cuba, he was part of a country-wide boycott of the 1988 Olympic Games. And even though he didn't compete at the Games, he did break the world record a mere four days before the 1988 opening ceremonies.
Because of this incredible accomplishment, many people assumed he would have gone on to win the 1988 Olympics. And one more thing, out of the top 10 best high jumps ever recorded, Sotomayor has five of those in his name.
10 – Tirunesh DIBABA, Women's 5,000m & 10,000m
From 2005 up to 2016, Tirunesh Dibaba was the face of the women's 10,000m. For 11 straight years, Dibaba remained undefeated over the 10,000m distance.
Between these years, Dibaba won two Olympic 10,000m gold medals as well as three World Championships 10,000m gold.
She was also a top tier 5,000m runner.
At the young age of 18, Dibaba won her first Championships in 5,000m making her the youngest athlete to ever win the World Championships in the 5,000m. And on June 6, 2008, Dibaba set the world record of 14:11.15 seconds – a world record that still stands today.
In total, Dibaba won 12 World Championships and Olympic medals and she remains the only female athlete to ever successfully defend her Olympics 10,000 meter title.
Copyright © 2023 Completesports.com All rights reserved. The information contained in Completesports.com may not be published, broadcast, rewritten, or redistributed without the prior written authority of Completesports.com.