Former Germany and FC Bayern Munich defender, Hans Pflugler, recently visited Nigeria on a football talent development mission. The 1990 FIFA World Cup winner with West Germany was in Awka as the lead coach for the FC Bayern international Youth program that supervised a three day talent hunt tournament tagged FC Bayern Youth Cup Nigeria staged in the Anambra State capital.
In this exclusive interview with Completesports.com, Pfluger who spoke through an interpreter, expressed his strong views and beliefs on various issues including the FC Bayern Youth Cup, football Academy development and rich football talent in Nigeria, the best way forward for the Super Eagles after the 2022 World Cup failure and about Nigerian players overseas, his personal World Cup experience, VAR as it impacts today's football, among other expert's submissions.
Interview by CHIGOZIE CHUKWULETA, in Awka.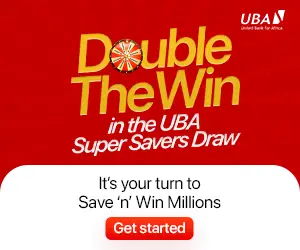 Excerpts…
Completesports.com: Hans Pfluger, welcome to Awka Anambra State, Nigeria. Is this your first time in Nigeria or Africa?
Pflugler: Yes it is my first time in Nigeria. I have only been to Ethiopia once, this is my first time in Nigeria.
What is your experience like?
It has been very interesting because I had never been here. It is my first time in Abuja and now I am here in Awka. It's nice to see here and there are good players here for our event and football in general.
Also Read:  Osimhen Prefers Arsenal To Manchester United
You are a product of FC Bayern youth system and you played most of your club football for the club. What official role do you currently play for Bayern?
Now l am part of the International youth programs as a coach for FC Bayern and I am happy after all the COVID things, that we finally can travel and go out into the world.
Is Nigeria the only country in Africa benefitting from this project?
No, we are heading to Togo from here. Nigeria and Togo are the countries we're inviting for the FC Bayern Youth Cup [in October] in Germany.
Complete Sports understands that you are in Awka for the FC Bayern Youth Cup Nigeria competition. Tell us about this mission. What is the motive behind the competition and how important is the program to FC Bayern?
The youth cup is a worldwide FC Bayern tournament. In the end, from all the countries – some examples; America, China Singapore Mexico Argentina, Nigeria, Togo will experience what is happening. We pick the best players as a team and they're all travelling to Munich in October and there will be a final tournament called FC Bayern Youth Cup World Tournament. They will all play at the Allianz Arena.
They will all stay together in one hotel. They'll experience our big club, they'll meet professional players. They will have breakfast, dinner everything together – they will play together, train together, go and watch our first team play in the Allianz Arena. They will also play in the Arena. So, it's a big event, not just the football – a lot of things beside it too. So for them, it's another chance to go out and show their talent and probably become professional football players.
How important is this project to FC Bayern?
It's very important because we want to give young football talents all over the world their chance. It doesn't matter where they're from. They will be given their chance to have their talents shown and known beyond their shores.
The FC Bayern Youth Cup Nigeria 2022 is a three-day event, is that an ample period for you and your Nigerian partners to achieve the set objectives?
There was a preselection of all the coaches from here. What we saw so far – the players and the final decisions – we've made them so far looking at the players' performances today. We really have good players. I think that this is really a strong team going to play in the world finals.
Apart from seeing the first team of FC Bayern play, what other benefits would the selected young players from the FC Bayarn Youth Cup Nigeria enjoy in Munich?
The whole package is like a life experience. This has been happening since 2012. Every player, it doesn't matter where they come from, will talk about this for the rest of their lives. It will remain such a good experience. It's an exchange between different cultures, and then at the end, probably they will have another goal or say "oh I have to work hard" or probably, "I'll work harder to achieve my goal".
The Anambra State government through it's Sports Commission requested that FC Bayern consider setting up football academy in the State. What do you think about that?
At the end, it's not our decision to make because we are just coaches. It is the decision of the [FC Bayern] Board, also the entire club, but it will be a beneficial thing to both sides. We will communicate the request to FC Bayern Board.
You won the FIFA World Cup with Germany at Italia '90, so you know well what it takes to achieve success at that level. In your opinion, what are the chances of an African team winning the world cup at Qatar 2022 or in any other edition?
The team has to have a strong team spirit – that everyone works together, that they are like one union and no individualists so they have to be a team together and then at the end, in every match they should have all the players giving their best performance and then they have their chance.
You have been watching African teams, do you think they have the quality to get to that level?
The good quality is there because there are so many players that are playing in the top leagues in Europe and if you put them all together from the list, it's a brilliant team. But like I said before, these players have to perform like a team because it's a team sport.
Can you share your Italia '90 FIFA World Cup experience with us?
Firstly, l am happy to be part of the team, to be part of the national team at the World Cup. Fortunately, I just played one match against Colombia. But it was a happy experience to be one of those 22 players.
Also Read: Aribo Makes Europa League Semi-Final Best Eleven
The whole experience of being together as a team, travelling to have the wonderful experiences in the locker rooms, with Franz Beckenbauer as the coach. I remember at some point, the speech before the final in the cabin and all the things that made it so interesting. It's not about just playing, but being a part of the triumphant team.
How do you rate the quality of of the Nigerian players playing in the European leagues?
As long as they're playing in the Premier League, they have to be good players, because you have to be good to play in the Premier League.
Is there any of them that could make a good mark as FC Bayern player?
I am currently not watching the Premier League so much, just the Bundesliga. That's why I don't know so well about all these players. But I know the players playing at Leicester City and Watford. But I have to watch them probably more than five or six games to see their quality.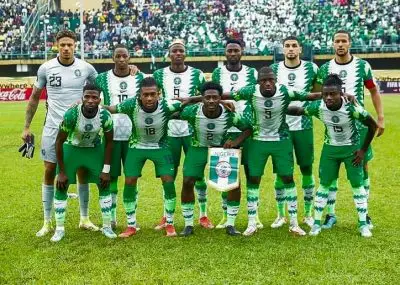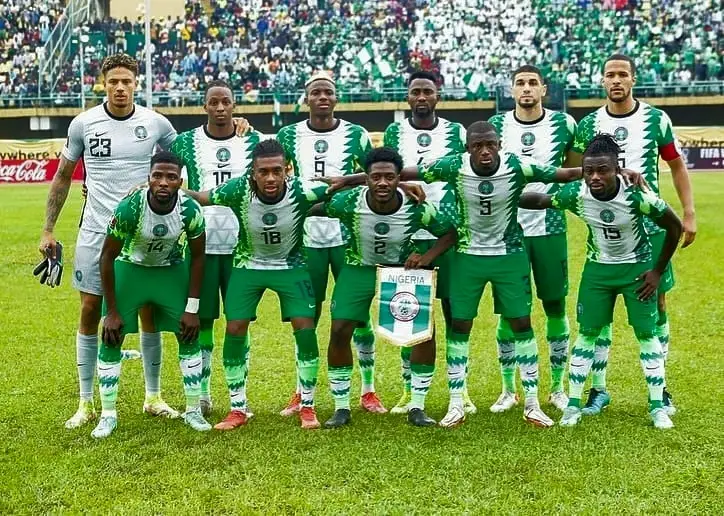 Nigeria is looking to rebuild her national team after sacking the German coach, Gernot Rohr. But the Super Eagles failed to qualify for the 2022 World Cup. You might have a word or two for the organizers and managers of football in Nigeria and the Nigerian players…
The next world cup is in the next four years and the qualifiers is in the next three years. So there is time, plenty of time even to keep an eye on the young players like l saw here today [at FC Bayern Youth Cup Nigeria 2022], develop them and help them in a good way.
There's always a cut at some point, but they have to restart or reboot the team and that's normal. Develop the young players and try to get them in because they are the next generation and that's what we have here – the next generation from Nigeria.
It's important that even if you did not qualify for the World Cup, you don't give up. Next step is to make full concentration with power and energy towards the next qualification, and yeah, work hard.
Between Football in your days and football now, what do you think is the difference?
Football has changed a lot. The game itself developed differently, so it's faster. They are all now absolutely educated in top techniques and tactics. they take care of nutrition and everything, so there's so many experts involved now.
For us then, it was just the team and then two coaches. But now, it's like there's a special coach for nutrition, for technical support, for tactics, the fitness coaches, the physiotherapist. All these weren't happening when I was playing. But there's no difference between the willingness to win and the efforts – giving a 100% all the time.
What's your take on VAR in football today?
For some part, it's good. It helps the referee make the right decisions. But for some part, it's too much, it delays so much time. You score a goal and the decision is coming and then you're celebrating, then they're like… stop the VAR! The VAR kills the emotions because you don't know if the goal is happening or not.
Did you have a special routine or a superstition before you played a big game?
No, l didn't have any special routine. The only thing l know is that when the ball is moving, you have to be at a 100%. It's normal that you're always nervous before a game, but that's important because otherwise you can't perform.
Was there any player or team that that scared you whenever your team had an upcoming match against them?
A. The time then was different. Teams were more equally balanced, and it was like equal chances fighting for the German Cup, for example. Hamburg was really good that time.
Also Read: 'It's Just Unbelievable' –Balogun Reacts After Rangers Reach Europa League Final
Who was your best friend on and off the pitch?
Klaus Augenthaler
What should young persons going into a profession like football do to become successful?
They must have the right mentality. Myself as an example; when I was a young guy, l was not able to go for the breakfast after l lost a game because it was like; I played for Bayern Munich and you can't lose a match as a Bayern Munich player. So then I said okay, I have to work harder, day by day. Don't give up. Have fun in football. Get the right mentality which is 'never give up' and work as hard as you can.
Many owners of football academies in Africa are not as serious as their counterparts in Europe. What should they do to get the right structures in place for the academies' growth in Africa?
Academies in general are important for the development of young players because they're in the right structure. They have a schedule. They have the specialists and all necessities combined.
In Munich, the academy players are quartered. They train and go to school. All well organized with their special trainings. You have the right development because you have an eye on these players and have a special plan on how they can develop.
Do you have any regrets as a player?
There's absolutely no regrets because l am now staying with the same club for 45 years. If there were any regrets, l wouldn't be in Bayern for 45 years.
Copyright © 2023 Completesports.com All rights reserved. The information contained in Completesports.com may not be published, broadcast, rewritten, or redistributed without the prior written authority of Completesports.com.