In his February 2015 interview with the newspaper "Il Gazzettino", Jerry Mbakogu, a striker born in 1992, talked about his football career when he was experiencing his best time.
After his great debut among the professionals in the colours of Padova and the next three years at Juve Stabia, it was in Carpi – a team from the homonymous village of 70,000 inhabitants in the province of Modena, Italy, where he arrived in 2013 – that the forward found his springboard.
Fabrizio Castori was a very important coach for Mbakogu, as he was effective in bringing out the untapped qualities of the Nigerian forward.
Also Read: 'He Is An Important Player'-Gattuso Rues Osimhen Absence In Napoli's Big Win Vs Roma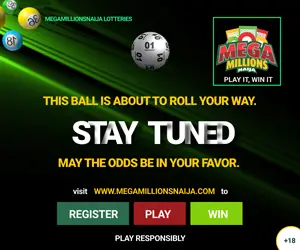 He is not only a great scorer, but also very skilled at assisting his teammates to also find the net. In those same months Mbakogu's name was also associated with some important foreign clubs, including Jurgen Klopp's Borussia Dortmund.
Mbakogu did not want to leave Carpi at that time. However, he wanted the promotion to Serie A with the Emilians. He confirmed it to "Il Corriere della Sera": "I will only leave if Mourinho calls me to play at Chelsea with Drogba. I don't leave, at least not before June because I play in a large group. We live a dream match after match, hoping to make it happen. I knew that this season was fundamental for me and I want to exploit it to the full."
"I was born in Lagos, when I was a child my father left for Italy to find a better job. He worked in the province of Venice. he felt comfortable and when I was 12 my mother told us that we would join him," Mbakogu said of his roots.
"What I remember about arriving in Scorzé? I remember the flight to Venice, the first days in the middle school, the joy of having immediately found so many friends. Some of them convinced me to go and play with them. In Africa I had never been in a real football school.
"Calcio Padova call? From that period I remember many satisfactions but also many sacrifices. After a yea, I decided to go to a school in Padova. I got up at 6 in the morning and took the bus from Scorzé, I returned in the evening, but I was happy."
He add: "The Nigerian national team? It's my dream, but I still have to improve a lot".
Jerry is honest and keeps the word. In fact, in June 2015, he celebrated the club's historic promotion to Serie A as an absolute protagonist, scoring 15 goals and 8 assists in 30 appearances. The fans, who dedicated the chant "It seemed to me, it seemed to me, it seemed to me to see Mbakogu score!", were literally in love with him.
After several years in the Second Division, the following season must be the year of his consecration. Despite the presence in the offensive department, of players like Borriello, Lasagna and Ryder Matos, Castori almost always fielded Mbakogu in the starting position.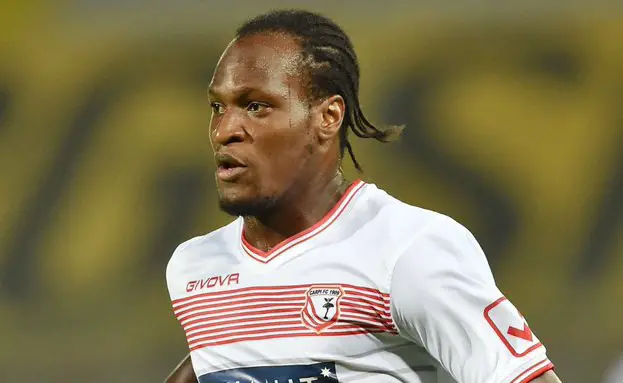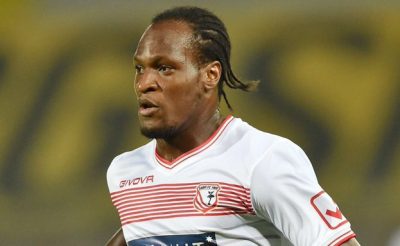 However, also no thanks to some ailments, the year was not very positive, as for all the rest of the Red and White Rose. Only on 17 January 2016 did he scored his first goal in Serie A, when he netted the decisive penalty in 2-1 win against Sampdoria.
At the end of the league, due to a negative start, Carpi were relegated to Serie B. The only one point less than Palermo weighed like a boulder.
In that same period, Mbakogu moved to the Russian club, PFC Krylia Sovetov Samara, but couldn't find luck, making only seven appearances.
And he returned to Carpi in January 2017 as new head coach, Antonio Calabro, took charge. The striker played and scored some important goals. However, in the summer of 2018, he ended his contract with the Bonacini club.
Mbakogo remained free until January 2019, when he signed with Calcio Padova. The biancoscudati team, coached by Pierpaolo Bisoli, are concentrated in a full battle to remain in Serie B.
Mbakogu, who is getting closer to home, has a great opportunity to revise those qualities that had some years earlier made him one of the best strikers on the Italian football scene. His new debut is unforgettable: in the derby against Hellas Verona,l he scored twice. The first by head at 12′ from a cross by Longhi, and then at the beginning of the second half, he made the most of a perfect assist from his teammate Bonazzoli.
It seemed the beginning of an idyll, but Padova ended their Serie B campaign in the eighteenth place and, consequently got relegation to Third Division.
While he always fought for the team from start to finish, Mbakogu failed to reproduce his classic goal-scoring form for former club, Carpi. He netted three goals for Padova from 10 appearances.
The following September, almost surprisingly, he switched to NK Osijek, a club in the Croatian top division. Even this period in the Balkans, inevitably occasioned by the coronavirus pandemic, is made of few lights – like the goal against Vuteks Sloga in the National Cup – and many shadows: very few games played as a starter and a lot of bench. Since last August, Mbakogu is again without a team.
Despite some associations with Serie B clubs, such as Salernitana and Spal, the player is stopped. Jerry Mbakogu is facing a career crossroads: the next step, whatever and wherever it is, will be and must be that of the relaunch.
The qualities and the tenacious things that had made him the king of Carpi and able to score 54 goals among the professionals – are not lacking, but there have been too many roller coasters in his career. The turning point is now crucial.
By Raffaele Campo
Copyright © 2021 Completesports.com All rights reserved. The information contained in Completesports.com may not be published, broadcast, rewritten, or redistributed without the prior written authority of Completesports.com.