In the Group F of Serie D league – the Italian fourth division, there is
a club called Vastese, and a certain Nigerian, Henry Ndubueze Okoroji who, left an indelible footprints there in the past. We are speaking about the principal football club of Vasto, a small city at the beginning of Southern Italy.
Called Histonium in antiquity during the Roman Empire ages, it is a
beautiful reality which has about 41,000 inhabitants. The modern part is situated by the sea, while the ancient part is on a hill.
About the football team, Vastese, they are actually in the 13th position, but their last match – lost 3-0 against Matese – was fatal to the coach, Massimo Silva, who was sacked on Saturday morning. The results of this season are below expectations, but the league is long yet, all could change.
In the previous years, when the name of the club was Pro Vasto, one of the leaders and most representative players of the team was Henry Ndubueze Okoroji, a Nigerian central defender born in Ngor Okpala, Imo State, in 1984. He
arrived in Italy, at Reggiana, with other compatriots like Stephen Ayodele Makinwa and Obafemi Martins.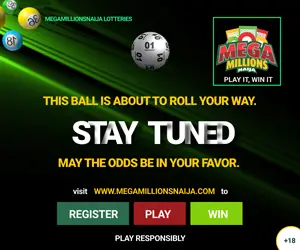 More precisely, Okoroji, now 36, played for Pro Vasto, firstly from summer of 2004 to June 2007. It wasn't a lucky period for him due to some injuries, and then he came back to Vasto in August 2008. The team played in Serie D, and Okoroji was one of the most important protagonists of their historic promotion to Serie C2 league after an incredible rise, culminated with the winning against Tolentino in the last game: with two penalty goals
by striker Mario Bonfiglio – a feat that sent a whole city into delirium.
Twelve months later the, came a tragic epilogue with the failure of the club. But the great memory left by Okoroji is still unforgettable – an impressive form in 63 matches and one goal in Vastese jersey.
In an exclusive interview for Completesports.com, the central defender, now at Roggiano (a team of Calabria land), remembers his Biancorosso years. Interview by By RAFFAELE CAMPO.
Starting with the present, how was the situation at Roggiano before the break?
Okoroji: "Very well, we won all the matches, the three in the league and the four in the Regional Cup. It's now nine years that I've played in Calabria. I know the place very well because I played for many different teams".
You arrived in Italy in 2002 from Nigeria, what do you remember about it?
Okoroji: "Reggiana had a Football School in Nigeria directed by Churchill Oliseh, the elder brother of ex -Juventus midfileder , Sunday Oliseh. During the summer, they sent some scouts to Nigeria to see young players playing. Ferndando Di Napoli, who played in Napoli with Maradona, chose me. So I arrived in Italy with other Nigerian guys like Obafemi Martins, Stephen Makinwa, Adewale Wahab, Prince Ekong, Mathew Olorunleke and Isah
Eliakwu.
Also Read: Udeze Backs Onuachu For Big Transfer Move After Scoring 15th League Goal
"At the beginning, we trained with the youth team, then we won the
Beretti league. Later, I joined the first team, and in my first season as
a professional player in the play-off game against Varese, I scored the
goal which saved Reggiana. I played as a winger, and one of my mates was Michele Paramatti, who said about me in an interview: "He is like Cafu!".
"During the summer many teams wanted me, but Reggiana asked for too much money. When I went back to Italy from Nigeria after the holidays, I had some problems with the owner and with the sportive director Leonardi. I could have gone to Nocerina with Olorunleke, but I preferred staying in Reggiana with the coach, Cadregari. I played in the Italian Cup against Rimini and many supporters said that they want me in Reggio Emilia. And in the next game against Carrerese I scored a goal from 45 metres.
"The club called me for the extension of my contract, but not with the salary we had agreed. So I was put out of the first team and I played again with the youth team for many months".
Later, during the summer of 2004, the coach, Cadregari, invited you to Vasto…
Okoroji: "Exactly. I knew him very well and I immediately told him yes. After
only a month, he left Pro Vasto due to personal problems and was replaced by Fausto Silipo. I was very happy in that period, many people asked me: 'What are you doing in C2 league? You are of a more higher level!'.
"Also people from Vasto were great. I was unlucky in the second
season: we were a very strong team, with players like Marco Biagianti, Riccardo Cazzola and the goalkeeper Marconato. I had a very dangerous injury of the tibia and I never played again for all the season. It was a pity because we played play-off for the promotion to C1. I'm sure that I gave a big help.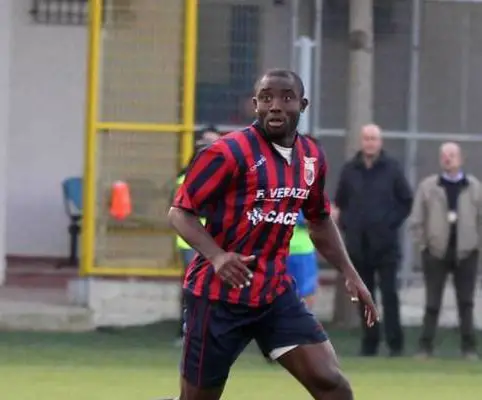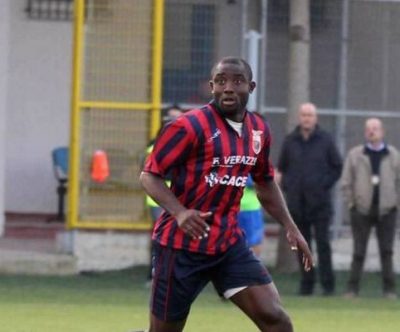 "I have to say thanks to the doctor, Franco Rucci, who helped me very
much. He was like a second father. But also to the Pro Vasto president,
Domenico Crisci, who extended my contract and sent me to Bologna for the best treatment.
"Before the injury, Udinese monitored me and were in
contact with Pro Vasto. Some months earlier, I came back and I played three matches. In January 2007, Fiorentina bought me, but they saw that I wasn't ready from a physical point, so they sent me to Lokomotiv Plovdiv in Bulgaria for some months. After some months I played with Chieti, winning the Serie D league".
Then that your great return to Vasto. Which were your great moments?
Okoroji: "I always hoped to go back to Vasto. The 2008-2009 season is
unforgettable. We played in Serie D and in January we were 15 points behind the leaders, Fano. One day the chiarman, Crisci, came into the changing room and told us: 'I don't want that – you have to win the league. You must play well and enjoy our supporters'. Then we won 13 consecutive games.
"The last match in Tolentino was something incredible: at 94th minute, the scoreline was 1-1, and we had a penalty which our striker Bonfiglio converted. Only in that moment we toppled Fano. In Vasto city, there was an incredible celebration. Then we also won the Poule Scudetto against Siracusa. Some days earlier, my son, Mathew, was born".
Only one year later the club failed. Aside from it, you had always played for Pro Vasto?
Okoroji: "Absolutely yes, I was ready to sign another contract of three years. But two months later, the club didn't have money for the registration in Serie C2, so I had to leave the club.
"I had an offer from Djurgarden [Sweden], where my friend Ekong played. I went there for a week of trainings with the first team, but after only two days the coach told me that he want me immediately with him. I went back to Italy for some days to take all my things, but while I was at the airport for a flight to to Stoccolma, they didn't give me the permission to fly because I was still awaiting the original copy of my residency permit. I tried to explain that I was taking the citizenship, but there wasn't nothing to do".
You were very unlucky between the injury and this, but anyway you conquered an important place like Vasto.
Okoroji: "Yes, when I was there, a lot of people recognized me and always wanted to speak with me. It is also a wonderful city. My family lives there and whenever I can, I always go to Vasto. I live in the high part of the city. And everytime that I see Aragona stadium , I cry. I remember the fantastic supporters who helped me in every moment. Also the Curva D'Avalos is incredible".
Do you think about coming back to Vasto to play the role of a director or a coach?
Okoroji: "If they call me, I'll never say no. Many important players were
in Vasto during their career, but the club had never called them again for this kind of role. It is a pity because this reality is perfect for a
young player who wants to improve".
Copyright © 2021 Completesports.com All rights reserved. The information contained in Completesports.com may not be published, broadcast, rewritten, or redistributed without the prior written authority of Completesports.com.