Lobi Stars lost 5-3 to home side, Enugu Rangers, at the newly built Awka City Stadium on Sunday March 20 2022 to end the first round of the 2021/2022 NPFL season in a disappointing 19th position in the table of the 20-team Nigerian top flight league
The Vice Chairman of the 1999 and 2018 Nigerian champions, Tama Aondofar, watched the proceedings in Awka, And in this interview shortly after the match, he talked about how the Markurdi side would regroup for a better performance in the second round of the season.
Aondofar hints that the club's manager would will weed the team of non-committed players and scout for experienced replacements in order to step up their fight against relegation in the second round of the season.
Interview by Chigozie Chukwuleta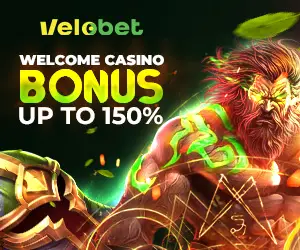 Excerpts…
Also Read – NPFL: Rangers Beat Lobi Stars In Eight-Goal Thriller, MFM Hold Heartland
Lobi Stars lost 5-3 to Rangers at the newly built Awka City Stadium. Did you anticipate this kind of a scoreline?
Aondofar: In terms of the result, no. I actually was hoping for a better result. Like one of my friends said, we scored the eight goals. If you watched the game in the first half, the three goals came in by way of mistakes that we made. Infact they were through balls that our own players played for Rangers.
So the truth of the matter is that we beat ourselves. I think we gave Rangers three goals in the first half through a couple of mistakes. And after that in the second half, we came back, made some adjustments and were able to score three goals for ourselves. We had chances and could have easily equalised, but it didn't happen.
So, l think we just need to go back to the drawing board and see what we need to do in terms of players recruitment. There is need for us to bring in some experienced players. We have already identified a number of them and we are also going to flush some players out.
Because some level of commitment is not there, l think it is time for us to get some players who will give us 110% in every game.
How would you appraise the first half of the 2021/2022 NPFL season?
I think the refereeing is getting better and better. But I think we need to be at par with our mentors which l believe is the English Premier League.
The refereeing is getting better, but it could be better because we know a lot of people are still frustrating the system. It will take quite some time for LMC to clean that up. They are doing the best they can, but it is going to take some time for us to get there.
Is the coach incharge of your technical team the right one you wanted. Do you think the strength of your bench affected your performance against Rangers?
If you meant did it affect how we played in terms of winning or losing the game, no, absolutely not. I think you can see that there are some little bit of structure. I am not trying to downplay the fact that his predecessor was an OK coach. I happen to be an 'A graded coach' myself and a coaching instructor as well. Do l assess things based on tactical approach of every game? I think today's game was approached from a very tactical stand point. He played a 4-3-3 and there was instruction given to each individual player on how he wanted them to play in that structure. Then I think in the second half he went into 4-4-2 formation. I think his approach was fantastic. I think the players were just not disciplined enough. As you can see, we literally scored against ourselves.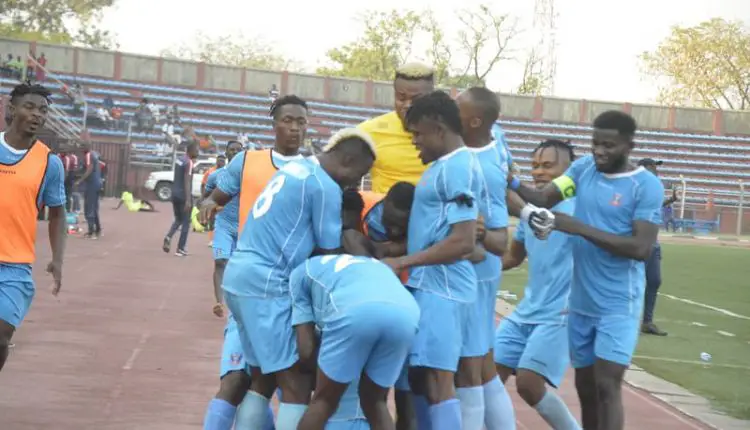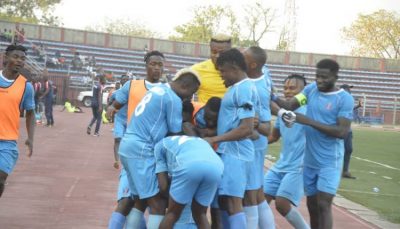 I don't think Rangers created any chance in the three goals that were scored in the first half. We played through ball to the guy, then we fouled the guy after we made a blunder trying to play backwards to the goalkeeper. And then the third goal, if you remember, was another blunder, playing the ball back to the goalkeeper and the goalkeeper trying to play the ball out, played it to Rangers' player and then the defender was put under pressure to head the ball towards the keeper and at the point the goalkeeper was out of position. So we scored three goals for Rangers today.
Your team looked lethargic, though they added some bite in the second half. What is the level of motivation in Lobi Stars?
I disagree with you if you say they were lethargic because I think we had a very good possession of the ball. I think where we did blunder was where we were playing the ball backwards and we weren't trying to advance forward. Too many back-passes. About six, seven back- passes. We played square passes and then played back to the goalkeeper and keeper played back. Too many little five yard passes and we were not looking to gain grounds going forward. So l don't think we were lethargic, we were just mentally making some blunders or tactical mistakes.
Also Read – Ghana Coach Addo: Super Eagles A Difficult Opponent, But We Will Qualify For World Cup
We played well, possessed the ball well, but we were not getting their defenders run facing their goal which l talked to them about during the half-time. In the entire first half, we never tested them. And you see, in the second half, we tested them and they were struggling, they were actually tired. The approach we came back with in the second half gave us three goals, hoping to equalise. But Rangers employed delay tactics afterwards.
What is the general psychology of your players like?
Well, you can't say, each individual player has a way of preparing himself for a game. I played the game myself, l know how l prepared myself for every game. So, I cannot speak for every player, but the best you can do for every player as a coach or as a psychologist is to try motivating them verbally as best as you can. So l don't know how else you want to motivate them.
How would Lobi Stars bounce back in view of what happened in Awka against Rangers and the current lowly position of the team in the NPFL table?
We already have players lined up, experienced players that are coming to join the team…
You want to name them?
No, l can't name them. And we also have players that are moving on from Lobi Stars. We are sending about fifteen to twenty players away from Lobi and we are bringing in new players that are already in the league. That's the plan for now.
Trust me, mark my word today, in the second round you will see a different Lobi Stars.
Were there cases of sabotage going by what happened against Rangers?
Eight goals scored by Lobi? (Smiles) l totally agree. Very true. We've had all this political and dramatic issues that have been going on in my State. We have people that say they are football stakeholders, saying they've not been carried along. So they will sabotage every effort that we make. So that has been ongoing. I don't want to call names, but l know who they are.
We have people that want to come back and be vice chairmen of the club. That's what we are dealing with. People going to the extent of, call it spiritual realm, just to have us fail.
I think we broke a jinx today, by scoring three goals. If you look at the two matches we lost at home, the one we lost to Plateau United, if you ask, they will tell you they didn't know how they won that game because we did the playing. We pinned them down for 35 minutes in their own half.
However, like here today [vs Rangers], our defender just payed the pass and the guy tapped it in. And we had seven chances and blew them away. Even one-on-one, in front of goal.
Do you think sacking these players will reduce some level of negative influence in your team?
Yes. We have players that are not committed. To me they have not displayed any sign of professionalism. There is no point keeping them around.
Copyright © 2023 Completesports.com All rights reserved. The information contained in Completesports.com may not be published, broadcast, rewritten, or redistributed without the prior written authority of Completesports.com.