Nigeria forward, Victor Osimhen scored his first Serie A goal in Napoli's 4-1 demolition of Atalanta at the weekend, but the former FIFA U-17 World Cup top scorer wanted to open his goal account against Juventus in the controversial match that the Partenopei lost in the boardroom.
Osita Okolo, a brother-in-law and one of Osimhen's representatives said in an interview with Radio Punto Nuovo in Napoli after the game, as reported by Ilnapolista.it, that the former Lille of France forward was desperate to score against Cristiano Ronaldo's Juventus.
"Victor is not happy with what happened against Juventus, he wanted to play to score against the Bianconeri," revealed Okolo.
"Against Atalanta, the team proved to be in great shape, just like Victor, but first you have to keep your performance high and play like this, to hope to win the Scudetto. Victor is very determined.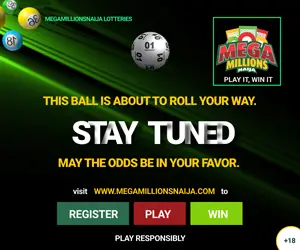 Also Read: #EndSARS Protesters Take Over As EPL Celebrates Iheanacho's #GoalOfTheDay
"Victor was very excited to face Juventus, we all thought this will be his game, the right one to score the first [Serie A] goal with the Napoli shirt'. We all hoped that this would be the right opportunity, then what happened for the pandemic happened, but I can say with certainty that Victor would have liked to score against the Bianconeri, precisely for the fans."
Okolo however added that Osimhen was still delighted to score against another tough side, Atalanta.
"Against Atalanta he was very happy to score his first goal for Napoli. Of Course, he would have liked to score it against Juventus, but he was really happy and told me he had crowned a dream. But you can see it, too. on the pitch.
"Now, Victor must continue to improve and give 100% in training. And at this rate, he will continue to have a fundamental impact on Napoli's performance."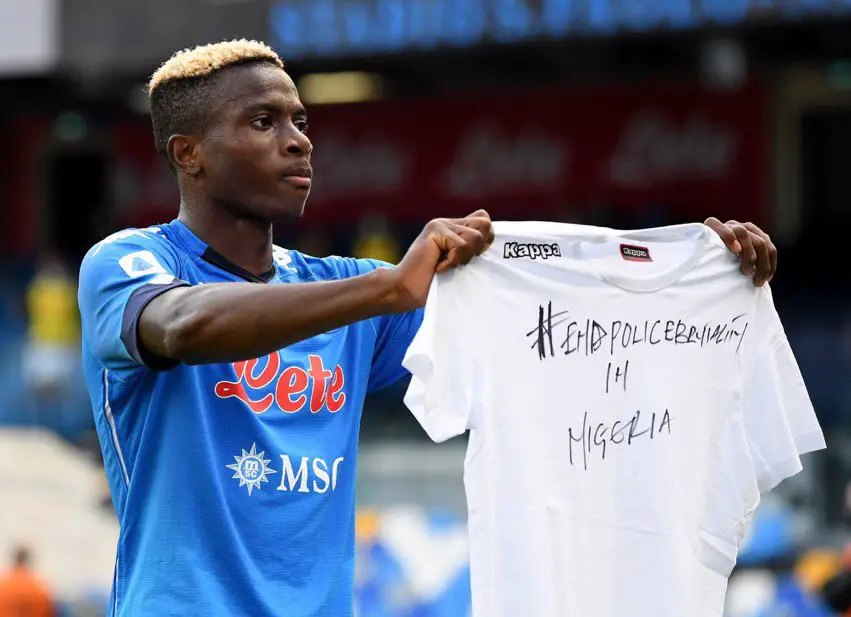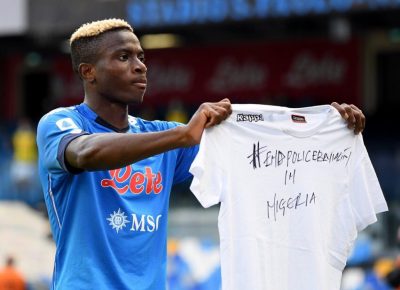 Okolo also revealed the influence Napoli gaffer, Gennaro Gattuso has had on the Nigerian.
"Gattuso is proving to be very important for Victor, even off the pitch. The coach has taken him with him as if he were a father, a figure Victor is looking at as a point of reference. Also to receive advice on life, which has little to do with scoring or anything else related to football.
"Victor grew up without a father figure, so he is very fond of people with a character like that of Gattuso. The coach has a fundamental leadership for Victor's growth, as a player and as a person.
Okolo explained to Radio Punto Nuovo, the motive behind the shirt inscribed '#EndPoliceBrutality' which Osimhen brandished to the cameras after scoring against Atalanta.
"The shirt shown after the Atalanta goal? Many protests against police brutality are going on in Nigeria. Victor is a boy very attached to his land and to his people. It is something that he too had to deal with as a child, like many Nigerian boys.
"The police in our country have immoderate power, and often prove to be totally arbitrary in taking the life of a person, even if only suspected. It is a serious problem that many Nigerian footballers are trying to denounce and Victor is trying to use his media position to shed light on the truth."
Copyright © 2021 Completesports.com All rights reserved. The information contained in Completesports.com may not be published, broadcast, rewritten, or redistributed without the prior written authority of Completesports.com.