One of our expert tipster partners, Allsportspredictions.com, has more of our previews and predictions. Go here.
Rayo Vallecano vs Osasuna – Osasuna received a good break during the last game week when they faced Elche, who are currently in the last position and won.
They are adamant about continuing the streak. Vallecano, however, are one of the few teams in the championship to have gone five-game weeks without a victory.
Rayo Vallecano vs Osasuna – Betting Analysis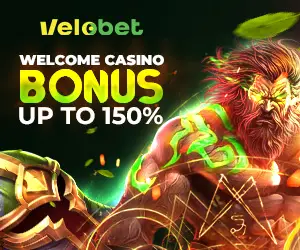 Osasuna won the reverse match 2-1, and they have now won three straight games overall. Aside from one draw in the previous six years, they had a perfect winning record.
Who will win the match between Rayo Vallecano and Osasuna?
In head-to-head matches over the past few years, Osasuna have been by far the superior team. In fact, they have won every head-to-head match over the past six years, excluding one draw.
Additionally, they have only lost on four occasions this entire season and just once while traveling in 2023.
Also Read: Moffi Nominated For Two Awards In Europa Conference League
Vallecano, on the other hand, have lost eight straight games and only triumphed at home once in the previous six months. Osasuna will likely triumph this Friday.
How many goals will be scored in the match?
The last two meetings and five of the last eight head-to-heads had three or more goals. The statistic was also present in four of the previous five matches played at this venue. This weekend is also anticipated to bring more of the same.
Will both teams score in the match?
This weekend, Osasuna do have the advantage. However, keep in mind that they have lost four of their last five head-to-head matches and that they are now on the road. This weekend, there is a good chance that goals will be scored from either end of the field.
In their previous meeting, Osasuna triumphed 2-1, and they now have a three-game winning streak. In fact, except for one draw over the previous six years, they had won every head-to-head match.
What are the best odds for this match?
Checking on the latest odds for this match in the 90 min. result market, a victory for Rayo Vallecano can be had for 2.13, betting on the draw is 3.17, and staking on the win for Osasuna gets you 3.8. These are the best returns available right now.
Rayo Vallecano vs Osasuna: Head-to-Head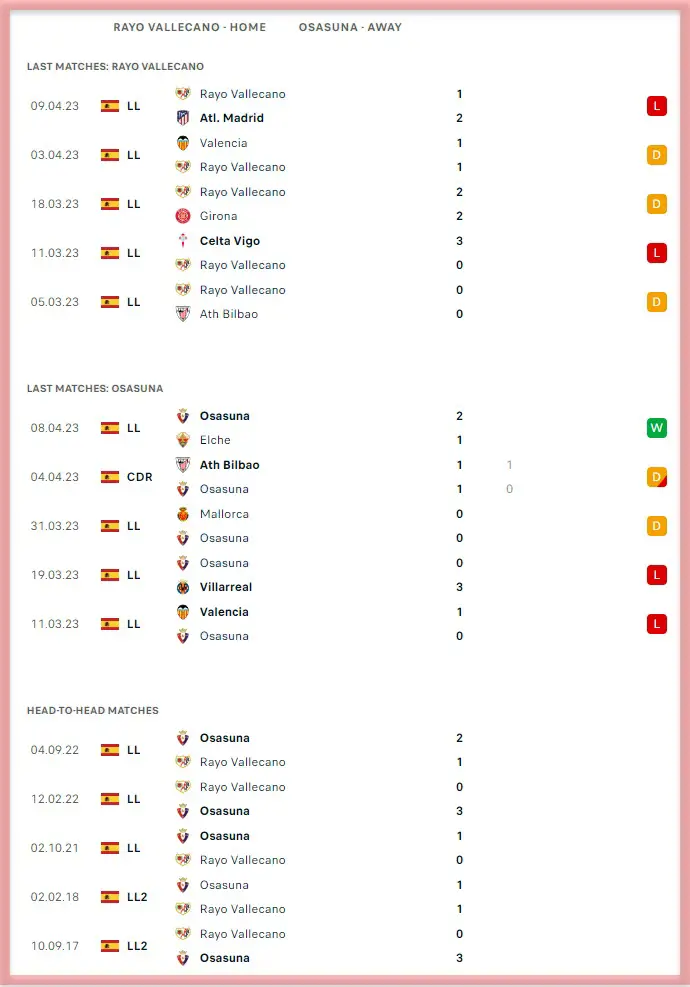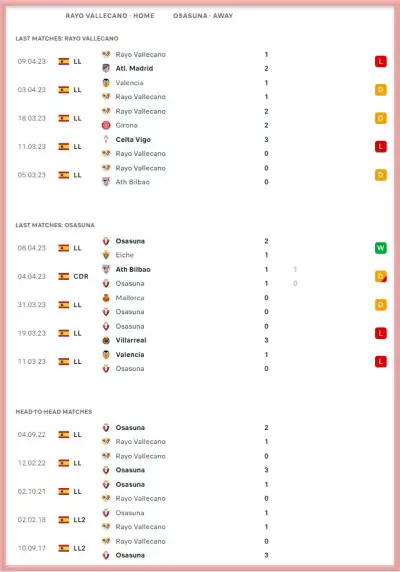 Our Prediction: Over 1.5 Goals
Grab! The Free Booking Code for Today's Prediction: DRZXF

Copyright © 2023 Completesports.com All rights reserved. The information contained in Completesports.com may not be published, broadcast, rewritten, or redistributed without the prior written authority of Completesports.com.